It's that time of year again. Black Friday is right around the corner, but we're starting our sales early with a month-long event. Get fit, stock up on supplies and prepare for 4 weeks of deals, steals, and your favorite products at discounted prices.

P.S. These sales are only on our 2017 inventory and quantities are limited, so don't wait to take advantage of the best deals of the year.

Week 1: Fitness Equipment Sale - Save Up To 45%


We're out of the gate with a bang! From November 1 - November 22, you can save up to 45% off all our fitness equipment. Plus, when you spend $150, you'll save an additional 10% off your fitness purchase when you use the code GETFIT at checkout. We've also got a great deal on all of our TRX equipment—save 25% off with code 25TRX. If you need some functional and performance training equipment, SKLZ is also 25% off (good news—you don't need a coupon code to get these SKLZ savings!)


Week 2: Bulk Towel Savings - Save Up To 35%

During the second week of November, we'll be running our best towel deal yet. All towels are up to 35% off, but when you buy in bulk, you'll unlock additional savings. If you buy 1–9 dozen towels, you'll save an additional 10% off, and if you buy 10 or more dozen, you'll save 15%. Plus, did we mention that our normal bulk discounts still apply! These great deals start on November 8 and end on November 22.



Week 3: Stock the Locker Room - Save Up To 40%

The week leading up to Thanksgiving is all about stocking your locker room and restrooms. All our bath and body care and paper products will be up to 40% off. If you want to lock-in those savings, now's the time to sign up for our new autoship program. When you sign-up for autoship, you'll lock-in our holiday pricing not only for this order but all future autoship orders will stay at that same great price.



Week 4: Black Friday and Cyber Monday Deals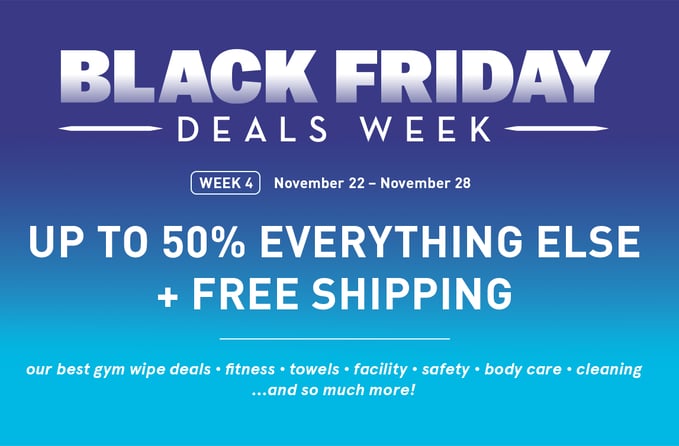 Of course we saved the best for last! This year, we've slashed prices on our entire site so that you can enjoy savings up to 50% on everything. Plus, we're going to have the best deals you've seen on our wipes along with 7 other amazing featured deals.
...but what fun would it be to give everything away up front. To find out more details on every sale, keep your eye on our Countdown to Black Friday page and stay tuned. Skip the lines and don't wait a month for killer deals—head on over to our site and start saving today!


---
Related Content: