Five Ways Zogics' Website Redesign Will Better Serve You.
January 4, 2019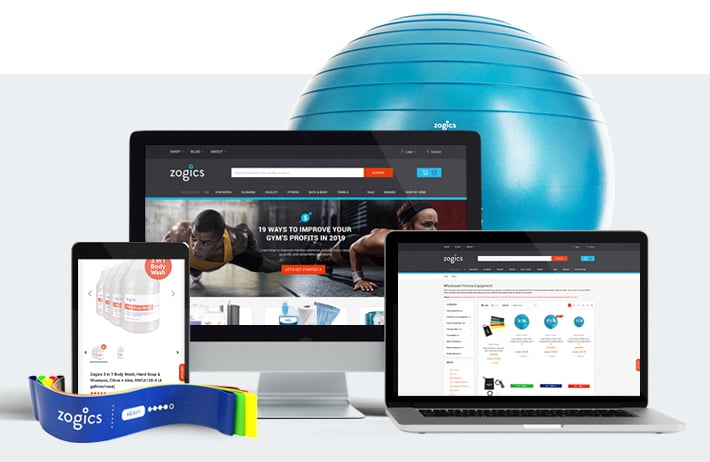 Your fitness facility one-stop shop just got a facelift! We've redesigned our website to better serve your needs with an easier checkout process, streamlined navigation, and powerful in-store search engine. New visitors and curious customers looking to learn more about our wide product offering can now explore more content and helpful tips than ever before.
We kept everything you love, but have made some important improvements along the way.
Here's a quick rundown of what's new:


1. Search, search, search!
Fast, accurate results
The fastest way to find what you're looking for is with our in-store search. You can find our search bar smack dab at the top of our site and on every page. We've improved our search to deliver accurate results for whatever you may be looking for. Still can't find that product you've been dreaming of? You're not out of luck yet—send us a message and suggest a product for us to find for you.

Pro Tip: Get the best results by searching by keyword, item number, or brand.
---
2. Faster, Optimized Checkout
Streamlined checkout process
The final step in your purchase is revamped, reworked, and most importantly, much easier to work with! Our express checkout makes it even quicker to get your order in and get back to business.

Stored credit cards
Safely store your credit card right in your account to fly through checkout and avoid entering your info into every single order.

Pro Tip: Create an account for the fastest checkout experience.
---
3. Quick Reordering & Autoship Program
How to reorder
Reordering past items is as easy as ever too. Simply go to your "Account" page and click on "Orders". Pull up the order you'd like to revisit, check off the items you want again, and click "Reorder". It's as easy as that.
How to sign up for Autoshipments
If you're ready to save time ordering altogether, sign up for an automatic shipment of your favorite gym wipes, body care, or paper products. Eligible items will have a "Subscribe for Autoship" option right on the product page. Set your delivery frequency, checkout, and that's it! With our autoship program, it's super easy to manage your subscriptions—add secure stored credit cards, view upcoming subscriptions, cancel a shipment, and more all within your account.

Pro Tip: Autoship your frequently ordered items to save time—plus, you'll never forget an order or run out!
---
4. Streamlined Navigation — Shop Fast or Learn More
Multiple ways to shop
We get it, you want to find your products quickly, place your order, and move on with your day. That's why we've streamlined our navigation to remove the clutter and give you only what you're looking for. Browse our "Shop" menu or use the "Quick Links" to jump right into the product category of your choice.

Pro Tip: Hover over our menu options way up top to get a quick glance at our product lineup.
More helpful content for curious shoppers
First-time visitors and customers looking to see more of what we have to offer can explore our new content pages which helps explain a little bit more about what we do at Zogics. Take a visual trip through our different product categories, learn a bit along the way, and jump right into shopping when you're ready.
We also put our blog links right up top for easy access to more trending topics, industry news, product resources, and much more.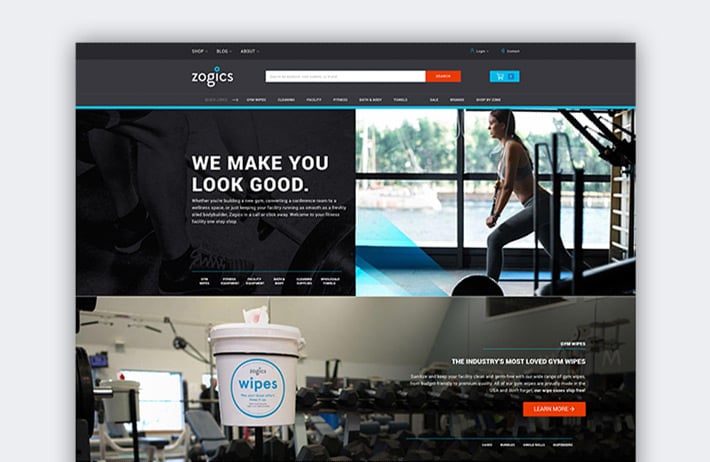 Pro Tip: Want to look around first before jumping right in to an order? Start here and keep your eye out for any "LEARN MORE" links—they'll take you to valuable content for you to explore.

Smart filters for easy product sorting
Our product filtering system allows visitors to refine their browsing to find exactly they need. Mix and match filters in any category to hone in on your shopping needs.

Pro Tip: Use the left sidebar filtering system to refine what you see. Easily filter down by category, brand, price, size, color, and more!
---
5. A Better Mobile Experience
The best mobile shopping with Zogics yet
Shopping with us when you're on-the-go has never been better. We've optimized our mobile experience so that you can enjoy all of the great features whether you're at your desk, in the car, or at the gym.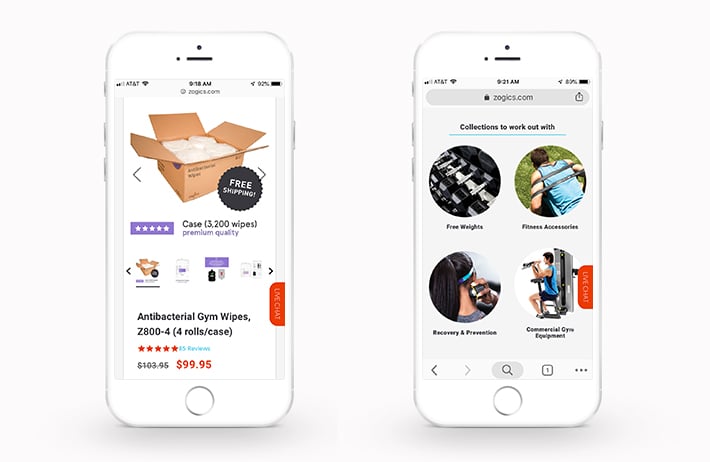 ---
FAQ
Do I need to create a new account?
Nope, all of your account settings and past orders remain exactly as they were. Login or create an account by clicking on "Login" at the top right of our website.
What's the Quick Links navigation menu?
This menu, placed right below the search bar provides direct links to our shoppable product categories—these are perfect links for those who know what they're looking for and where to find it.
How can I provide feedback on the redesign?
We'd love to hear what you think! Chat us up right on our website or send us an email at hello@zogics.com.
Where can I find your new content pages?
Our content pages are woven throughout our website, on the homepage, category pages, and product pages. We want your experience to be as organic as possible and for you to shop, learn, and explore at your own convenience. Look for links that say "Learn more" or "Explore".
How do I get coupons and access to your promotions?
Your best bet is to sign up for email coupons and deals (we won't ever spam you—we hate that just as much as you do). Brand new signups will also receive an entry coupon just for joining the crew!
I searched your website but still can't find what I'm looking for, help!
We pride ourselves on being powered by you—if you have a suggestion for a great product that you couldn't find on our website, let us know!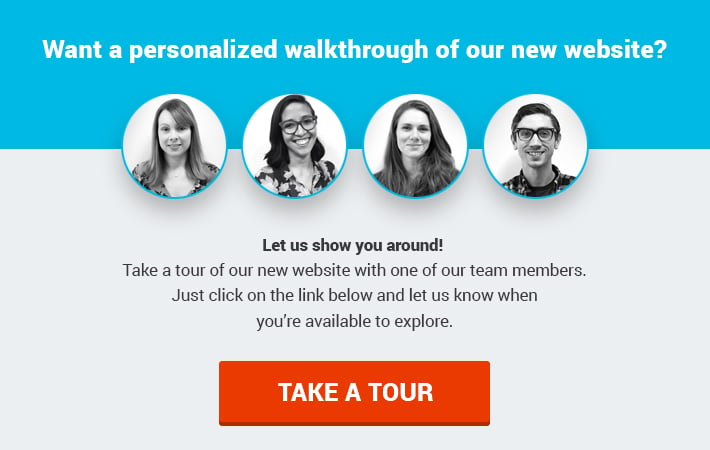 Explore Zogics Clean Guide Library
Empower your staff and reassure your community with our FREE downloadable cleaning and disinfecting guides for fitness centers, educational settings, hospitality facilities and more.
Topics from this blog: #trending
Back