16 New Year's Resolutions
January 5, 2016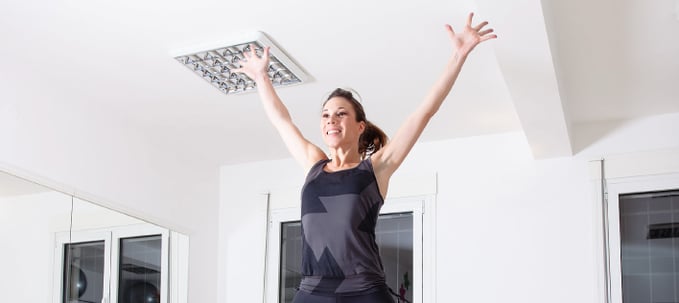 Happy New Year! Another year is upon us, and people everywhere are preparing to better themselves for an amazing 2016. That said, a lot of New Year's resolutions revolve around weight loss and fitness goals, and as a wise gym owner, you're readying yourself for the massive amounts of new members.
To help you get your facility ready for 2016's New Year's resolutions, we've created this top 16 list of must-dos:
Repair or Replace Broken Equipment.

As new members start pouring through the door, your facility will be under some extra scrutiny. If you've ignored any machines on the fritz slip through the cracks throughout the year, this is the perfect time to evaluate your equipment. Fix anything that can be repaired, and get rid of anything that isn't coming back to life in order to make room for shiny new equipment. The beginning of the year is also a good time to consider mixing up your equipment and/or class offerings with new equipment that won't break the bank and does not require a lot of floor space like the

TRX Trainers

.
Eliminate the Odors.

As you're probably very aware, fitness facilities can take on odors of their own. While the stench of sweat lingering in the air may indicate the sweet smell of victorious workouts, it can also turn off potential new clients. Strategically place

commercial air fresheners

and try out a HEPA air purifier throughout your gym to trap and eliminate odor causing bacteria before they eliminate potential income from your bottom line.
Staff Up.

The less available your staff is to answer questions and help newbies, the more likely you'll lose those clients to the Land of Unfulfilled New Year's Resolutions. Make sure you're heavily staffed and that everybody understands the importance of the all-hands-on-deck mentality. Keep your communication methods open so everybody's on the same page, allowing your staff to assist clients with use of the equipment and understanding the rules of the facility.
Secure Safety Measures.

Safety should always be at the forefront of your employees' minds, but overtime, some essential safety equipment can fall by the wayside. January is an excellent time to go through your first aid kits, and toss anything that has expired, become damaged, or looks questionable. Replace depleted quantities, and take an inventory of your current first aid supplies. Do you have enough first aid kits to adequately account for super busy days when your facility is at maximum capacity? If you're not sure, you probably need to up your safety kit supply. You also need to make sure you have an

AED

(or a few, depending on the size of your gym) for emergencies. This isn't something you want to skimp on, so if you don't have an AED (automated external defibrillator in your facility, you definitely want to add this to your list of essentials right away. Test any AEDs you already own to make sure the

batteries

and

electrode pads

are good and the devices are in working order.
Double-Up on Cleaning Supplies.

Between the influx of people who can't wait to workout in your gym, and the fact that New Year's happens to fall during cold and flu season, it only makes sense to double-up on antibacterial goodness that will do its own double duty. Diligent cleaning will not only disinfect and sanitize your facility, but also ensure an inviting, clean atmosphere. Remember, for someone stepping in to your facility for the first time, first impressions are going to make or break you. And, according to IHRSA, gym cleanliness is the single most important factor in member retention. Have plenty of hand

sanitizer

on at the front desk for the customers as they enter the facility, and ensure that you have

gym equipment wipe dispensers

fully loaded with

gym equipment wipes

of choice for your exercise equipment and other surfaces.
Create Killer Incentives.

Most New Year's resolutions end up needing a helping hand when it comes to keeping the commitment. Fitness New Year's resolutions are among the most commonly made promises, but that also means they're among the most unfulfilled as the weeks go by. This is where you come in.

Create some killer incentives

that will encourage calorie burn without resulting in gym burnout. It's a fine line, but with a little creativity, you can enhance your members' experiences with rewards, prizes, and recognition that will encourage them to embrace their healthier new lifestyle.
Define Your Competitive Advantage.

The fitness industry is far from docile. It's a competitive marketplace with tons of other facilities vying for your clients' dollars. You should always know what makes you different from the other guys so you can easily tell potential customers

your

gym is where they need to be. What makes you better than the guy next door? If you're not sure, it's time to hit the pavement and do some personal research so you can understand where you stand in the market. Your

brand's identity, mission and vision

are a vital part of attracting new consumers, and it's essential that you know what else is out there so you're constantly on top of your game.
Facilitate Feedback.

Everybody has something important to say, and it's time to listen up. Facilitate ways your staff can provide suggestions or input about daily operations. Supply a suggestion box to give members a way to voice their own ideas, and make sure you're monitoring social media sites so you can identify opportunities and address any negative comments quickly. If you have a member email list, consider creating a survey with a free tool like

Survey Monkey

and ask your customers how you are doing. Most importantly, once you get the feedback, act on it.
Create Routines.

Once you've identified your facility's needs, organize your supplies, team members and tasks. Make sure you have opening, closing, and shift checklists so your staff understands their role in the responsibility of cleanliness and upkeep. Create and inventory system to ensure that you don't run out of

cleaning products

and equipment. Routines will help keep everything running smoothly without much effort.
Put Procedures in Place.

Your gym's New Year's resolutions are just as susceptible to falling off the commitment bandwagon as are those of the people who workout at your facility. Commit to keeping up your efforts by meeting with staff once a week to discuss what's working and what's not so you can adjust as the year goes on. Try out a weekly staff round up meeting for everyone to what's working and what's not so you adjust as needed to better serve your members. Solicit feedback and ideas from your staff on how to transition new members into long term clients. This is also a great way to share your mission and vision with staff that may have just joined your team.
Inspire Your Members.

Your gym should be a community where people can see achievable results. Check the web to find ways

other gym owners inspire their members

, and mimic their methods in your own facility. Find ways to bring your members together, and highlight achievements, big or small, to encourage your entire gym community.
Get Involved in Your Community.

Find local non-profits that fit with your mission and vision, and explore ways to volunteer or partner with them. Invite your members to come along. Donations, sponsorships, and booths can mean big things when it comes to brand recognition.
Consider Adding a New Profit Center.

You don't want to grow too big too fast, but if you've established success in the status quo, consider

adding a profit center

to your facility. Group classes, personal training, juice bars, and massage are just a few options that can create viable possibilities for your bottom line in the coming year. As an example, gym owners can add a smoothie or juice bar with minimal equipment and space. The biggest investment you would need to make is choosing which type of

commercial blender

to use.
Evaluate Your Technology.

Are your point-of-sale systems up to par? Do you have a CRM system in place that allows you to enhance your members' experiences by understanding their needs on a personal level? Have you embraced the

power of marketing

in a way that will make people knock down your gym's door? Let this be the year where your fitness know-how converges with technology that can take your company to the next level.
Sync Up with Your Social Media.

If you're behind on the social media bandwagon, one of your New Year's resolutions needs to include rapid entry onto the social media scene! Social media is where your members live, and you're losing out on a lot of prospective clients if you're active on sites like Twitter, Facebook, Instagram, and the rest. At the very least, you need to be engaging in conversations on Twitter, respond to feedback (positive and negative) on Yelp!, and consider getting even more savvy by livestreaming workouts, classes and running videos on Periscope (make sure you cover the bases and get signed approvals by anyone you'll be featuring in your videos!). Here is a great guide to g

etting started on #Periscope for fitness

.
Stay on Top of New Fitness Trends.

Staying at the forefront of fitness trends is a vital part of your facility's success. There are limitless resources to help you, but you have to be willing to learn. Open yourself up to the possibilities by subscribing to notable industry publications like

ClubSolutions Magazine as well as lifestyle and fitness blogs like Greatist

.

Network with your peers by getting active on

LinkedIn

, and create or join a

Meetup

group in your area specifically for gym owners and fitness professionals. Groups like these are great for bouncing ideas around in a communal, rather than competitive, environment.
If you're ready to get your gym in shape for your members' New Year's resolutions, request a quote from our team at Zogics today, and let us know how we can help!
Explore Zogics Clean Guide Library
Empower your staff and reassure your community with our FREE downloadable cleaning and disinfecting guides for fitness centers, educational settings, hospitality facilities and more.
Topics from this blog: industry news
Back