A Letter to Our Customers.
This evening, our Zogics team will be out celebrating our eighth anniversary. Before we raise a glass to how far we've come, we'd like to pause for a moment to thank our customers. Without your loyalty and support, we wouldn't have created the products you inspired, or made the leaps we've made. Frankly, our Zogics team wouldn't exist and our business wouldn't be here. (And S'bu certainly wouldn't be sprawled out on the couch).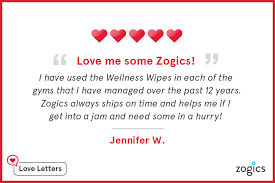 From day one, we've appreciated each and every one of you. We are where we are today because of you. It was never our goal to be a company that just develops and sells products. Building rapport, getting to know how your business works, and kicking around ideas together drives us to do better. We get that our value is in our partnerships. It's why we strive to be indispensable to you.
Over the years we've had a great deal of fun discovering creative ways to express our gratitude. It's not uncommon for us to record a personalized thank you video like this one.
In case you haven't noticed, hearing from our customers makes our day. In fact, we created our #ZogicsLove initiative to keep our dialogue with you alive. Just snap a photo of our product in action with #ZogicsLove on Facebook, Twitter (@zogics), Instagram and Pinterest, we'll send you some love back.
We look forward to working alongside you for many years to come. Thank you for being at the center of this wonderful adventure.
Cheers!