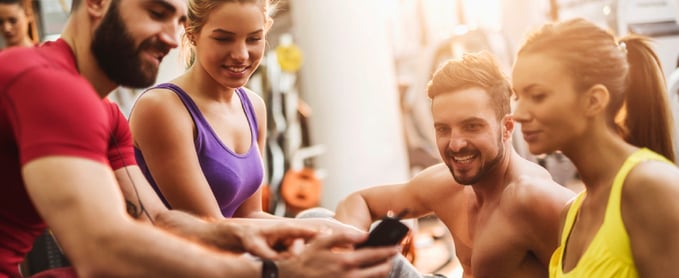 15+ Questions to Ask Before Buying. Whether they love it or hate it (the relationship between your gym and your members is serious. As Paul Bascobert, president of local at Yodle, says in an interview with Club Solutions Magazine (customers want to have a relationship with their fitness center.
" … If you have a relationship with your fitness center, that means things are going well. Fitness centers have a great opportunity to take advantage of that desire and do things like newsletters, special offers, renewal offers to maintain that relationship."
For gym owners, a good member relationship starts with clean, well-run business operations (a hassle-free process makes for happier customers), and staff that are friendly and helpful (again, happy team = happy members). But to take it to the next level, gym membership software is key to managing lasting customer relationships. It can fuel your gym's growth, organize employees, improve team collaboration, and create better overall experiences for gym members.
Sounds good, right? Not so fast. When it comes to finding the right membership management software for your gym, get ready—there are a lot of options out there.
So where do we start?
How to Evaluate Membership Software for Your Gym
Similar to any major business decision, you'll want to do some homework and carefully weigh your options. Here's some of our best tips and tricks of the trade—all with the goal of making it easier for you to run a thriving facility.
First, figure out your needs.
Take a few weeks to document business processes, specifically related to membership activities. How are you onboarding new members, following-up for monthly or annual renewals, and sending offers and specials? How is your team scheduling programs, and how do trainers schedule gym time?
Note processes, owners, and any current technologies involved in the day-to-day. You'll want to make sure your bases are covered when updating business techs, and that systems play well with one another if replacing an existing process.
Do your homework.
Third-party software evaluation websites are ideal for finding information and reviews about top options all in one place. Sites like Capterra offer a collection of solutions, in this case, categorized as "club management software." Check out what's available, and make a short list of those that seem most relevant to your business. From there, you can start comparisons and trials.
Another tried-and-true homework strategy: ask your network. What are other gym owners using, and are they happy with it?
Ask the right questions.
Armed with information about your daily operations, member activity and top prospective options, sit in the driver's seat by bringing the right questions to sales conversations. Here's a starting list:
Related to Administration
How many members does it support?
Does pricing vary per membership base?
How many administrators / team members will be able to use the software?
Related to Tech
Which features in this system can replace our existing technology?
What type of uptime, security, compliance standards and certifications are promised in a SLA? (We know this is techy-speak, but it's basically promises that the software will work. Just ask to be sure it's included in writing, and remember it's a good comparison point against top options.)
What type of tech support is available? Is it available on evenings and weekends?
Related to Team Usability
What's the most common challenge for companies transitioning from an existing database to membership software?
What's the average onboarding period for a team my size?
How easy is it to manage across multiple franchises?
What type of team and membership reporting is available? What are the most used reports for gyms like mine?
Related to Member-Facing Matters
Will the software integrate with my website?
Will members be able to access their own profiles via my website? Via an app?
Does the software handle payments and renewals?
Does the software include email workflows, or automated communications based on gym use or customer lifecycle?
Does the software offer member workout tracking? And if so, can members share workout results?