Cleaning Your Facility the Sustainable Way
April 10, 2023
In this post:

Why you should clean your facility with sustainability in mind
How to find eco-friendly cleaning products
Become an environmental advocate
If you own a retail store, a warehouse, a gym, or any other commercial facility, you have to ensure that your building remains clean and free of bacteria. Regularly cleaning your building helps to ensure it is sanitary, keeps your employees and customers healthier, and helps to improve the appearance of your space. Besides that, you may be required to keep the space clean to meet certain health and safety standards.
How do you find the right products and practices? Using cleaning products that are environmentally-friendly, and cleaning your facility in a sustainable way, has many benefits for the environment as well as those in your building. Read on to learn more about cleaning your facility while staying sustainable.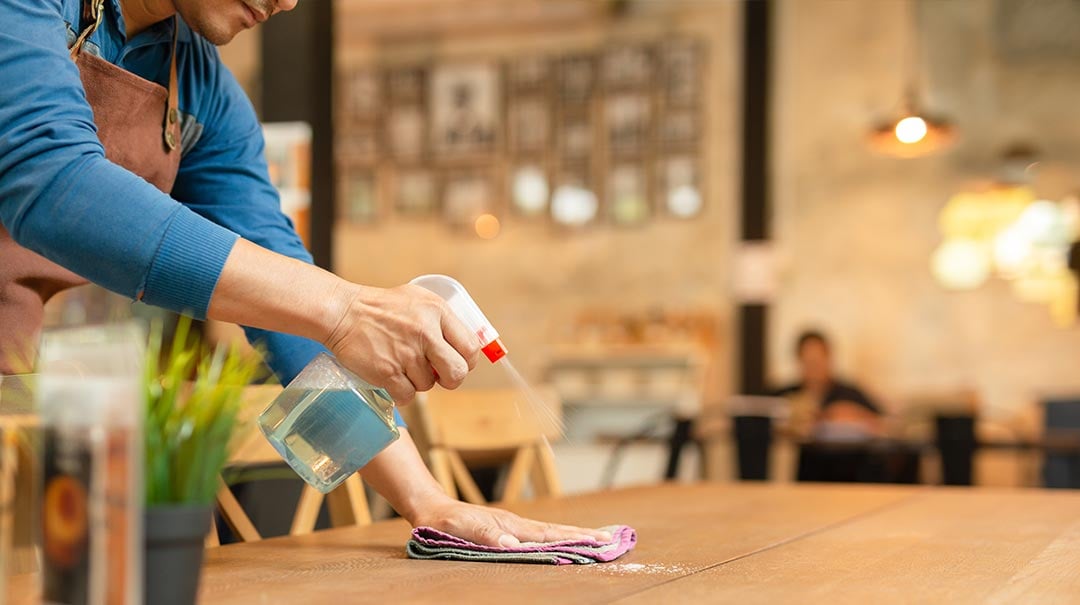 The Importance of Cleaning Your Facility Sustainably
When you hear about cleaning your facility sustainably, the first thing that you may think of is environmentally-friendly cleaning products. However, sustainable cleaning of your facility applies to cleaning products as well as the cleaning techniques and methods themselves. When you focus on eco-friendly cleaning practices, you are not only using green cleaning products that are safer for the environment but you are using cleaning methods that use less water and less energy compared to standard cleaning processes.
Using green cleaning products is important, as many other products contain harsh chemicals. When these chemicals are used and then sent down the sink or into the sewer systems, they can be harmful to plumbing, animals, and plant life. Using products that are considered green or environmentally healthy involves using products that are safer for the environment and do not have these harmful chemicals. This is not only better for the environment, but it may be better for your health and your employee's health. Strong chemicals can cause throat irritation, eye irritation, or even breathing issues.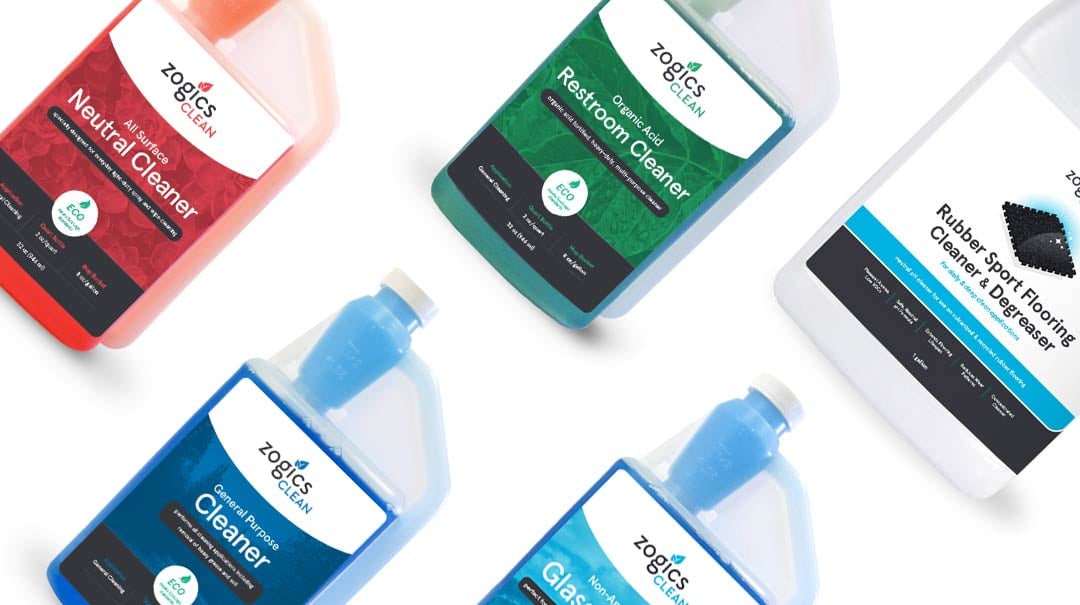 Cleaning Products That Are Environmentally-Friendly
Regardless of whether you are planning on cleaning your facility yourself or hiring a professional to help you, one of the things that you need to consider is what cleaning products are being used. Many companies out there are developing new environmentally friendly cleaning products. This includes products from major cleaning supply manufacturers like Zogics.
They created a full line of Zogics Clean environmentally-friendly janitorial supplies and cleaning products, including products like cleaners, disinfectants, sprayers, and floor care products. All Zogics Clean products are EcoLogo certified, non-toxic, non-corrosive, non-flammable, biodegradable, and free of VOCs.

Zogics offers Bioesque Solutions as well, which primarily designs products for commercial facility use. This includes products such as disinfectants, mold and mildew removers, cleaners and degreasers, odor and stain removal, floor cleaners, and safe wood cleaners. Instead of having products that clean or sanitize using bleach or alcohol, Bioesque is designed to clean and disinfect with Thymox, a biodegradable oil-based biopesticide.
If you're running a community laundromat, you might be interested in Zogics EcoPro laundry detergent, which is free from phosphates, nonylphenols ethoxylates, GMOs, parabens, triclosan, formaldehyde, gluten, dioxides, optical brighteners, artificial scents, dyes, and SLEs. You also won't find any trace of animal byproducts or animal testing in this product. The innovative packaging is also in line with reducing environmental impact, which means that you'll use 75% less plastic than the competitors. You'll be happy to tell your patrons that they're contributing positively to the environment.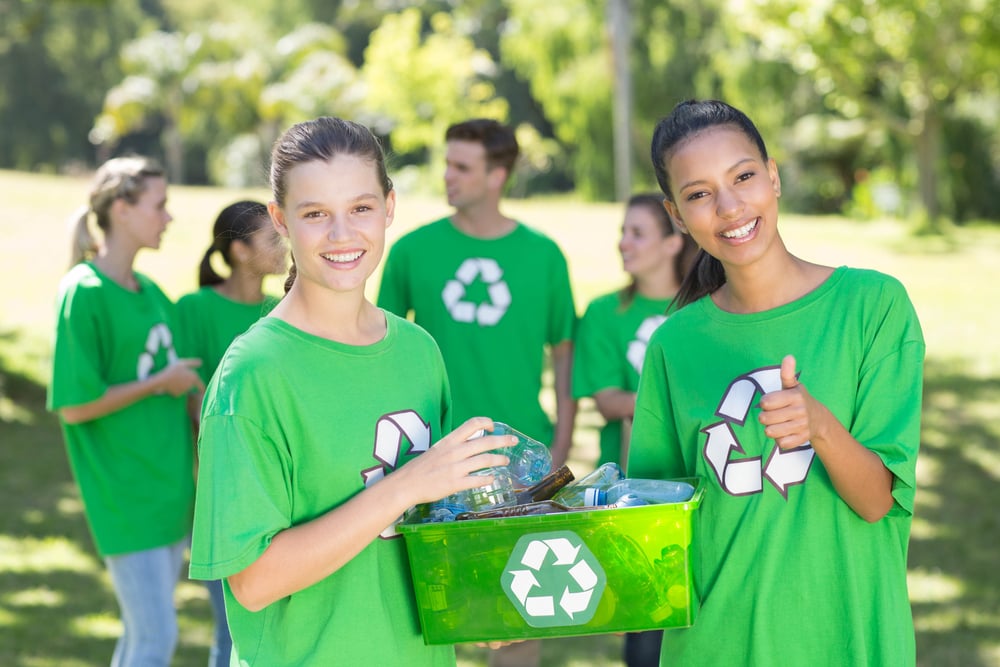 How to Be an Environmental Advocate
Once you're on board with using sustainable products that help the environment and your facility, you're contributing as an environmental advocate! To continue down this path, you'll want to confirm that your efforts are working. Take a look into certified air quality managers who can help test your air and ensure assess the health effects of any indoor air pollutants you have left. You can also continue to use environmentally-conscious cleaning efforts in addition to your products.
When you are looking to hire a professional to clean your facility in a sustainable manner, you should always ask the facility if they have environmental certifications. Asking what environmental certifications a cleaning company possesses is important as it helps you to see that a company does not just state that they use eco-friendly cleaning techniques, but it helps to prove that they do.
As your business grows, though, you might want to take your cleaning into your own hands. If you or one of your team members is interested in becoming a Certified Environmental and Safety Compliance Officer or learning more about OSHA, there are great resources out there. Using these tools, you can learn a bit more about what it means to live your work life sustainably while complying with safety standards.
Why Your Should Clean With Green Products
There are several reasons why you should consider cleaning your facility using green or environmentally-friendly cleaning products from Zogics. Whether it be using an environmentally-conscious cleaning company or an environmental professional that can clean and monitor your business sustainably, you can do your part!
Selecting green cleaning products and sustainable cleaning methods helps to reduce the impact that your business has on the environment, while also reducing your carbon footprint. This is one of the first steps to doing your part for the environment and helping to keep chemicals out of water sources. Reach out to a local cleaning company with environmental certifications to ensure you are using cleaners or janitorial companies that can get your space deep cleaned sustainably. Make sure they're using products that you approve of, too.

—Thank you to our friends at the National Registry of Environmental Professionals (NREP) for their contributions to this blog post.
---
Related Content:
Explore Zogics Clean Guide Library
Empower your staff and reassure your community with our FREE downloadable cleaning and disinfecting guides for fitness centers, educational settings, hospitality facilities and more.
Topics from this blog: #trending
Back