COVID-19 Resources: Six Steps For Returning to Work Safely
October 5, 2020
Ready to get back your staff back to work?
Here are six key ways to safeguard your employees' health and wellness upon their return to the office.
As parts of the country begin to open up again, more and more people will gradually begin to go back to working in their offices. Returning to work for some may be scary, awkward, and just plain disconcerting. In the last several months, 'normal' best practices and workplace etiquette have been upended—and that includes office life.
To help ease the transition, we're offering six key steps to ensure your workspace is prepared for employees to return.
1. Make sure they're entering a safe space.
Now is the right time to declutter (if you have a shared break room, purge the refrigerator and cabinets, stat!) and invest in the right tools to disinfect your spaces. Sprayers (paired with disinfectant) are great to disinfect large spaces.
A crucial step is making sure that the workspace they'll be returning to is thoroughly deep-cleaned and disinfected. We created the Zogics Clean Guide for Business Services (a FREE download) to help you go room by room and step by step in each space in your facility, deep cleaning and disinfecting.
2. Ensure that all staff is practicing healthy hygiene.
Add signage in restrooms and throughout the office space to encourage healthy habits like masking, handwashing, maintaining social distancing, what the COVID-19 symptoms are, and staying home if they're not feeling well.
Make sure you've got plenty of supplies to support these efforts on hand, including PPE, hand sanitizer, commercial soap dispensers, (now's a great time to add in touch-free dispensers!), and cleaning wipes.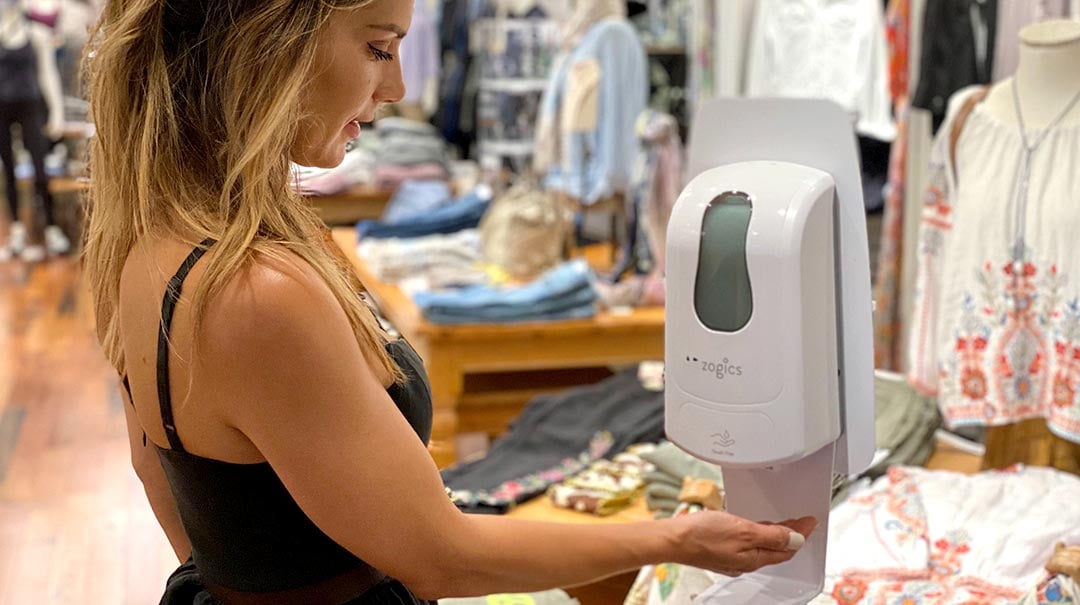 3. Update your policies and procedures.
There's no doubt that the Coronavirus has changed policies and procedures across all industries, and talk of a second wave this winter necessitates a complete review of how your facility is run. Review your corporate policies including sick time, work from home, and of course your cleaning procedures. High touchpoint spots like doorknobs, printers, and elevators—they're all going to need to be cleaned and disinfected much more frequently. It's also a good time to ensure that your cleaning supplies are fully stocked.
Take a look at your spaces and places: what needs to be rearranged for proper social distancing? How will you organize meeting rooms? Having these sorted out prior to employees returning to the office is crucial.
4. Make mental health a priority, too.
Oh has it been a year! And many are feeling it. Help ease the anxiety of a return to the office by keeping your employees aware of the changes they'll be returning to; keeping the communication lines open is key. Support them with a clean, disinfected space, that's well organized and fully stocked to help aid in the fight against bacteria and germs. A welcome back package (like hand sanitizer, masks and maybe add some individually-wrapped snacks for a smile) for each worker is a nice gesture.

5. Restore worker productivity.
Recognize that it's going to take some time for the staff to get back up to speed after months spent at home. Help ease the transition by being flexible with arrival and departure times, keeping as many workplace rituals as possible (dress up on Halloween, and celebrate birthdays with a signed-by-all card and individual treats, etc.).
6. Socially interact - safely!
It's important to be flexible with employees as they reconnect. Give workers time during the day to celebrate returning to the office, as well as catch up on personal and professional happenings. Many businesses turned to tools such as Slack (a few of our favorite channels here at Zogics: #water-cooler, #healthyrecipes, and #zogicspet) and Zoom while remote; keeping these channels active will help with both social distance socializing and workplace safety.
Following these steps will help to ease the transition back to the office. Keep the lines of communication open with employees, create safe and healthy spaces for the duration, and recognize that there may be a few bumps in the road; it's still 2020, after all.
Explore Zogics Clean Guide Library
Empower your staff and reassure your community with our FREE downloadable cleaning and disinfecting guides for fitness centers, educational settings, hospitality facilities and more.
Topics from this blog: #trending
Back