Meet Stuart Thilmany and Daisy of Keep The Beat Wellness in Northbrook, IL.

Tell us a little bit about yourself.
I've been married for almost 31 years to a wonderful woman who allows me to live my dream with owning my fitness studio. We have a 25 year old son who just moved to Denver and 3 dogs. I spend most of my time at work or events selling two products I am passionate about. I also have a hydroponic Tower Garden at work where I grow vegetables, lettuce and herbs.

What made you decide to open your fitness studio?
I am an exercise physiologist with 27 years experience working at a local hospital in the Cardiopulmonary Rehab Unit. Unfortunately, our hospital was bought out and I was laid off in 2009. That's when I decided to open my own fitness studio which caters to baby boomers and beyond. I am truly passionate about helping people feel better and lead healthier lives.

Some of Keep the Beat Wellness' clients.
What do you think makes your facility special?
Relationships. My clients make friends while they are exercising, we laugh a lot and have fun while exercising. They feel comfortable here because of my healthcare experience and education, and it helps that the facility is very clean (thanks to Zogics wipes). I also have a furry greeter every Thursday when one of my dogs comes to work with me.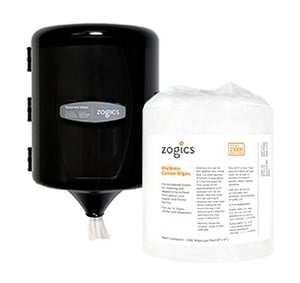 What do you like about Zogics?
The customer service is the gold standard at Zogics: whether you call or email, response is immediate! I also like the gym wipes - they last a while and clean the equipment very nicely with just the right amount of wetness to them.
We're so proud to have you as a customer, Stuart! And I'm sure your members are happy to see your lovely dogs at the gym. Make sure to check out Keep The Beat on Facebook.