Facts About Electrostatic Sprayers
August 5, 2021
In this post:

Where to use electrostatic disinfecting sprayers

What are the benefits of electrostatic sprayers

What disinfectants to use with your sprayer
What's an electrostatic sprayer, and where do you use it?
By now, most people have heard of electrostatic sprayers for disinfecting purposes, as they've become part of the Coronavirus pandemic response. In fact, this technology has been around for decades, and despite its recent popularity for disinfecting larger industrial spaces (air travel, nursing homes and hospitals, fitness facilities), it's equally useful in homes, on indoor turf, in classrooms, and great for virtually any highly trafficked area.


How do electrostatic sprayers work?
Electrostatic sprayers charge the disinfectant solution's particles, driving the disinfectant directly to surfaces. The positively charged particles repel each other like magnets, spreading evenly across the sprayed surface. Charged particles then wrap around curves and can reach into hard-to-clean and easily missed corners and crevices.
Why is electrostatic spraying so popular?
Here are three big reasons why electrostatic sprayers are so popular for disinfecting surfaces:
They're touch-free.

No need to touch the surface, the electrostatic spray wraps around surfaces for 360◦ of coverage.

They're fast!

Electrostatic sprayers disinfect 3x faster than traditional spray bottles and paper towels.
They're convenient.

Electrostatic sprayers are cordless; you don't have to worry about dragging a cord around the room (or tripping over it).
What disinfectants do you use with an electrostatic sprayer?
There are two types of disinfectants suitable for electrostatic sprayers: Tablet-style Disinfectants, and RTU or Ready to Use Disinfectants:
Tablet-style Disinfectants
Tablet disinfectants, such as PURTABS or EZ-Bleach, are easy to use. You simply add the appropriate number of tablets to water in your sprayer reservoir, let them dissolve, and your solution is made!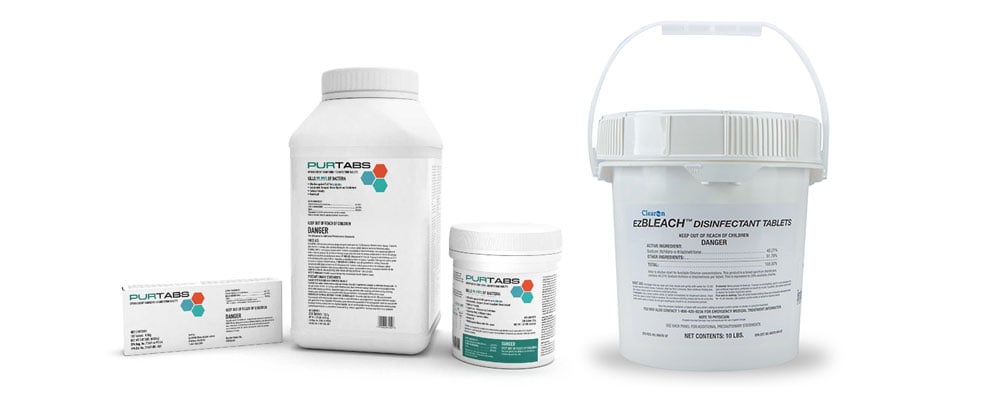 Tablet-style disinfectants also save you money when shipping, as you're not paying to ship a liquid disinfectant, which weighs more and can increase shipping costs.
RTU (Ready-to-Use) Disinfectants
With just-right levels of disinfectant every time, ready-to-use disinfectants are a smart choice for electrostatic and atomizing sprayers.

Zogics Hypochlorous Acid Ready-to-Use Surface Disinfectant

is effective on hard, non-porous surfaces, and on the

EPA's List N

of disinfectants effective against SARS-CoV-2, the virus that causes COVID-19.

Zogics Hypochlorous Acid Ready-to-Use Surface Disinfectant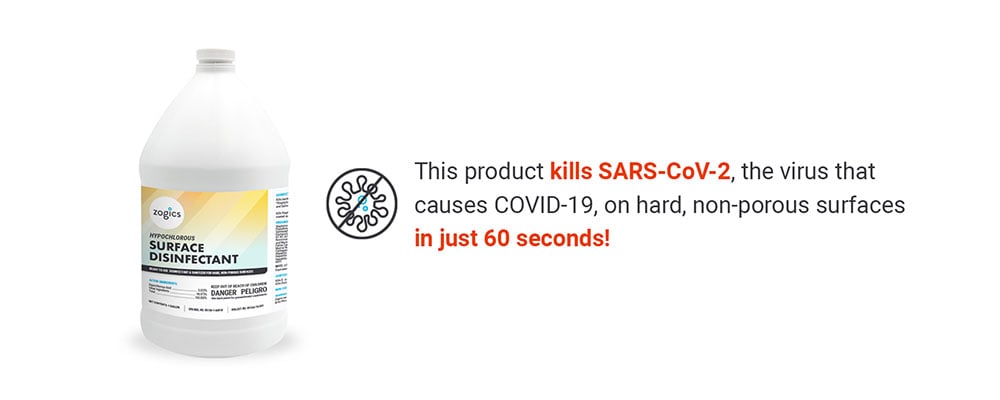 Bioesque Botanical Disinfectant Solution
Bioesque Botanical Disinfectant Solution. Naturally derived, Bioesque protects your staff and guests from unwanted viruses and pathogens. With a formula that is free of bleach and other harsh chemicals, Bioesque's naturally-derived Botanical Disinfectant Solution is a great choice for hazard-conscious or environmentally sensitive settings.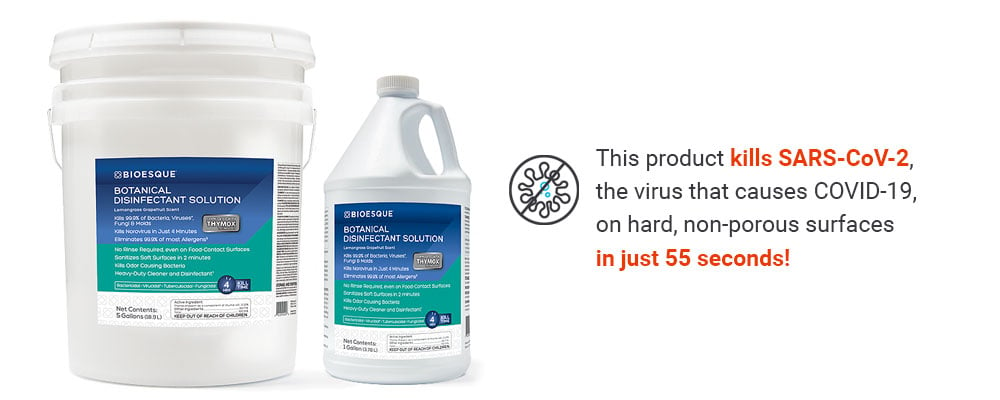 Vital Oxide Commercial Surface Disinfectant
We also recommend Vital Oxide Commercial Surface Disinfectant. This broad-spectrum cleaner, sanitizer, and disinfectant is designed to be used on both hard & soft surfaces.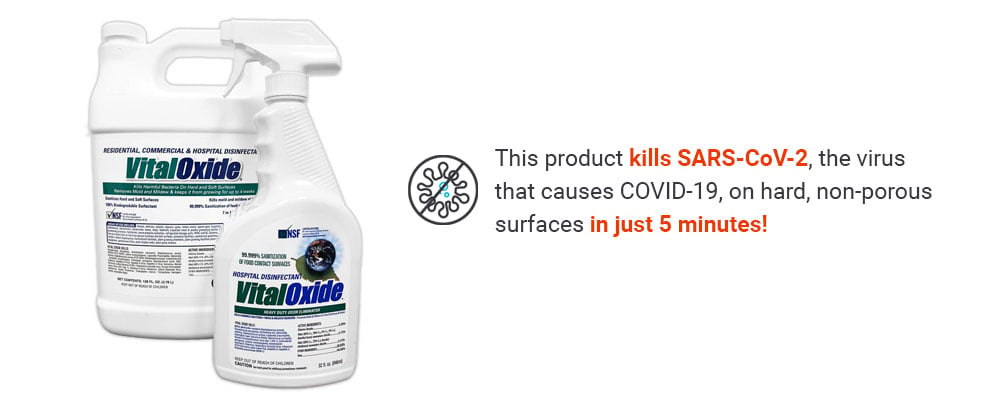 Made with a hospital-grade quaternary ammonium chloride base formulation, Vital Oxide disinfects and sanitizes porous surfaces such as upholstery, linens, carpets, and athletic turf, as well as nonporous surfaces such as counters, walls, and floors. This is a great advantage for Vital Oxide, as many disinfectants are recommended for hard, non-porous surfaces only.
Interested in learning more about electrostatic sprayers and how schools, corporations, hotels, fitness clubs, and sports facilities address high touch surface disinfection? Drop us a line at hello@zogics.com or chat us up!
---
Related Content:
Explore Zogics Clean Guide Library
Empower your staff and reassure your community with our FREE downloadable cleaning and disinfecting guides for fitness centers, educational settings, hospitality facilities and more.
Back