Fitness Studio Essentials
March 1, 2016

Interested in opening your own gym or fitness studio? Or do you already have a health club, but want to expand your business by introducing yoga, pilates, Zumba and more?A fitness studio requires more than just some open space and an assortment of different weights. The following products will ensure that your studio is well-equipped and ready to go!
Fitness Equipment

The first and most obvious need for your fitness studio space is some exercise equipment! Most fitness centers own the following:



Free Weights
As the bare essentials, your studio should have dumbbells, kettlebells, barbells and a weight lifiting station. Don't forget that you may need a few racks to store your free weights.


Best-selling free weights: York Barbell Rubber Hex Dumbbells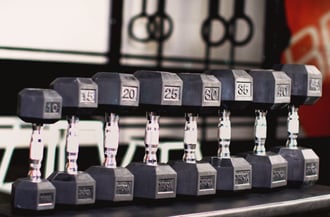 These safe, attractive dumbbells have contoured chrome handles and durable rubber-covered heads for increased safety and comfort.Available in weights 2.5 – 30 lbs in 2.5 lbs increments, and from 30 – 125 lbs in 5 lbs increments, York Barbell weight plates are rated for commercial use and can be found everywhere from commercial clubs to CrossFit gyms to military installations.


Resistance Bands
Stretchy bands have become increasingly popular as an alternative to free weights. Stock up on some different bands to offer your clients some variety.


Best-selling resistance bands: Power Systems Premium Versa-Tube, 48"
Helping to strengthen muscles, improve balance, and prevent injuries, resistance bands such as the Premium Versa-Tube Resistance Tube are a portable, lightweight, simple to use, and are an inexpensive way to add some extra "oomph" to your workout sessions, whether you are an experienced athlete or just beginning fitness training.




Suspension Training


Also trending this year is suspension training. While many of your members may not have been exposed to this type of strength training, offering a new way to exercise can be appealing to both current and new customers.


Best-selling suspension bands: TRX Pro Suspension Trainer, TRXPRO3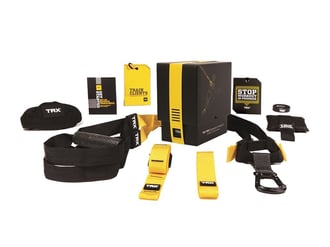 Built to fit the needs of professional trainers and optimized for commercial durability and safety, the TRX Pro Suspension Training Kit comes with the most durable suspension trainer offered by TRX, trainer specific videos and updated features for you to train your clients anywhere. Developed to withstand the high demand of commercial use, the ultra-durable Dupont Kevlar fiber and reinforced locking loop guarantee high performance session after session.




Fitness Mats


You're going to want durable and comfortable mats to meet your needs, especially if you plan on holding any classes such as Yoga, Pilates or core exercises that take place on the floor.


Best-selling mats: Merrithew Deluxe Grommet Mat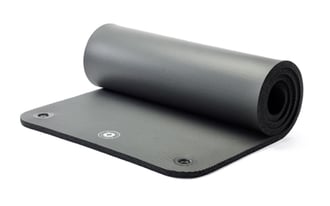 The Deluxe Pilates Mat keeps your workout comfortable as you tone and energize your mind, body and soul. Its durable, cushion construction is designed to protect your spine and soften hard surfaces. This professional-quality mat features closed-cell foam construction that withstands repeated use and can be easily rolled up, making it a great option for multi-use facilities. Features a smooth surface for ease of movement.
Miscellaneous
Depending on your studio type, other essentials include stability balls, medicine balls, yoga blocks, barre bars and jump ropes.
---
Hygiene
Let's keep it real: after a vigurous exercise, some members may work up a sweat, have smelly body odor and may spread germs from one fitness machine to the next. That's why you need to stock up on some hygiene products and other sundries to help keep everyone (and everything) as clean as possible (your patrons will thank you for it!).



Fitness Equipment Wipes
Soft, fragrant and most importantly, compatible for all gym equipment, wipes become very handy in protecting equipment surfaces from grime, bacteria and other damage.


Best-selling Gym Wipes: Wellness Center Wipes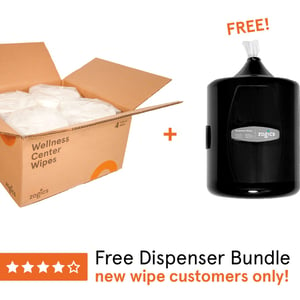 Zogics Wellness Center Wipes strike the perfect balance between strength, quality, and cost-effectiveness. As low as 2.3 cents per wipe, one case includes four 1,150 ct rolls pre-saturated with a quaternary disinfectant, and a fresh scent your members are sure to love. Rolls are 9" high x 8.5" in diameter. Individual wipes measure 9" x 6" in size.There are several dispenser types which can be paired with gym wipes as best suit your studio needs.





Floor Care


Your fitness studio needs to be prepared for any type of cleaning emergencies that occur on-site. Make sure to have mops and buckets for liquid accidents as well as a vacuum cleaner to get rid of any dirt brought in by unclean shoes.


Best-selling vacuum cleaner: ProTeam Super Coach Pro 6 Backpack Vacuum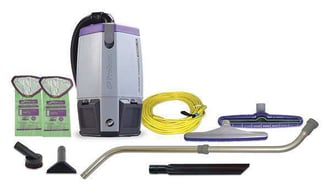 The ProTeam Super Coach Pro 6 Backpack vacuum combines smart design, high filtration and durability all into one machine. Weighing in at just 11.6 pounds, the Super Coach Pro 6 is lightweight and comes with an adjustable harness that provides complete support for any user. The new design steps away from traditional designs and improves ergonomics by staying more flush to the user's back.




Air Fresheners


While cleaning off all surfaces will aid in relieving some of the smelly remains of a hard workout, nothing ensures a fresh, fragrant smell as air freshener does. This small device is worth its investment- no one likes a sticky gym!


Best-selling air freshener: Commercial Air Freshener Dispenser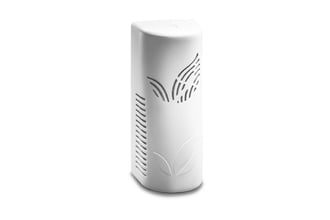 This air freshener dispenser was designed with a singlefan to cover a wide area. It includes all the features you'd expect from a modern battery operated air fan diffuser. Designed for use with our eco-friendly Natural Air Freshener Squares, one natural air freshener dispenser provides up to 300-500 square feet of odor control.
---
Safety
Accidents happen, and when they do, your business is put on the line if you are not ready to respond to it. This places high importance in being prepared for any type of emergency. Equip your fitness studio with the following equipment to ensure maximum safety.




First Aid Kit


For accidents that require immediate attention, a fully-stocked First Aid Kit will provide the essentials for short-term response.


Best-selling First Aid Kits: Medium First Aid Kit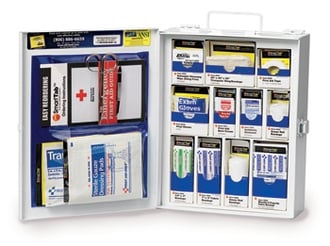 The SmartCompliance First Aid Cabinet creates the most cost-effective and compliant first aid solution available today. The innovative design eliminates disorganized and missing supplies often seen within traditional first aid cabinets.As first aid supplies are used, the SmartTab ezRefill reminders notify your staff when it's time to reorder.



Automatic Defribrillator (AED)
It is often required that all exercise facilities carry an AED on-site. A defribrillator can mean the difference between life and death in emegency situations. To avoid any liabilities, it is highly stressed that a studio have one or two, depending on size.
Best-selling AED Defribrillator: Philips HeartStart OnSite AED Slim Carry Case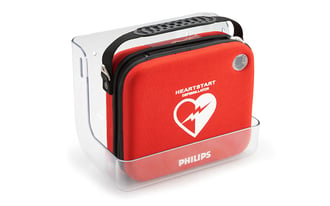 The right technology can make all the difference. Studies indicate that defibrillation within the first 5 minutes of a cardiac event can improve survival rate by 90%. The Philips HeartStart defibrillator is the most in demand AED on the market. It's also the only AED available without a prescription.
Making the right investments into building your fitness studio is very important. For one, it helps to retain current customers who will be satisfied with their overall experience. Secondly, it allows your studio to stand out from others and attract a steady flow of new clients to your business. If you're worried about keeping your business profitable, check out the following ways that you can add more revenue streams to your gym!
Explore Zogics Clean Guide Library
Empower your staff and reassure your community with our FREE downloadable cleaning and disinfecting guides for fitness centers, educational settings, hospitality facilities and more.
Topics from this blog: industry news
Back