How to Pick the Right Commercial Trash Cans for Your Facility
November 30, 2022
In this post:
Top considerations for choosing a commercial trash can
Different options of trash cans and waste receptacles
How trash cans can improve your facility
Cleanliness is a must when it comes to your facility, and that doesn't just mean surface cleaning. If you've ever been to a business where the trash is overflowing, it's an instant turn-off—and one that can be easily avoided by having enough commercial trash cans in place.

Here are our top tips for choosing the right trash cans for your facility. Keep in mind that by creating an action plan for refuse and how you're going to tackle that, you can quickly improve the look and feel (and smell!) of your facility.
Perform a Litter Audit
In order to get a handle on the number and type of commercial trash cans you'll need, it's recommended that you measure your litter in order to get it under control. Both inside and outside your facility, take note of the amount and types of litter you find. This will help you determine the right type of trash cans for each space as well as the right location to place your cans. When spacing out your garbage cans, location is definitely a consideration. Entrances, exits, common areas, and spaces like break rooms, parking garages, and food facilities.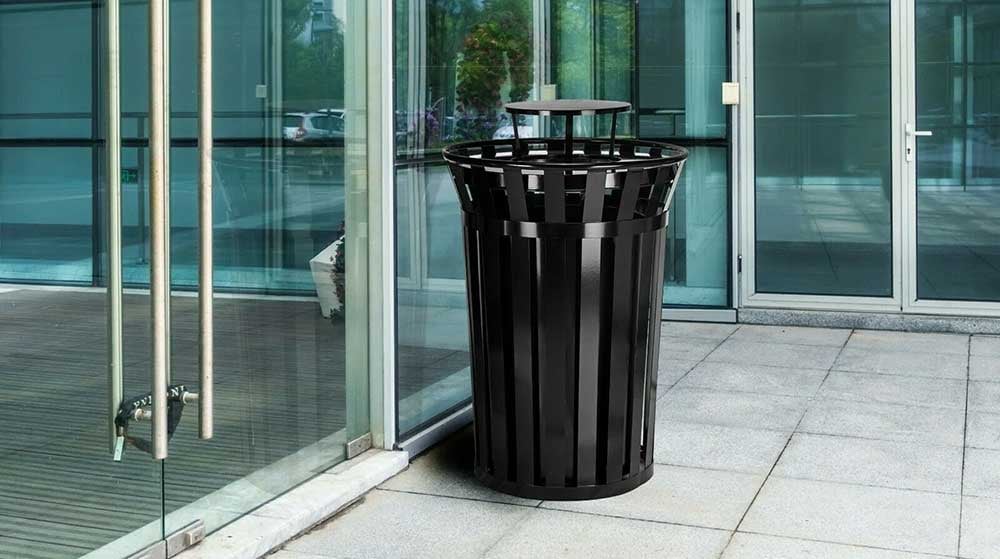 (Alpine Industries Outdoor Metal Trash Can with Rain Bonnet Lid, 38 Gal – Shop Now)
Make Sure You Have Plenty of Trash Cans
Besides proper placement, the number of trash cans you supply at your facility is key. If you don't have enough, your garbage cans will overflow and guests are more likely to litter further. Larger-capacity garbage cans are great for outdoor areas or areas that see more refuse than others (restaurants, sporting facilities, etc.).

Have a Variety Of Commercial Garbage Can Styles Available
Allow pets on site? Pet waste receptacles can help encourage staff and guests to clean up after their pets. Recycling centers also encourage people to recycle their trash instead of simply throwing it away, resulting in less waste in our landfills. Plus, it'll put your business in a favorable light with staff and guests by showcasing your concern for the environment and our planet.
Trash cans with covered tops can help reduce the amount of accidental litter due to inclement weather, plus they'll help keep waste secure and odors at bay. You can choose from fixed-top styles or those with a full lid.
Don't Forget About Maintenance!
That means emptying your trash cans on the regular. Having trash can liners on hand will help your staff to properly empty trash cans and keep your facility as clean as possible. Creating and sticking to a schedule will make this task a breeze.

When it comes to choosing commercial trash cans, it's imperative that you have the right selection of waste receptacles in place as well as take the right steps to make sure your commercial trash cans—and your facility—are properly maintained.

Our Recommended Commercial Trash Cans by Space and Facility Type
Ready to outfit your facility with commercial trash cans and recycling receptacles? Here's a handy list of trash cans useful by facility and space:

Top Trash Cans For Restaurants:
Best Trash Cans For Schools:
Best Trash Cans For Outdoor facilities:
Top Trash Cans For Office Spaces:
---
Related Posts:
Shop Commercial Trash Cans
At Zogics, we provide an extensive range of affordable and dependable commercial & industrial trash cans that will make the lives of you, your staff, and your guests easier.
Topics from this blog: Product Resources
Back