May 18, 2018

Say hello to your new favorite, money-saving, eco-friendly cleaners!
Zogics' new suite of cleaning products are concentrated to yield gallons of usable cleaning solution, all while promoting environmentally-responsible application. Our lineup is ECOLOGO approved and offers the diversity needed to meet a wide range of uses and specialities. From all-purpose cleaners to degreasers and odor eliminators, Zogics Clean gives you the best value for your budget.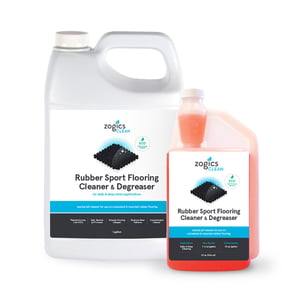 Rubber Flooring Cleaner & Degreaser
This powerful concentrated cleaner is designed specifically for use on rubber flooring. Our Rubber Flooring Cleaner & Degreaser cleans up chalk, removes sweat, cuts through grease, and protects rubber flooring. It's pH neutral and safe for daily cleaning while being strong enough for regular deep cleaning. This product is low toxicity, low odor, and readily biodegradable.


---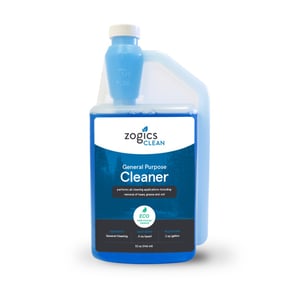 General Purpose Cleaner
Safely and thoroughly performs all cleaning applications including removal of heavy grease and soil. This moderate foam formula leaves a clean, film free surface, making it the ideal product for scrubbing and recoating without the use of harmful chemicals, such as: phosphates (promote algae blooms), EDTA (carcinogen) and NPE (harmful biodegradable intermediate).


---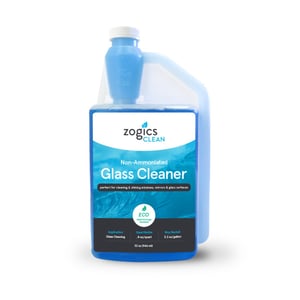 Non-Ammoniated Glass Cleaner
An ultra-concentrated, ammonia-free, non-streaking, non-smearing, quick drying product that cleans and shines glass, mirrors, sinks, countertops, stainless steel, and other washable surfaces. Can also be used as a light-duty cleaner on all surfaces not harmed by water.



---
Organic Acid Restroom Cleaner
Readily biodegradable, this product will not accumulate in the environment and will not contribute to waste treatment plant sludge. Cleans away soap scum, mold & mildew stains, hard water deposits, rust stains, body oils, fats and dirt. Especially effective on removing difficult stains from ceramic tile floors and grouting.


---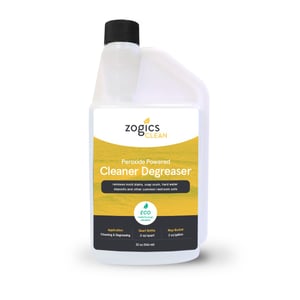 Peroxide Powered Cleaner Degreaser
A highly concentrated all-purpose cleaner that is specially designed to address the environmental, safety and health concerns facing today's housekeeping professional. Can be used to clean most surfaces such as windows, walls, floors, tile and grout, washroom fixtures, tubs, showers, toilet bowls and urinals.


---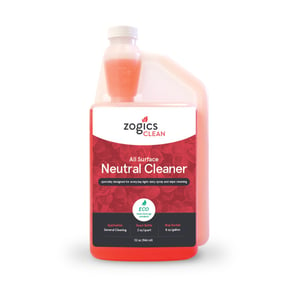 All Surface Neutral Cleaner
A low toxicity, low VOC, readily biodegradable, concentrated floor cleaner that is specially designed for everyday floor cleaning. Neutral pH will not harm floor finishes. May also be used as a light duty spray and wipe cleaner for multiple surfaces not harmed by water.


---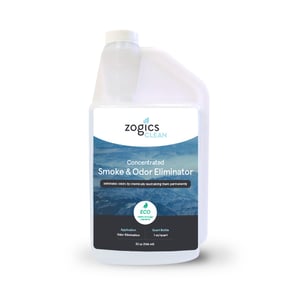 Smoke & Odor Eliminator
A powerful concentrated smoke and odor eliminator that destroys malodors without masking them. This product is ideal for eliminating complex odors such as smoke, pet, rancid or stale food, and mildew odor.


Explore Zogics Clean Guide Library
Empower your staff and reassure your community with our FREE downloadable cleaning and disinfecting guides for fitness centers, educational settings, hospitality facilities and more.
Back