Introducing Zogics ecoPRO™ Plant-Based Disinfecting Wipes
August 7, 2023
In this post:
ecoPRO Disinfecting Wipes are 100% plant-based and biodegradable
EPA-registered and DfE-certified wipes kill 99.9% of bacteria & viruses on hard, non-porous surfaces
Streak-free and lint-free, and free of dyes, bleach, parabens, phenol and harsh chemicals
Eco-Friendly Disinfection Is In Your Hands
Keeping your facility clean and safe has never been more crucial than it is these days. However, it can be challenging to strike a balance between efficient cleaning and caring for our environment. Enter Zogics ecoPRO™ Plant-Based Disinfecting Wipes, the epitome of green cleaning that marries powerful disinfection with earth-friendly materials.

A Greener Choice for Cleaning
Zogics ecoPRO Plant-Based Disinfecting Wipes are an eco-friendly cleaning solution designed to keep facilities clean and safe. They utilize a plant-based cleaning formula, capable of neutralizing germs and bacteria without the reliance on dyes, bleach, parabens, phenol, and harsh chemicals.
These wipes are botanically derived, boasting effectiveness that rivals conventional wipes while offering an environmentally sound alternative.
Zogics ecoPRO Wipes are EPA Registered and DfE Certified
Our ecoPRO Disinfecting Wipes are not only EPA registered but also carry the EPA's Design for the Environment (DfE) certification. This certification signifies that the product's formula consists of ingredients with more positive human health and environmental characteristics than conventional products. This recognition underscores our dedication to producing cleaning solutions that prioritize both human and environmental health.

Gentle Power that Delivers
Despite being free of harsh substances, these wipes pack a punch when it comes to cleaning. Their cleaning formula can eliminate 99.9% of germs and bacteria in a single swipe. Even more impressive, they are certified to kill viruses including SARS-CoV-2 in just 30 seconds, demonstrating their crucial role in the fight against COVID-19. The ability to eradicate HIV-1 and antibiotic-resistant bacteria such as MRSA, VISA, and VRE, cements their place as a powerful, yet gentle, cleaning tool.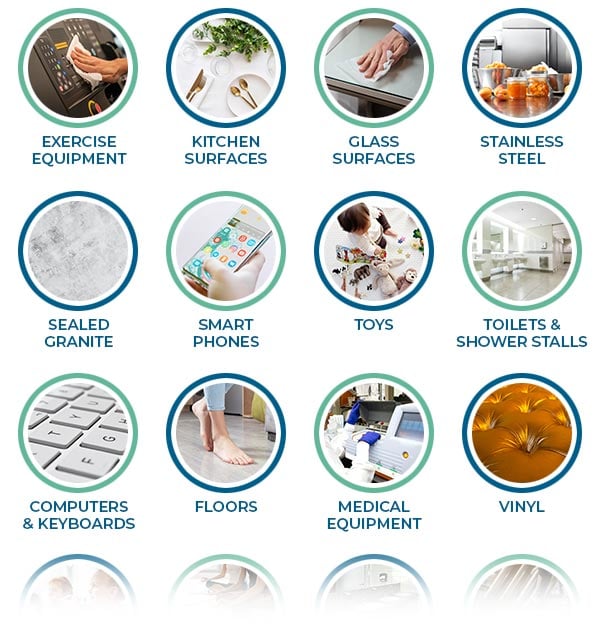 Zogics ecoPRO Plant-Based Disinfecting Wipes are proven effective on a vast range of surfaces
Eco-Friendly and Biodegradable
EcoPRO Plant-Based Disinfecting Wipes take our environmental commitment even further by being completely biodegradable. The detergents used are biodegradable, while the cloth substrate of the wipe itself originates from plant-based materials. Using these wipes means you are actively contributing to waste reduction and promoting sustainability.
Convenience in a Roll
Each roll of ecoPRO wipes contains 800 pre-saturated wipes. The ample quantity and the convenient size (8" high x 6" wide) means you have sufficient supply to tackle any mess, anytime. Designed to fit our floor, wall mounted and tabletop dispensers, the bulk wipe rolls are perfect for any facility, making them a practical solution for maintaining hygiene.
EcoPRO Plant-Based Disinfecting Wipes serve as a testament to how we can achieve thorough cleaning and disinfection without compromising our planet's wellbeing. They symbolize a thoughtful combination of powerful, efficient cleaning with a heartfelt commitment to environmental stewardship. Whether you're a large facility or a smaller business, choosing these wipes means embracing a cleaner, safer, and more sustainable future.



Shop the ecoPRO Plant-Based Disinfecting Wipes Collection:


Shop ecoPRO Plant-Based Disinfecting Wipes
Better for your surfaces. Better for the planet. Shop our plant-based wipes today, and bring the power of plant-based cleaning to your facility today.
Topics from this blog: Featured Product Resources
Back