New Fitness Products at Zogics: May 2019
May 9, 2019

Spring is the perfect time to spruce up your gym's fitness equipment. Adding new fitness equipment and accessories to your facility has many benefits. Importantly, it can help retain your current members and ensure a competitive advantage over other gyms in your area.
Explore our newest products below and learn which ones may be a perfect fit for your facility.
At Zogics, we are always looking to add the best fitness equipment. We select quality products that will make your members smile and stay within your budget.
Reebok Fitness Accessories & Training Equipment

Reebok has been an industry leader for over 100 years. Their line of fitness equipment and accessories covers a wide range of uses in your fitness facility.

Reebok offers a variety of free weights and strength training options. Their dumbbells range from 35lbs to 100lbs. They also feature a neoprene coating to lessen noise, floor damage, and protect equipment. Reebok's 100% cast iron kettlebells range from 44lbs to 97lbs and are ideal for stamina, strength, and muscular endurance.

Boxing or combat training are popular workouts for any gym. They can be used as a stand-alone workout or part of a cross-training workout. Reebok's products will make sure your members get the most out of their boxing workout and stay safe while doing it. Outfit your gym with premium boxing equipment including leather training gloves, strike pads, body shields, and punching bags.

Reebok's versatile stepping platforms can be used in aerobic training. In particular, the deck step platform is a multi-purpose system. Members can include free-weight and power exercises in addition to their aerobic workouts.

Reebok's yoga blocks and straps will enhance your yoga practice. These accessories will help your members perform different poses while also increasing strength, improving flexibility, and helping with proper alignment.
RAGE Fitness Equipment and Accessories

RAGE Fitness is a brand built on strong and durable commercial fitness equipment. From free weights to fitness accessories to recovery equipment, RAGE provides long-lasting value for a variety of applications.

For athletes and fitness pros, explore their range of fitness plates and bars, including competition bumper plates. They are available in both kilograms and pounds and made to Olympic Standards. Their rubber bumper plate boasts industrial strength compared to other conventional rubber bumper plates. For bars, select the right ones for your facility. The Elevation 2.0 barbell takes your workout to new heights. An Invictus 2.0 bearing barbell is a perfect combo of rigidity and flex.

RAGE Fitness Medicine Balls come in a variety of colors and are ideal for strength and conditioning. The product is also made from over 90% recycled material.

RAGE Fitness Kettlebells offer an effective and versatile workout, including both competition kettlebells and cast iron kettlebells. Choose the right type and weight for your gym, available in lbs and kgs measurements.

Training ropes? Boxes? Resistance Bands? RAGE Fitness Accessories will help round out your gym with everything your members may need and more.

RAGE Fitness recovery equipment will provide your members with proper fitness recovery. Explore quality recovery equipment, including massage balls, muscle therapy, and massage rollers.
Anchor Gym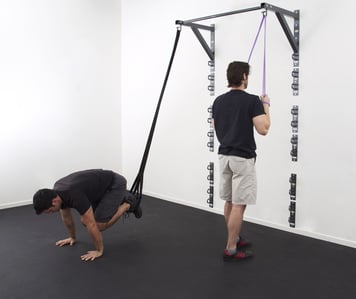 Anchor Gym is a modular functional training station that takes up zero floor space. Its flexible configurations will match your gym's needs and footprint. It can safely anchor resistance bands, loop bands, stretch straps, and others. Each hook is made of all steel and can hold up to 400 pounds of resistance.

Anchor Gym H2 Units are sold in a variety of stations. The options include a single H2 unit, CORE Station (3 H2 units), PLUS Station (4 H2 units), and the PRO Station (6 H2 units). Find the right number of anchors to ensure your members can get the most of their next workout.

Looking for a multi-use configuration? The Anchor Gym pull-up bar provides a complete functional training set-up with four anchor units. You can add this pull-up bar to your existing H2 units or on its own. The pull-up bar also allows for 4-feet extensions and is designed to make the most of your space.

Beyond hooks, Anchor Gym has solutions for band and strap storage, including both a 7 prong and 3 prong storage racks.

You've read about the latest fitness equipment at Zogics, but wanting more? Zogics has thousands of products. Explore everything fit for fitness pros, including our full selection of fitness equipment and accessories.
Explore Zogics Clean Guide Library
Empower your staff and reassure your community with our FREE downloadable cleaning and disinfecting guides for fitness centers, educational settings, hospitality facilities and more.
Topics from this blog: Product Resources
Back