Indoor Air Quality Awareness Month: How to Manage IAQ Concerns
October 21, 2022
In this post:
October is National Indoor Air Quality Awareness Month
Studies show indoor air is much more contaminated than outdoor air
U.S. workers are still concerned about COVID-19
Most Americans spend
up to 90% of their time indoors
, and many spend most of their working hours in an office environment. Studies conducted by the U.S. Environmental Protection Agency (EPA) and others show that indoor environments sometimes can have levels of pollutants that are actually higher than levels found outside.

U.S. Workers Have COVID-19 Concerns
Across the country, workers are starting to return to the office. Many appear to share one glaring concern: COVID-19. A recent Gallup poll found that one in three U.S. workers are "very" or "moderately" concerned about Covid exposure at work.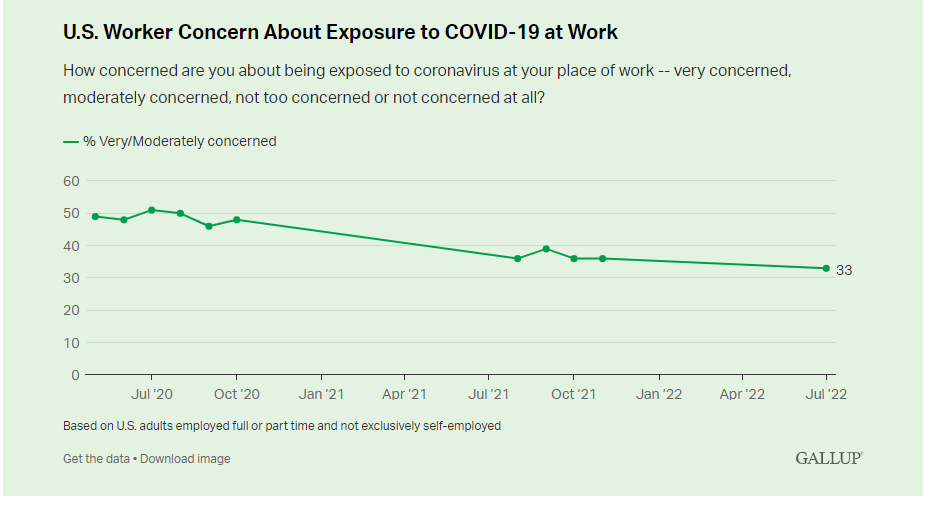 How to Improve IAQ & Ease These Concerns
During National Indoor Air Quality Awareness Month, it's a good idea to ensure your facility is taking the right measures to improve indoor air quality. The air quality in your space will depend on your location, building construction, and even the type of industry you're involved with. Some areas of the country have specific pollutants that are unique to that area, and businesses like gyms, schools, and transportation centers have plenty of foot traffic and bacteria that can spread. You'll find that you can implement some useful solutions to maintain and improve indoor air quality, and take advantage of helpful products such as air purifiers, Clean Air System fans, and more.
Ventilation is one of the biggest issues when it comes to air quality, and you can quickly improve the ventilation in your building with fans that promote maximum airflow. The Clean Air System is ideal for businesses because these fans give you coverage in large spaces like warehouses and industrial settings, as well as office and hospitality settings. This means more comfortable air for you, your employees, and your customers to enjoy. HVAC maintenance is also extremely important, including regular replacement of HVAC filters. Changing your filters as often as needed can help you save money, breathe cleaner air, and enjoy increased safety and comfort for staff and guests.

Air Filtration Systems include solutions like air purifiers, ceiling tile purifiers, and more. Air Purifiers are a popular and effective tool that can be used for air purification and air cleaning. Look for a HEPA air filter that has a high-efficiency rating to remove harmful air particulates like our NSpire Air Filters. You can also utilize activated carbon that adsorbs VOCs and harmful chemicals, and this improves air quality in wildfire zones significantly. The Zogics Premium UV Central Air Purifier uses UV-C light and is safe and effective for handling heating, ventilation, and air conditioning all in one for HVAC units. Check out our full suite of IAQ solutions below: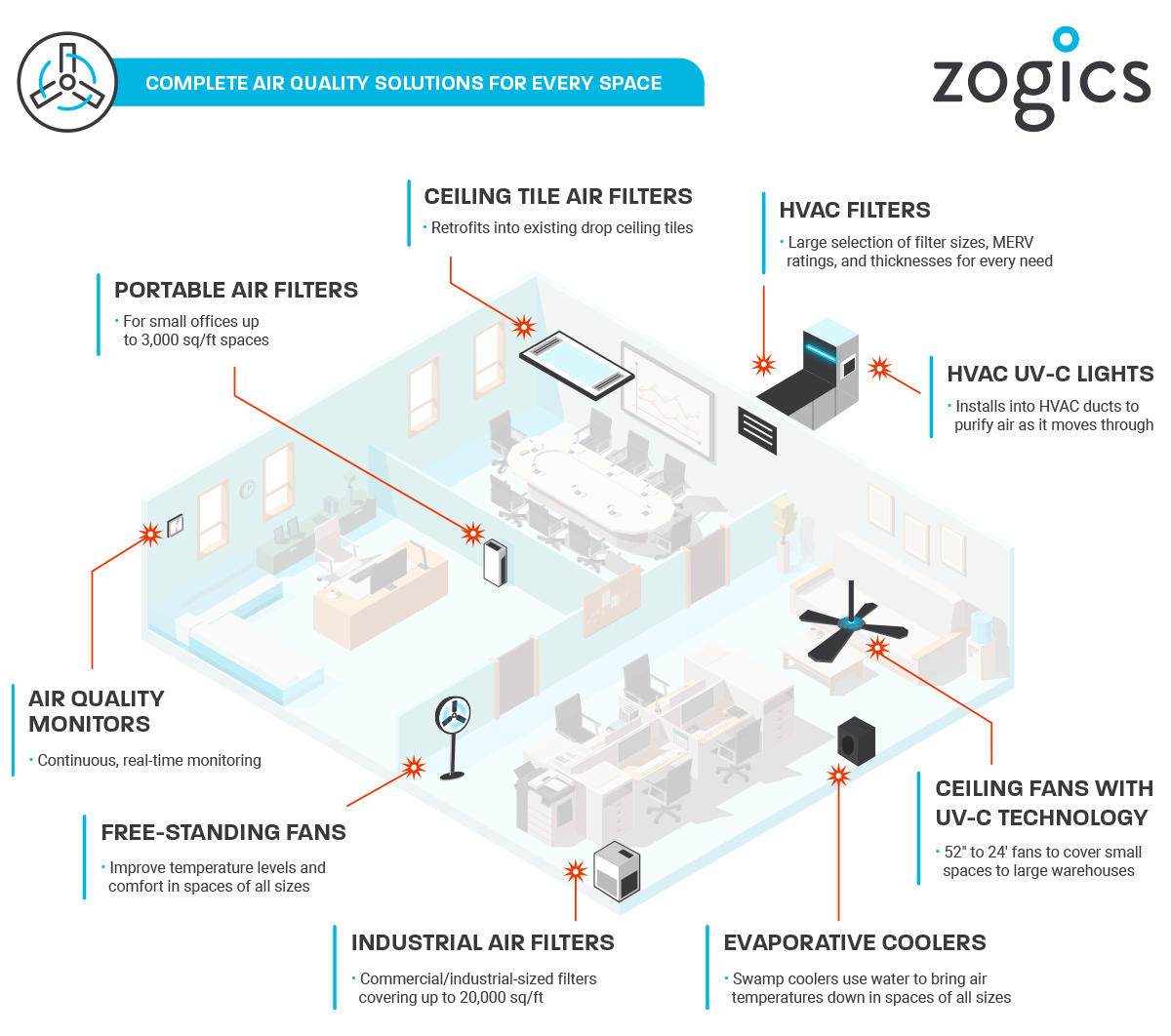 Ready to improve your indoor air, and provide additional peace of mind to employees and guests? Our team of experts has over 15 years of experience providing people with the right products and services they need to thrive, including a wide range of indoor air quality (IAQ) solutions and systems for facilities across all industries and sizes.

---
Related Posts:
How IAQ Improvements Affect Health, Safety, & Your ROI
We approach IAQ from a whole-facility perspective, with the goal of not only reducing contaminants in the air but also improving the comfort level of building occupants through air quality improvements.
Topics from this blog: Product Resources
Back