Product Spotlight: Surgically Clean Air Purifiers
May 24, 2022
In this post:
Get clean, pure, re-energized air with Surgically Clean Air Purifiers
Multi-stage filter systems remove airborne pollutants with delivered airflow up to 448 CFM
Surgically Clean Air provides world-class air purification systems to 50,000+ medical professionals, Fortune 500 companies, and pro sports teams nationwide
Indoor Air Quality: Why It Matters
Ensuring the quality of the air we breathe indoors is of the utmost importance, primarily as we work towards of common goal of mitigating pollutants and pathogens in the air. The tricky thing about IAQ is that you can't see it. You will never be harmed by walking into a facility with good air quality, but you can be harmed by walking into a facility with bad air quality. Most new construction (from the 1970s on) were built to be airtight, so there's much less air exchange happening in offices and buildings around the world. Due to this, many people experience what the EPA calls Sick Building Syndrome (SBS), which can cause a variety of symptoms such as headache, nausea, dizziness, and more (these symptoms tend to improve once you're no longer in the affected building).

In addition to reducing or eliminating SBS, there are many other benefits to improving your IAQ, including energy savings, improved goodwill among your staff and guests, and more (download our free guide to IAQ here).
Why Choose Surgically Clean Air Purifiers
Surgically Clean Air Purifiers, when used in addition to other IAQ improvements, can help remove pollutants and pathogens, and improve the overall air quality in your space. HVAC upgrades, while good, can only result in the removal of up to 50% of pathogens meaning that used alone, they don't do the full job of cleaning the air. Surgically Clean Air Purifiers use the latest technology to capture and remove these harmful particles and are suited for use in many industries. You'll find them in hospitals and healthcare facilities, long-term care centers and nursing homes, dental offices, funeral homes, professional sports teams, commercial offices, fitness facilities and daycare centers, and more. Wherever people gather, you can count on the technology and safety of Surgically Clean Air purifiers.
The top benefits of Surgically Clean Air Purifiers include:
Remove harmful particles, pollutants, and airborne contaminants
Increase alertness & mental energy
Increase productivity
Reduce absenteeism
Minimize facility odors
Reduce staff and patient anxiety
Protect equipment from harmful dust build-up
Surgically Clean Air Jade 2.0 | HEPA Air Purifier
Surgically Clean Air's Jade 2.0 Air Purifier is an aesthetically pleasing upgrade for any facility. This steel-constructed air purifier is built to last and engineered to run quietly and efficiently. The air purifier's six-stage filtration system not only filters pollutants but removes harmful particles, pollutants, and airborne contaminants, thanks to the UV-C + lamp and TiO2 catalyst. Easily move it between rooms, from medical to residential environments; the Jade 2.0 air purifier is an excellent upgrade for any room.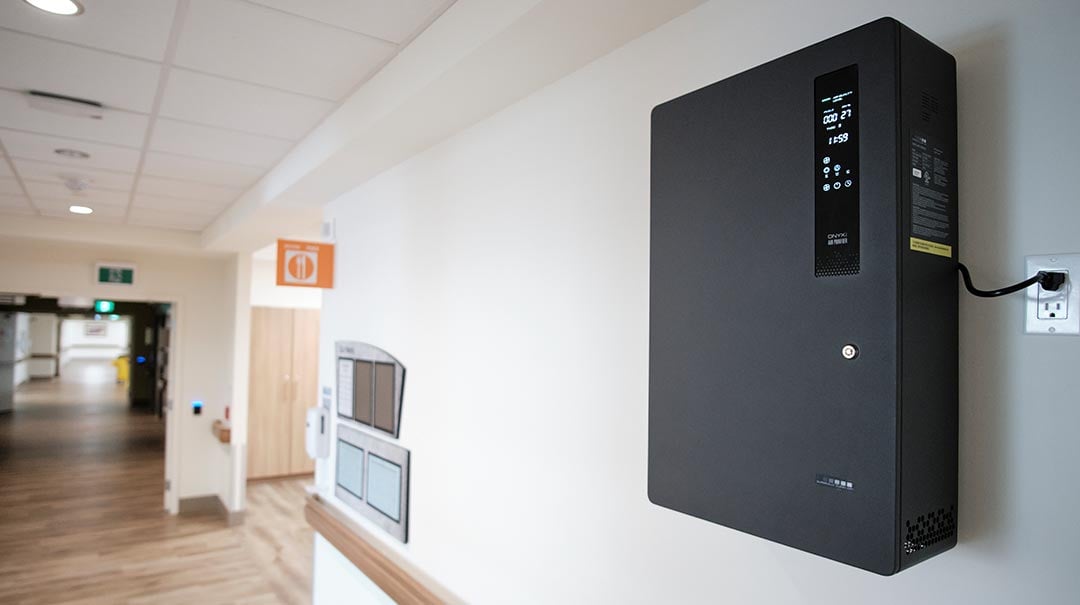 Surgically Clean Air ONYXsca | HEPA Air Purifier
This sleek, robust air purification system is a premium offering in the world of air purifiers. The ONYXsca purifier is designed to move large volumes of air, making it ideal in commercial settings. The multiple stages of purification sterilize and re-energize indoor air. It's whisper-quiet and inexpensive to run. From doctor's offices to conference rooms, this air purifier will give your guests and employees peace of mind that they are breathing the best quality of air possible.
How Surgically Clean Air Purifiers Work
Surgically Clean Air commercial-grade air purifiers draw large volumes into the unit via the air intake system. Contaminants are then captured using the most proven, powerful filtration available: HEPA and activated carbon. Surgical Clean Air Purifiers go a step further than other purifiers on the market by using the power of UV-C+ Lamp and the TiO2 Catalyst to reduce the spread of airborne pathogens. The clean, filtered air is then revitalized with negative ions before being pushed back into the room.

How will I know if my Surgically Clean Air Purifier is actually removing harmful contaminants from the air?
Air purification is generally an invisible operation. Once you install a Surgically Clean Air Purifier, you'll find the air to be fresher and lighter, staff will feel more energized, and there will be less dust on furniture, floors, and fixtures. You will also notice how well it is working when you clean the pre-filter (which is often black with dirt, even from rooms whose air "looks" relatively clean). For a more scientific measurement, a particle counter can be used, or you can conduct a professional air quality assessment to see that the number of particles or level of toxins in room air is dramatically reduced after using a Surgically Clean Air Purifier.
For more information about Surgically Clean Air products, and other IAQ solutions, take a look at our full suite of IAQ products here.
---
Related Posts:
Shop Air Filtration Systems
Improve indoor air in your facility or home with Zogics' selection of IAQ products. Explore our lineup today!
Topics from this blog: Product Resources
Back