New to Zogics: Purell® ES Hand Hygiene Systems
May 2, 2019

The Purell® ES line is now available at Zogics. Upgrade your fitness facility with a hand hygiene system that features revolutionary design, next-level technology, and top performance from America's most trusted hand hygiene products. Learn more about this new line of hand soap, hand sanitizer, and dispensers below.
ECOLOGO Certified
USDA Certified Biobased Product
Enriched with moisturizer
Made from recyclable plastic
Purell® hand soap is two times better at removing dirt and germs than regular soap, but it conserves water too. Did you know that a single refill saves an estimated 6 gallons of water compared to regular soap?
Kills 99.9% of common germs
Hypoallergenic & dye free
Made from recyclable plastic
Green-Certified formula
The Purell® Foam Hand Sanitizer is hard on germs but easy on your members' hands. It includes a blend of four skin conditioners and helps promote skin health.
Both the hand sanitizer and hand soap are available in fresh scent or fragrance-free.

The ES Line features three different dispensing systems to meet your needs and budget. We explore each of the systems below, from the tech-savvy ES8 to the budget-friendly ES4.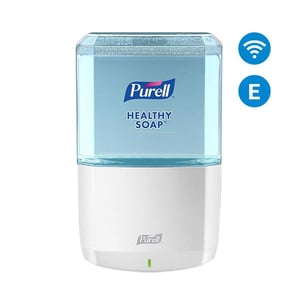 The new ES 8 system offers breakthrough technology, including service alerts and compliance monitoring. This system also will provide easier maintenance and upkeep. The Purell® ES8 system addresses two service issues that you may face at your gym or fitness facility.

Replacing Batteries: We know that checking and changing batteries can be time-consuming. The ES8 system solves this by having each refill integrated with a coin cell battery. So every time you refill the dispenser, you're refilling the battery too. The dispensers also feature back-up power, in case you dispensers feature high usage.
Empty Dispensers: The ES8 refills feature AT-A-GLANCE

®

technology. With one quick look, your staff will know when to refill.
The GOJO SMARTLINK

®

plug-in modules are the latest in hand hygiene technology. You'll be alerted about which dispensers need service or upgrades before you hear about an empty dispenser from your customer.

The ES8 dispensers are available for hand soap and hand sanitizer, in both white and graphite.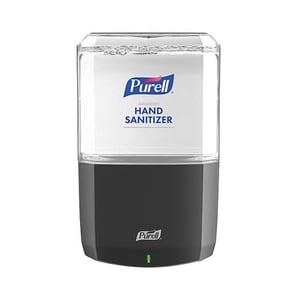 The ES6 system offers a reliable, touch-free hand sanitizer and soap dispensing system. It is the right choice when looking for a mid-market solution. You can upgrade your hand hygiene system and still get the latest hand-free technology. Like the ES8, it offers AT-A-GLANCE® refills. No more guessing when a refill needs to be changed, your staff can see and replace as needed.

The dispenser features 4 "C" cell batteries that are quick to replace, with no tools. The dispensers are available in both white and graphite, making it easy to match your facility's aesthetic.

The ES6 system also can convert to a locking system. This feature is optional, but the right choice if your facility needs a little extra security.
The ES4 system is a cost-effective solution to get the latest technology while still fitting your gym's budget.

The dispensers are push-style and feature the same revolutionary design found in both the ES6 and ES8 systems. It also utilizes AT-GLANCE® technology to make refilling dispensers a breeze. Available in both white and graphite, the system will complement your facility and offer reliable hand hygiene for your members.
Explore Zogics Clean Guide Library
Empower your staff and reassure your community with our FREE downloadable cleaning and disinfecting guides for fitness centers, educational settings, hospitality facilities and more.
Topics from this blog: Product Resources
Back