Rover.com Names Zogics The 8th Best Dog-Friendly Company in the U.S.
June 13, 2019

In advance of National Take Your Dog to Work Day on June 21, Rover.com, the world's largest network of 5-star pet sitters and dog walkers, released its inaugural 'Best Dog-Friendly Companies' list today which ranks the top 100 workplaces across the U.S. for dog lovers to work. The top dog-friendly company went to Amazon and the list also includes companies such as Airbnb, Petco, Salesforce, Zogics, and Chewy. As a dog-friendly office itself, Rover understands the many benefits of allowing pet parents to have their furry friends by their side each day at work.
Today, 40% of all workers feel overworked and pressured, and dogs can offer much-needed relief in an office environment1. According to the International Journal of Workplace Health Management, employees with access to pets at work are less stressed and more productive.
The benefits of a dog-friendly office also impact workplace satisfaction. A recent Rover survey of more than 1,200 U.S. dog owners found that 75% of pet parents who are able to bring their furry family members to the office are more likely to stay with their current employer2. They're more engaged too — two-thirds of employees who currently bring their dog to work feel strongly that they're more likely to approach and start a conversation with a coworker if they have a dog with them.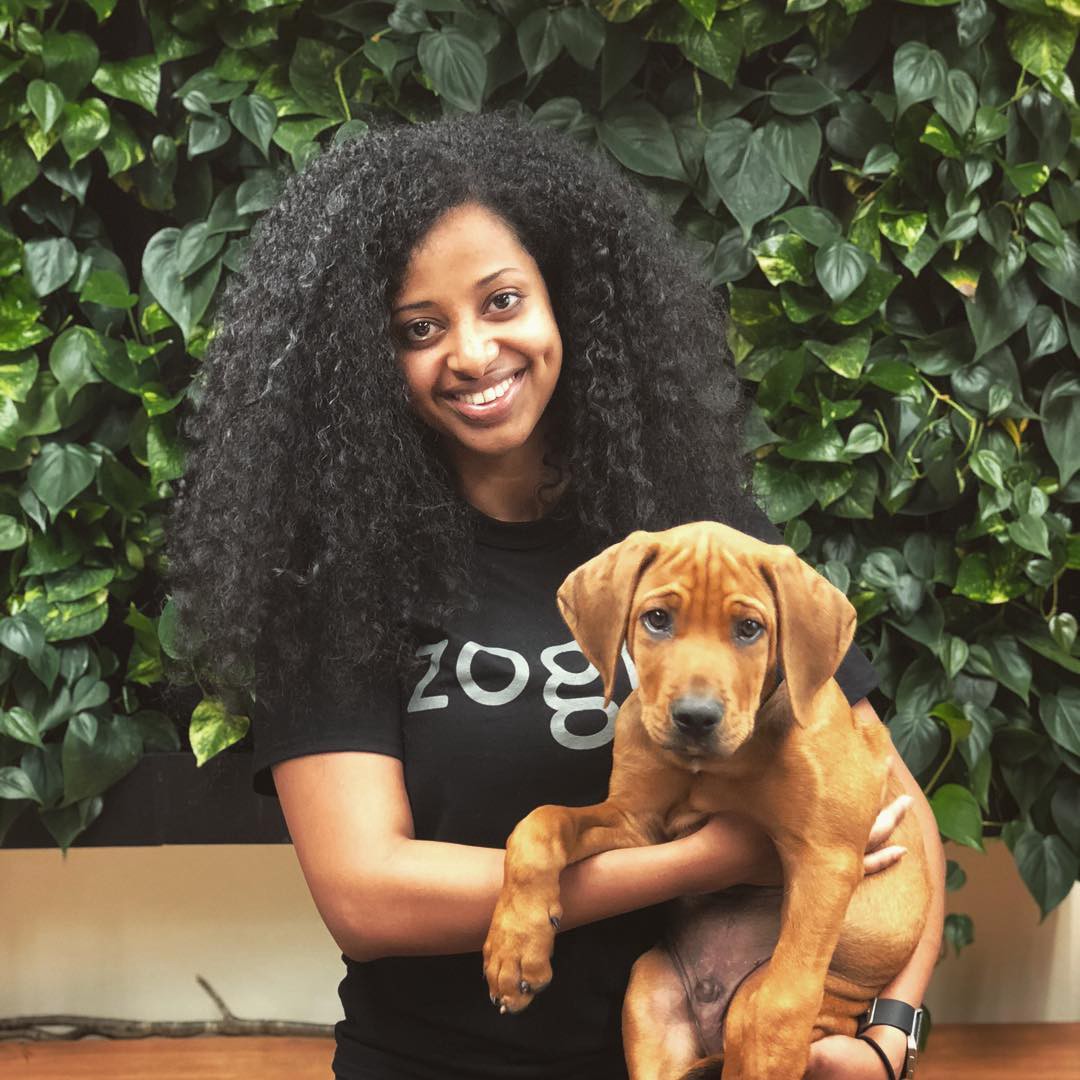 "We love our office dogs and are thrilled to acknowledge by Rover. In addition to reducing stress and fostering greater work-life balance, having dogs in the office also ensures employees move around and enjoy some fresh air as they bring their dogs outside throughout the day," said Paul LeBlanc, CEO of Zogics and Zogics Pet. "Plus, having dogs around is simply great for the work atmosphere."
Phil Tedeschi, Rover's human-animal behavior expert and executive director of the Institute for Human-Animal Connection at the University of Denver, indicates that having pets in the workplace is often welcomed by many employees, not just pet parents. "The bond between humans and animals is good for human health and can build connections in the work environment," he said. "Pets often allow for engagement and shared activity, in turn strengthening bonds among coworkers."
While more and more companies are becoming dog friendly, Rover set out to find which are doing it best and polled more than 100 dog-friendly companies across the U.S. The companies were scored against data Rover collected from pet parents on what they value most, including the total number of dogs allowed in the office, dog and pet parent perks, and office amenities geared towards pups. Top perks offered by several of the companies listed include dog parks on campus, pet adoption fee stipends, pet bereavement, and "pawternity" leave.
"Company culture is one of the most important factors that attracts talent to a workplace and tends to keep them there," said Jovana Teodorovic, Rover's head of people and culture. "While having dogs at the office brings the obvious playfulness and endless wagging tails, it also heightens employees' emotional intelligence, helping them feel more comfortable opening up with one another. Fostering this kind of environment is one of Rover's key cultural pillars, and we're thrilled to see more companies hopping on board," she added.
Best Dog-Friendly Offices in 2019 — Top 15
For more information on each company's dog-specific perks, check out the full list here.
1. Amazon (Seattle, WA)
2. Procore Technologies (Carpinteria, CA)
3. Trupanion (Seattle, WA)
4. PetSmart (Phoenix, AZ)
5. Airbnb (San Francisco, CA)
6. Nestle Purina Petcare (St. Louis, MO)
7. Petco Animal Supplies, Inc. (San Diego, CA)
8. Zogics (Lenox, MA)
9. Ceros (New York, NY)
10. Uber (San Francisco, CA)
11. Salesforce (San Francisco, CA)
12. Chewy.com (Dania Beach, FL & Boston, MA)
13. Sittercity (Chicago, IL)
14. Ookla (Seattle, WA)
15. Splendid Spoon (Brooklyn, NY)
---
1 According to studies cited by the National Institute for Occupational Safety and Health (NIOSH)
2 Rover survey conducted via SurveyMonkey in March 2019 among 1,238 U.S. adult dog owners who work in an office.
---
About Rover.com
Founded in 2011 and based in Seattle, Rover.com® is the world's largest and most trusted network of five-star pet sitters and dog walkers. Rover connects dog and cat owners with pet care whenever they need it. Millions of services have been booked on Rover, including pet sitting, dog walking, in-home boarding, drop-in visits and doggy day care.
As The Dog People™, Rover makes it easier for people to have pet love in their lives through the Rover Guarantee, 24/7 support, vet consultations, and GPS walk tracking. And by sharing expertise on TheDogPeople.com — one of the world's top pet blogs — Rover provides tips and articles that delight, inform, and enhance the bond between people and their pets. To learn more about Rover, please visit www.rover.com.
About Zogics
Zogics is one of the largest e-commerce shops for the fitness and wellness industry. Their comprehensive catalog provides everything fit for fitness pros with thousands of products from hundreds of top brands. Zogics supplies more than 20,000 facilities worldwide, serving gyms, schools, workplace wellness programs, and more. Included on the 2018 Inc. 5000 Fastest-Growing Private Companies in America as well as the Inc. Best Workplaces list in both 2018 and 2019. Zogics also makes a line of premium pet care products under the brand Zogics Pet. For more information, visit zogics.com and zogicspet.com.
Ranking Methodology
Rover's 2019 Best Dog-Friendly Offices were awarded based on Rover's proprietary ranking which polled more than 100 dog-friendly companies across the U.S. Each company was awarded points based on key dog-friendly criteria including number of dogs allowed in the office, dog and pet parent perks, and amenities.
Explore Zogics Clean Guide Library
Empower your staff and reassure your community with our FREE downloadable cleaning and disinfecting guides for fitness centers, educational settings, hospitality facilities and more.
Topics from this blog: #trending
Back