Rover.com names Zogics to Top 20 Best Dog-Friendly Companies of 2021
September 28, 2021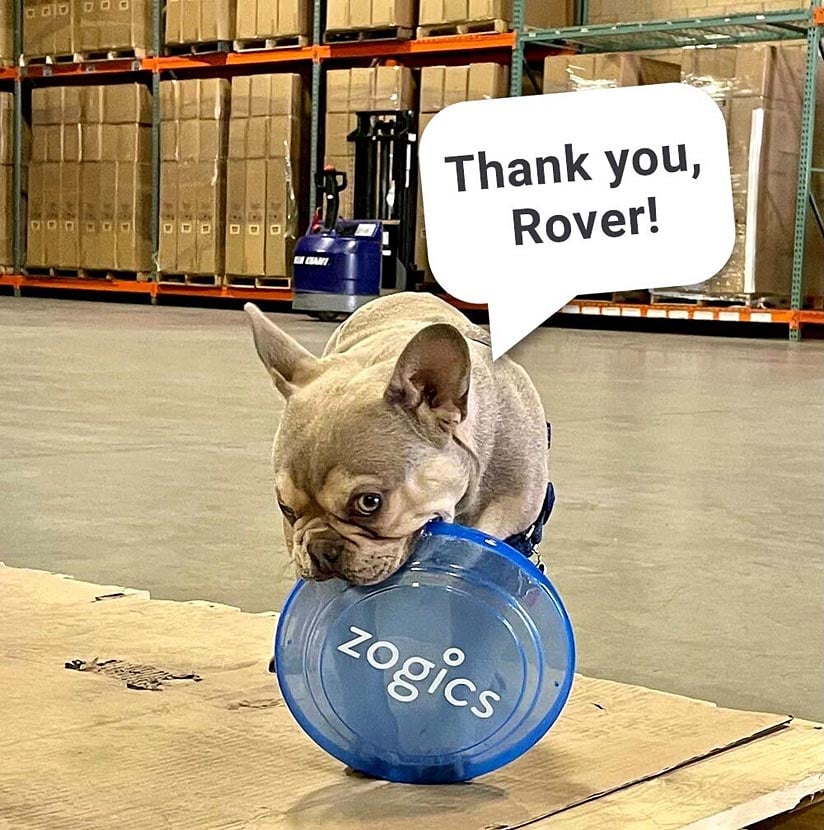 Cru (owned by Zogics Assistant Warehouse Manager, Angelo)
We are proud to announce that we've been named one of the Top 20 Best Dog-Friendly companies of 2021 by Rover.com, the world's largest online marketplace for loving pet care, marking the second time in a row we've made the list since its inception in 2019 (the list took a hiatus in 2020).

Rover.com today released their Best Dog-Friendly Companies 2021 report, which ranks the top workplaces across the U.S. on their dog-friendly cultures. In a year that presented workplace environment challenges like never before, all of the companies listed in the report maintained, and in many cases strengthened, their commitment to providing their employees with dog-friendly benefits.
A recent Rover survey reveals that 77% of American pet parents place even more importance on working for a dog-friendly company after spending so much time with their dogs during the pandemic. Being "dog friendly" means a lot more than just allowing dogs in the office nowadays—especially considering that so many people now work remotely.
As a dog-centric company that knows pets are family, Rover is uniquely positioned to understand the many benefits of supporting pet parents with a robust set of dog-friendly perks. It's a uniquely important time to offer pet-centric perks. Between the unprecedented surge in pet adoption during the pandemic—67% of dog owners said they welcomed a dog into their family in the past year1—and the simultaneous rise of employment rates in the U.S., the job market is increasingly dominated by pet parents whose pets' wellbeing influences their happiness at home and at work.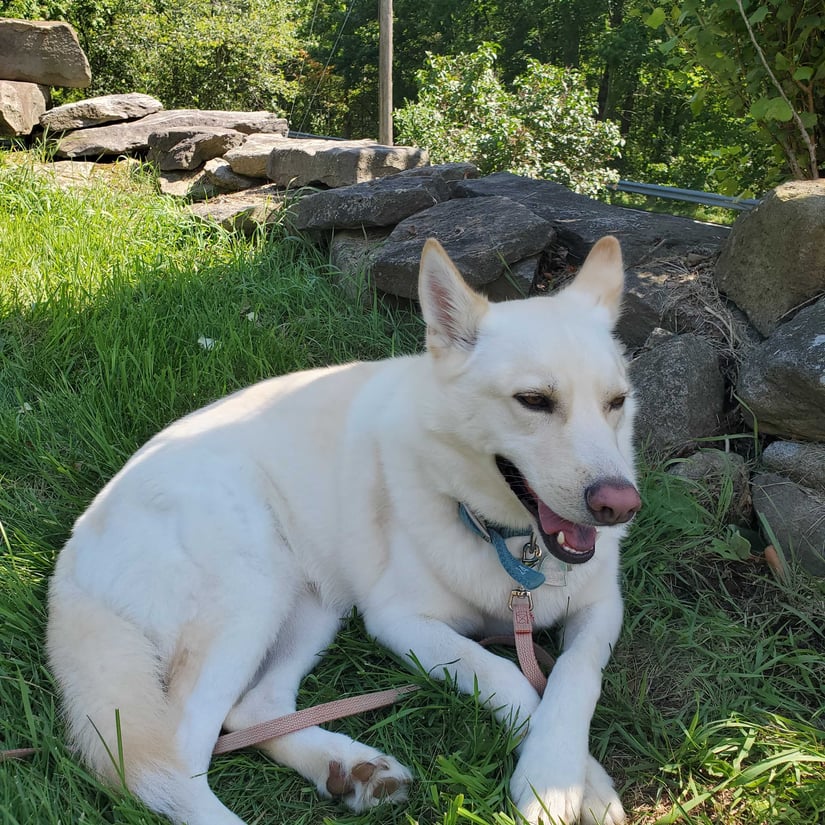 Kato (owned by Zogics E-Commerce Product Manager, Elena)
"We are thrilled to be acknowledged by Rover, and we love our pets. In addition to reducing stress and encouraging greater work-life balance, having dogs in the workplace—whether that's at home since we're work-from-anywhere, or in our warehouse which has remained open throughout the pandemic—also ensures employees move around and enjoy some fresh air as they bring their dogs outside throughout the day," said Paul LeBlanc, CEO of Zogics and Zogics Pet. "Plus, having dogs around is simply great for the work atmosphere. We have a Slack channel, #zogicspet, dedicated solely to our dogs."
In a booming labor market, employers adopting dog-friendly benefits are seeing a return on their investments. Of US-based companies featured in this year's report, 95% believe that being a pet-friendly company has positively impacted hiring and recruiting of new employees. The majority (93%) of businesses claim that company morale has improved since implementing dog-friendly perks with more employee interaction and engagement, and better communication among team members.
As COVID-19 continues to complicate returning to the workplace, many companies are maintaining a dog-friendly culture with: dog cameos on video calls (87%), virtual introductions to new dogs (74%), and swapping dog footage with colleagues (94%). A common denominator among these companies: 100% believe their employees consider their dogs to be members of the family.
"There's a rising sentiment in American society that dogs are, in fact, a part of our nuclear families—they aren't just pets. The pandemic only accelerated and strengthened those feelings," said Rover's head of people and culture, Jovana Teodorovic. "It's abundantly clear that pet-friendly benefits are not only appreciated by employees, but they're actually creating a more productive workforce and competitive hiring process. While some businesses may move to remote work, many others will transition back to the office or into a hybrid workplace plan. We anticipate more than ever that they'll consider where and how pets fit into the equation."
Thabo (owned by Zogics CEO, Paul)
This year's Top 20 Best Dog-Friendly Companies include:
Amazon (Seattle, WA)

athenahealth, LLC (Watertown, MA)

Trupanion (Seattle, WA)

Kinship (New York, NY)

PetDesk (San Diego, CA)

Stride Health (San Francisco, CA)

Petco (San Diego, CA)

Purina (St. Louis, MO)

SelfMade (New York, NY)

SS&C Advent (San Francisco, CA)

WeWork (New York, NY)

VMware, Inc. (Palo Alto, CA)

PeopleConnect People Search (San Diego, CA)

PetSmart (Phoenix, AZ)

Procore Technologies (Carpinteria, CA)

Zogics (Lenox, MA)

Tripadvisor (Needham, MA)

Noodles & Company (Broomfield, CO)

FabFitFun (Los Angeles, CA)

The Farmer's Dog (New York, NY)
---
Ranking Methodology
Rover's 2021 Best Dog-Friendly Companies were awarded based on Rover's proprietary ranking which polled nearly 90 dog-friendly companies across the U.S. Each company was awarded points based on key dog-centric benefits including, paid time off for new pet parents and pet bereavement, as well as a financial stipend for pet health insurance, adopting a pet and pet care services. Secondary data was collected through a Rover survey of 1,000 U.S. based pet parents and/or employees who work for a dog-friendly company via Pollfish in August 2021.
About Zogics
For more than 15 years, Zogics has established itself as one of the largest providers of facility cleaning, disinfecting, and sanitizing products and supporting services for businesses worldwide. Zogics has been named one of Financial Times Americas' fastest-growing companies (2021, 2020), and was included in Inc. 5000 Fastest-Growing Private Companies in America (2018 to date) as well as Inc. Best Workplaces. In addition to zogics.com, the Zogics family of brands includes The Cleaning Station, Zogics Pet, and Ardent Fitness. For more information, visit zogics.com.
About Rover.com
Founded in 2011 and based in Seattle, Rover® is the world's largest network of five-star pet sitters and dog walkers. Rover connects dog and cat owners with pet care whenever they need it. Millions of services have been booked on Rover, including pet sitting, dog walking, in-home boarding, drop-in visits, doggy day care, and grooming in select markets.
Rover makes it easier for people to have pet love in their lives through the Rover Guarantee, 24/7 support, vet consultations, and GPS walk mapping. And by sharing expertise on TheDogPeople.com, a trusted resource for millions of dog and cat parents worldwide, Rover provides tips and articles that delight, inform, and enhance the bond between people and their pets. To learn more about Rover, please visit http://www.rover.com.
---
1 Rover survey via Pollfish in June 2021 of 1,000 U.S.-based dog parents.
---
Explore Zogics Clean Guide Library
Empower your staff and reassure your community with our FREE downloadable cleaning and disinfecting guides for fitness centers, educational settings, hospitality facilities and more.
Topics from this blog: #trending
Back