Safe Spaces Start with Zogics' Disinfection System
September 13, 2020
Choosing the best disinfection system for your facility is easy with our wide range of applicators and disinfectants. We will walk you through which application works best, and where, with our full line of disinfectants.
First, let's look at our application options, specifically sprayers.
Atomizing Sprayers:

Great disinfecting delivery system!
"I love this easy to use disinfectant delivery system. Took it out of the box, read the simple instructions and was able to put it into use within minutes. The weight is light enough for almost anyone to carry. You can spray as much or as little as you need. Highly recommend this product!" – Donna B.
These applicators are perfect for larger areas that need to be disinfected, like fitness centers, classrooms, offices, lobbies, and more. They're fast and effective, saving you time and money. Our atomizing sprayer can be used with any EPA-registered List N disinfection solution to fight COVID-19. We like to pair this with our Hypochlorous Acid Surface Disinfectant.


---

Electrostatic Sprayers: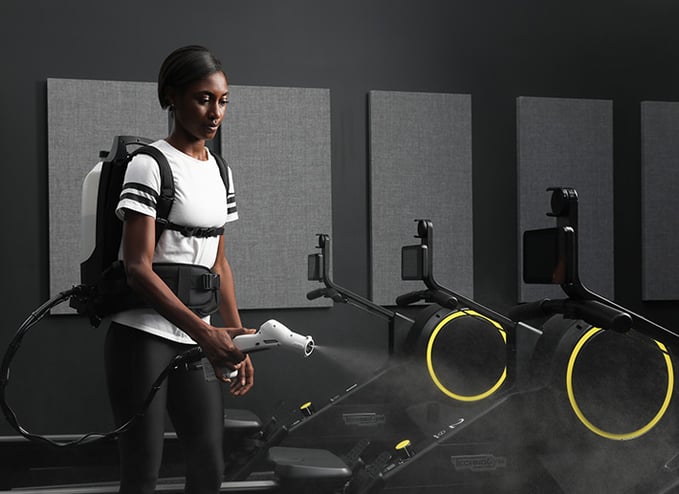 Utilizing electrostatic technology, these state of the art sprayers (available in handheld and backpack styles) are also great to use for larger areas, covering thousands of square feet with one full tank. Victory can be paired with any EPA-registered List N disinfecting solution. The manufacturers of Protexus recommend PURTABS be used with their electrostatic disinfection tools.


---

Up next: Wipes!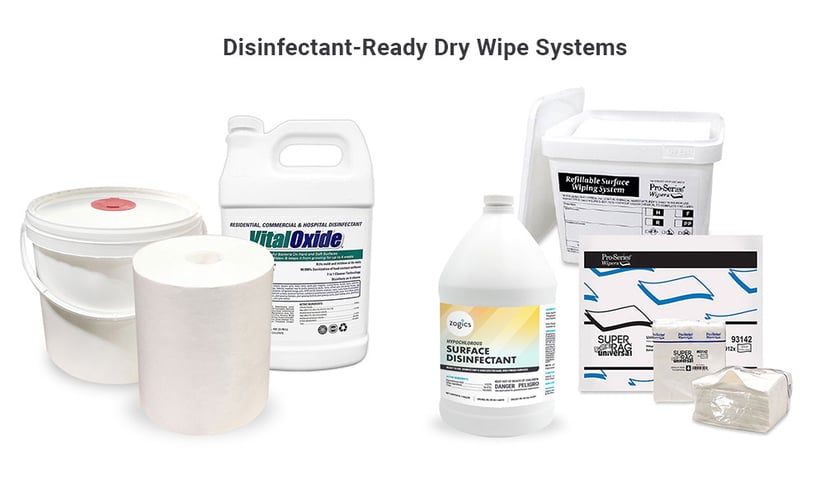 Given the recent run on wipes, we've made it easy to create your own with our two disinfectant-ready wiping systems (don't worry, we still have plenty of bulk cleaning, disinfecting and hand wipes available). These are great to use for facilities that will be doing multiple cleanings throughout the day, like schools, doctor's offices and healthcare facilities, and any space that sees a lot of foot traffic. What's the difference between the two systems? Our Disinfectant-Ready Wipes Bucket System uses a roll of wipes in a round bucket; wipes are dispensed out of the top of the bucket. Our Disinfecting Wiping System offers a square resealable bucket with flat wipes. Both systems allow you to choose an EPA List-N disinfectant.
For both systems, simply , place the wipes in a bucket, add ready-to-use disinfectant, seal and let sit until absorbed. Once the disinfectant is fully absorbed, you're ready to go!




Mops and
Microfiber Cloths

Considered traditional application methods, mops and microfiber cloths have their place in your disinfecting arsenal. You'll find mops like our Bottle Rocket Mop Kit play well with Zogics Enzyme Enriched Floor Cleaner & Deodorizer.

When it comes to microfiber cloths, our all-purpose microfiber towels are designed to pick up and hold dust, dirt & grime. They're are lint-free, absorbent and clean aggressively without being abrasive. Additionally, these highly durable cleaning towels can be laundered hundreds of times for long term use.

Microfiber cleaning cloths can absorb 7 times their weight in liquid, making them an environmentally friendly alternative to paper products. Pair them with a disinfectant and they're great to use on specialized spaces like railing, door handles, elevator buttons, and more.

Disinfectant Options:

Want to learn more about disinfectants? Check out our primer here.
Explore Zogics Clean Guide Library
Empower your staff and reassure your community with our FREE downloadable cleaning and disinfecting guides for fitness centers, educational settings, hospitality facilities and more.
Topics from this blog: Product Resources
Back