Top Commercial Cleaning Advanced Technology Products
February 22, 2022
In this post:
Advanced technologies offer cutting-edge solutions
A review of what technologies work, and why
Innovative products can help your business in many ways

Emerging Areas for Advanced Cleaning Technologies
Cleaning technologies have made great strides, especially in light of the Coronavirus pandemic, when cleaning came to the forefront for both homes and businesses worldwide. It's no surprise then that there's been a slew of new products on the market. These innovative tools and processes have fundamentally altered the way business owners manage their companies, not to mention how employees conduct themselves in their day-to-day lives. Staying aware of new tools and trends means staying ahead of the competition. We'll review the top new technology innovations in facility cleaning and disinfecting.


UV-C Technology
Protection from airborne viruses and pathogens takes on a whole new light with advancements in UV-C technology. For decades, this technology has been used in hospitals and healthcare facilities, but new products have emerged in the market that works for nearly any industry. We continue to partner with select companies to bring you the latest emerging technologies and proudly offer several very distinct UV-C products: Surfacide. Vidashield UV24 System, Hubscrub, and Big Ass Fans with UV-C.
Surfacide: The Helios® UV-C Disinfection System
Surfacide has gained traction in both healthcare facilities and in large venues like Fenway Park in Boston, MA. Surfacide's Helios System uses multiple UV-C light towers simultaneously to reduce and prevent the spread of deadly pathogens from the environments where you live, work, and play. Multiple light-emitting robots are used simultaneously to provide UV-C energy to more exposed areas than single emitters—boosting power, dosage, and efficacy in as little as 5 minutes.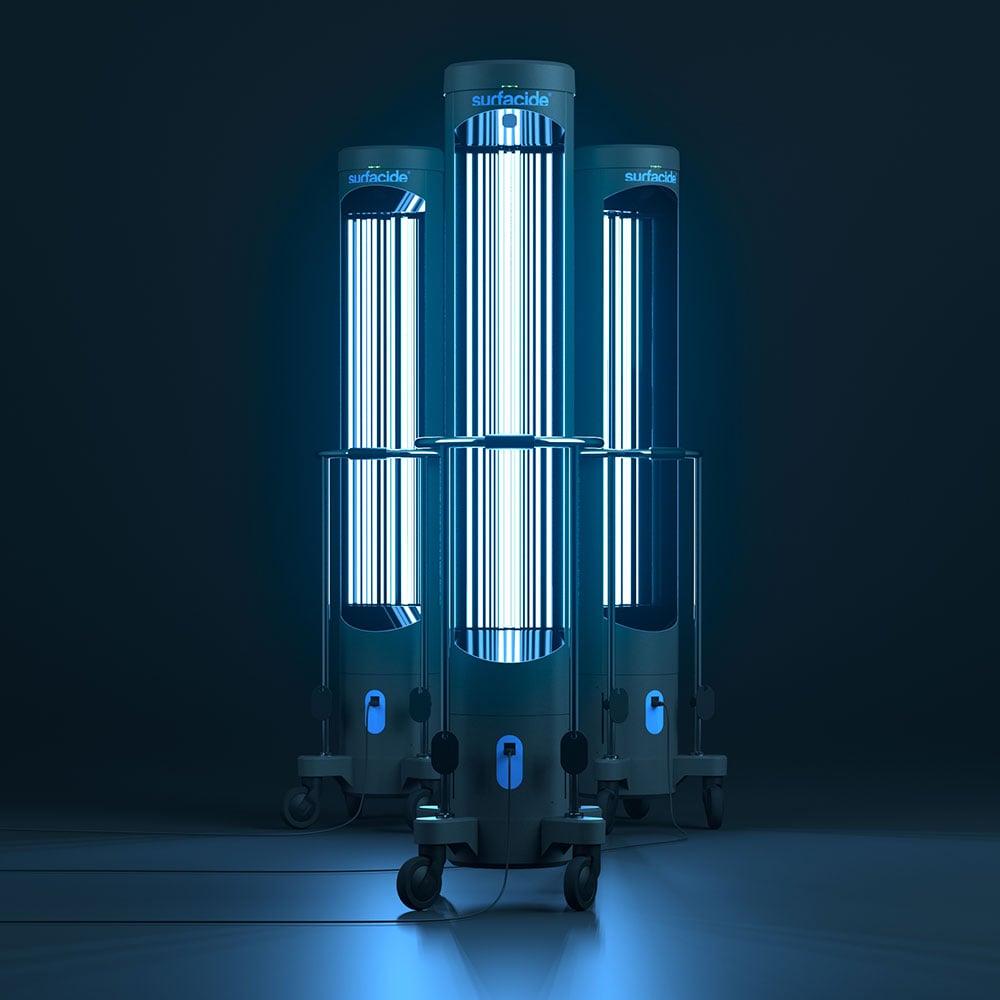 Vidashield UV24 System
Perfect in schools, offices, and more, the Vidashield UV24 System pairs a UV-C Air Purifier with ULTIMA Health Zone or SCHOOL ZONE Fine Fissured ceiling panels to offer safe, unobtrusive in-room air purification for cleaner air. The system includes shielded ultraviolet light and filtration which deactivate pathogens and reduce the risk of indoor air transmission of viruses. Fitted with familiar ceiling textures for a clean visual, the 2' x 4' system operates continuously to draw air into a concealed chamber above the ceiling, treats it with a patented, scientifically proven UV-C air-cleaning technology, and recirculates clean air back into the room.



HUBSCRUB UV Technology
Another advanced technology that finds its place in the healthcare world, Hubscrub makes equipment cleaning machines to provide the ideal infection control solution. They use the latest UV technology and/or liquid disinfectant to clean all your lab and facility's medical equipment perfectly. Hubscrub has launched multiple models for cleaning any medical equipment, ensuring they are free of germs, viruses, and bacteria.
Big Ass Fans® Clean Air System
Create more comfortable spaces with Big Ass Fans Clean Air System featuring UV-C technology to improve your indoor air quality. Whether it's large distribution centers, small manufacturing plants, or a variety of commercial spaces, wherever people are gathered, you'll find pathogens.
A one-of-a-kind solution, Clean Air System delivers unmatched airflow, efficiency, and proven technologies to transform your facility's comfort.

Electrostatic Disinfection
While much more mainstream than at the beginning of the Coronavirus pandemic, electrostatic disinfection tools remain a top technology for quickly and easily disinfecting frequently used spaces and places. Electrostatic sprayers disinfect surfaces with electrically charged particles for even, complete disinfecting coverage. While typically seen in the marketplace as backpack or handheld spray guns, we also offer Lucid Drone Technologies, whose drones use electrostatic technology to clean ballparks, stadiums, churches, and other large public spaces. The D1 Disinfecting Drone uses an onboard tank and two downward-facing nozzles to apply disinfecting solutions (any disinfectant of the user's choice can be used, but we recommend List-N disinfectants to fight Covid-19) to surfaces. As the drone flies, the disinfectant is distributed over the surface area by electrostatic sprayers that are built into the drone for total coverage of the surface area.


Antimicrobial Products
We're also finding that advanced technologies are making their mark in smaller, more subtle ways as well. Consider Silver Defender, antimicrobial tape that adheres to high touchpoint areas like doorknobs, handles, and elevator buttons. We also offer versatile, economical Buff microfiber towels enhanced with antimicrobial agent Fresche-Tex, which uses a mechanical, non-chemical coconut oil derivative to protect against bacteria, mold, and odor. It's a SiQuat compound made from sustainable and renewable resources that is safe for people, pets, plants, and the planet! As an added bonus, the antibacterial treatment extends the life of the towel so it lasts longer, over 100 uses.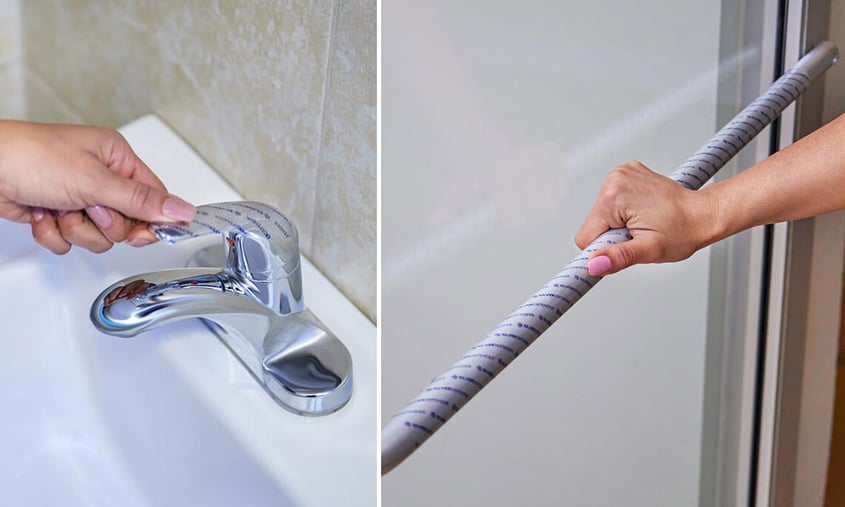 Why Choose Advanced Cleaning Tech?
When vetting new cleaning and disinfecting technology for your facility, there are many considerations that come into play; first and foremost is the issue you want to solve. Most of the advanced technologies available to facilities do two main things: make your cleaning more efficient and save you time. Always consider the complexity and investments you will need to make to ensure its effective use; its track record compared to other technology; and finally, both short- and long-term costs that will come from integrating the technology into your day-to-day cleaning and disinfecting regimen. We've partnered with the leaders in emerging technologies, and working with us can relieve the stress of managing cleaning and disinfecting tools yourself, and ensure every surface is properly treated, easing much of the heavy decision-making and investments that you would have to undertake.
---
Related Content:
Explore Zogics Clean Guide Library
Empower your staff and reassure your community with our FREE downloadable cleaning and disinfecting guides for fitness centers, educational settings, hospitality facilities and more.
Topics from this blog: #trending
Back