Zogics Acquires Clean Holdings, Manufacturer of The Cleaning Station™
December 30, 2019
Zogics, a global leader in the health, fitness, and facility supply industry, announced today its acquisition of Clean Holdings, a manufacturer of cleaning and disinfecting dispensers and accessories.
The addition of Clean Holdings will enhance Zogics' strength in the cleaning and disinfecting arena while expanding its reach to new markets in the U.S. and abroad. Clean Holdings manufactures a best-in-class patented cleaning and sanitizing system called The Cleaning Station™, which dispenses wet wipes and hand sanitizer. The Cleaning Station also includes a built-in trash receptacle and storage for dry towels, protective gloves, face masks and more. The Cleaning Station can be found in fitness, healthcare, hospitality, corporate, and educational facilities around the world.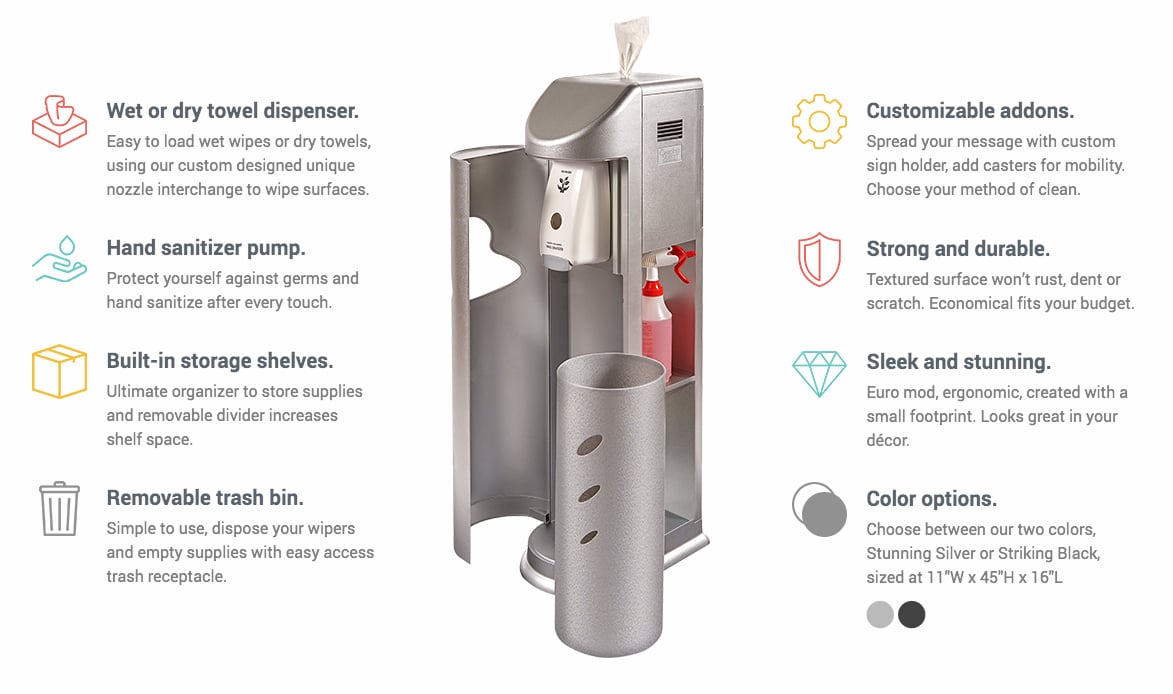 "Delivering exceptional, value-driven solutions to our customers is our top priority, and the addition of Clean Holdings provides us with a unique all-in-one wet wipe and hand sanitizer dispensing solution that will help prevent the spread of germs and diseases in a variety of commercial settings," said Paul LeBlanc, CEO of Zogics. "We're thrilled to welcome Clean Holdings to Zogics. Today's announcement is an important step in our journey to innovate and accelerate our offerings, as well as expand our distribution network."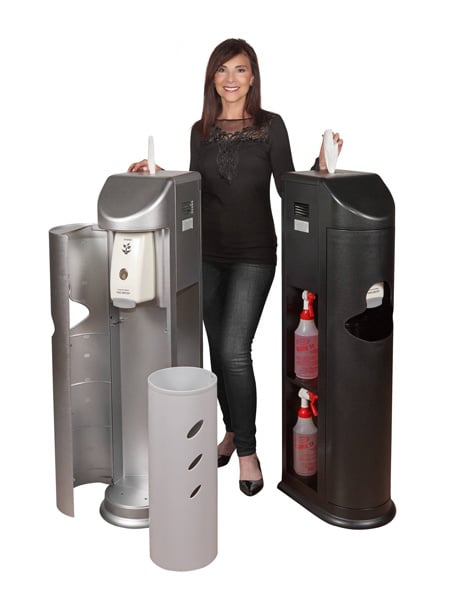 Doreen Savran, inventor of The Cleaning Station
Clean Holdings was founded by pioneering entrepreneur, Doreen Savran, who invented the Cleaning Station after identifying a need for an organized, all-in-one cleaning system. Doreen has secured two patents on her invention, which won the prestigious ISSA Innovation Award. Thanks to Doreen's leadership, The Cleaning Station has become the top-selling integrated disinfecting dispensing solution in North America.
"Clean Holdings has been a supplier to Zogics for almost 10 years, and it's been remarkable to witness their growth, including making the Inc 5000 list for the past two years," said Savran. "From early on, it was clear to us that they shared our customer-focused ethos and built a great team to serve facilities around the world. We couldn't be more thrilled to have them carry the torch as they increase our offerings and bring our products to new markets."
With the acquisition, Clean Holdings' clients — which include global facility operators such as Anytime Fitness, Orange Theory Fitness, Planet Fitness, Crunch Fitness, The YMCA, Costco Wholesale, American Express, Wells Fargo, Fidelity Investments, Marriott Hotels & Resorts, Wyndham, and the U.S. military — will now have access to:
Thousands of fitness and facility products on zogics.com
Cleaning Station refills, including Zogics' industry-leading disinfecting wipes and hand sanitizers
Free shipping on all cases of Zogics branded wipes
Fast 1–2 day shipping on most products from Zogics' distribution centers in the U.S., Canada, Europe, and Asia
Convenient mobile-friendly ordering and online account management
Zogics' 100% happiness guarantee
Clean Holdings products will continue to be available on thecleaningstation.com, as well as on zogics.com.
Explore Zogics Clean Guide Library
Empower your staff and reassure your community with our FREE downloadable cleaning and disinfecting guides for fitness centers, educational settings, hospitality facilities and more.
Topics from this blog: industry news
Back