Zogics Ranks Among Highest-Scoring Businesses on Inc. Magazine's Annual List of Best Workplaces for 2022
May 10, 2022
We are pleased to announce that Zogics has been named to Inc. magazine's annual Best Workplaces list. Featured in the May/June 2022 issue, the list is the result of a comprehensive measurement of American companies that have excelled in creating exceptional workplaces and company culture, whether operating in a physical or virtual facility.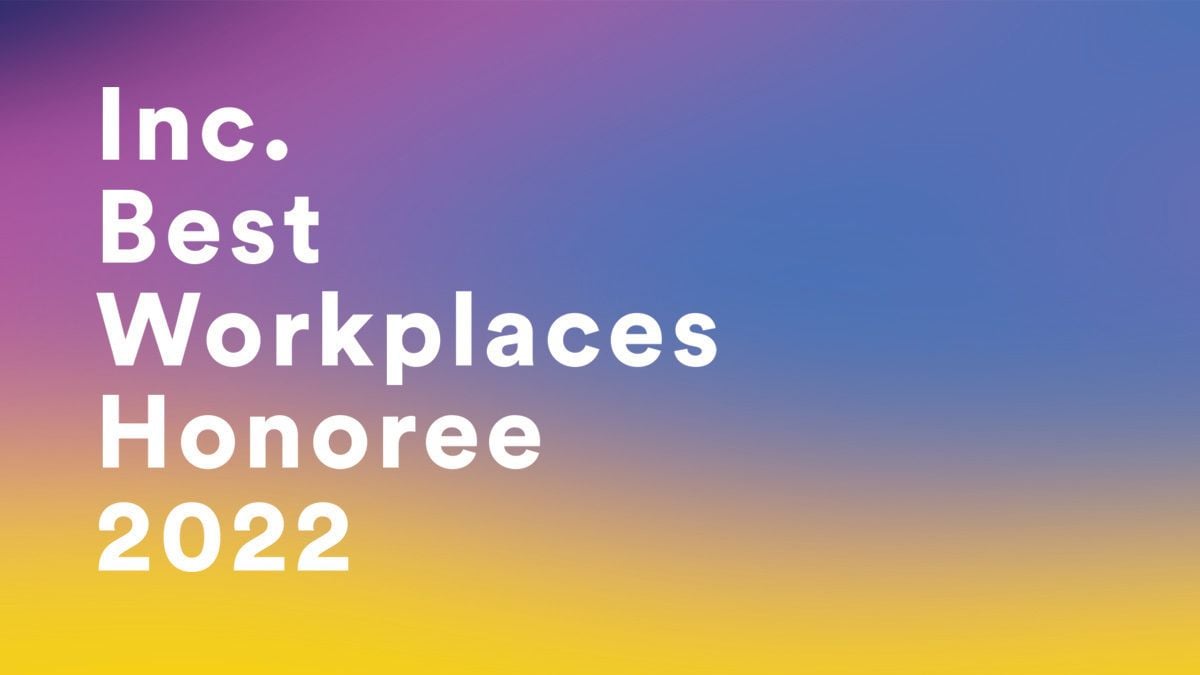 We are proud to have created a culture that encourages our team in a way that allows them to stay strong in one's home office—even if the home office is at the dining room table. This creative way of working (and the glimpse into our home lives it creates) is worth celebrating and embracing.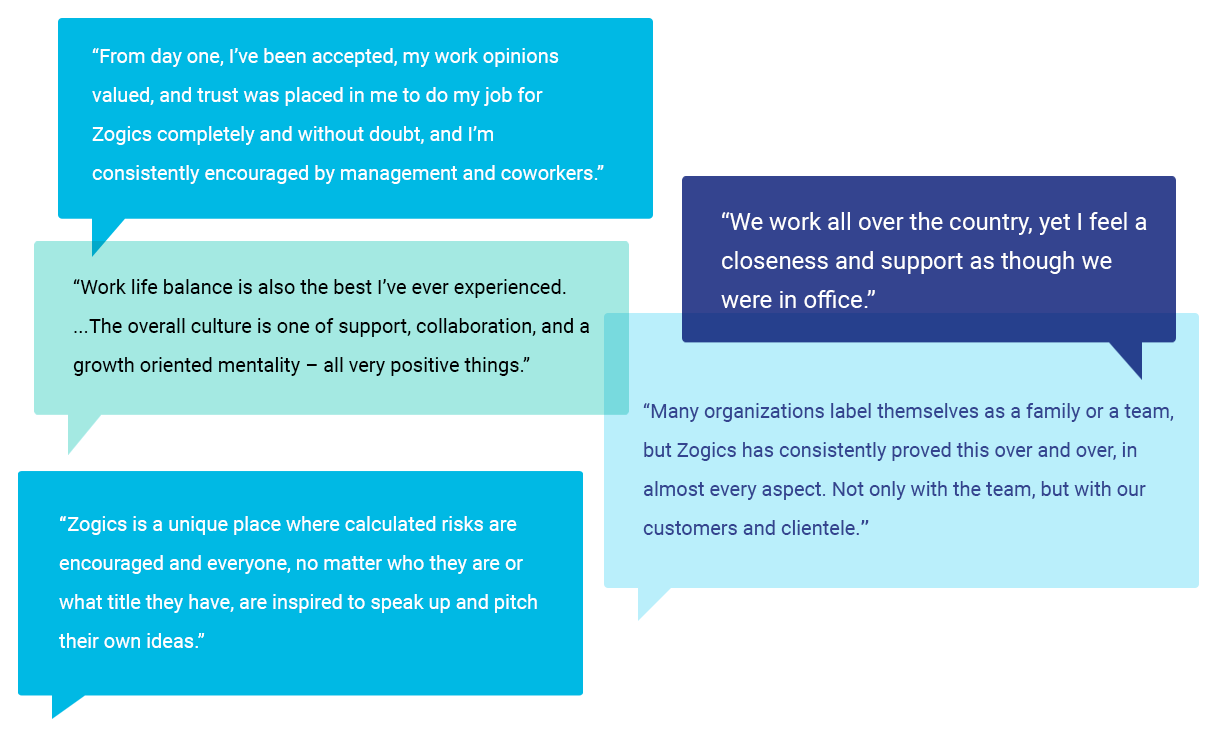 Work From Where? Anywhere!
With our staff now located across the country, our aim is to be as flexible as possible and allow our employees to do their best work wherever they want to be. This approach has helped us continue our growth and has translated into happy employees and even happier customers. We pride ourselves on providing the best experience for our customers, with an industry-best NPS (net promoter score) score of 88. NPS is the leading metric to measure customer loyalty.
Employee Benefits That Transcend Borders
As we shifted from our main office in Lenox, Massachusetts to a work-from-anywhere model, we made a conscious effort to support our employees with benefits that are accessible to all; for example, we subsidize CSA (Community Supported Agriculture) fees so that wherever they live, our team can enjoy the bounty of healthy vegetable harvests while supporting local farmers. Employees also earn up to $100 a month for exercising to spend on their own health and wellness (gym memberships, fitness classes, private and group training, massage, preventative medicine, health diagnostics, etc.). With our Competition Cash benefit, employees receive a $250 annual allowance to use toward competitive events, like marathons, races, & more.

We know too that a healthy work-life balance can also include our four-legged friends, so we offer our unique Pawternity Policy which gives new puppy parents PTO, a $200 pet store gift card, & lifetime supply of Zogics Pet Shampoo.
The Pursuit of (Employee) Happiness is In the Air
For our team in our main warehouse in the Berkshires of Western Massachusetts, we installed Big Ass Fan's Clean Air System fans in both the warehouse and the adjoining company gym. As experts in indoor air quality and improving IAQ for our customers, we took the same steps with our own facilities. We understand and value the importance of employee comfort, health, & safety and how IAQ can help achieve those goals. The Clean Air System's UV-C and Ion Technologies help our employees feel safer and more comfortable while reducing energy consumption and saving on heating and cooling bills; a win-win all around. These benefits, and more, are just a few of the ways we continue to foster our close-knit environment.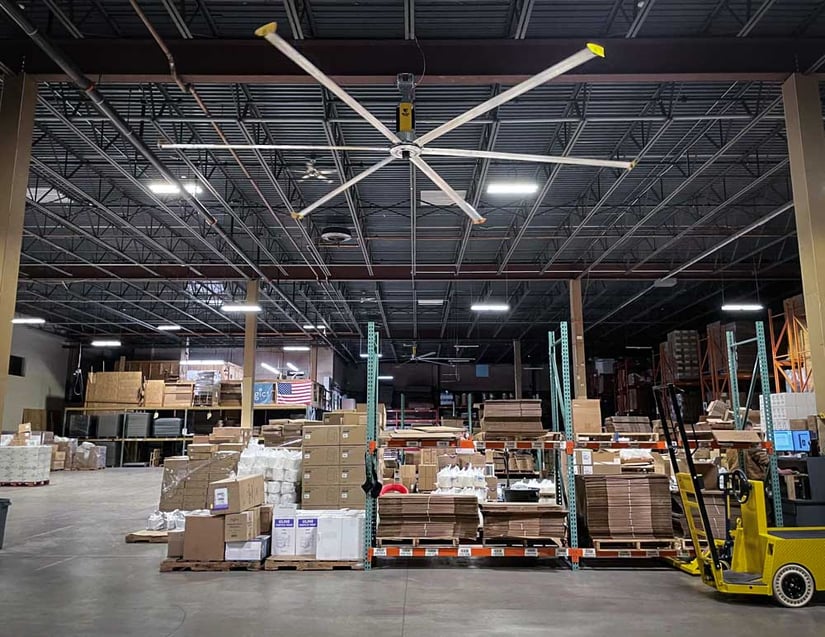 Big Ass Fans Clean Air System Fan in place at Zogics Warehouse Complex
"We dubbed this year "the year of the employee", and are focused on investing in our company culture, even as we've moved to a work-from-anywhere approach. Whether it's encouraging training and advancement opportunities, holding after-hours virtual events, having fun on our slack channels or sharing healthy recipes, building a workplace culture that prioritizes employee engagement and development is critical." – Paul LeBlanc, Zogics CEO

"Not long ago, the term 'best workplace' would have conjured up images of open-office designs with stocked snack fridges. "Yet given the widespread adoption of remote work, the concept of the workplace has shifted. This year, Inc. has recognized the organizations dedicated to redefining and enriching the workplace in the face of the pandemic.– Inc. Editor-in-Chief Scott Omelianuk
After collecting data from thousands of submissions, Inc. selected 475 honorees this year. Each company that was
nominated took part in an employee survey, conducted by Quantum Workplace, which included topics such as management effectiveness, perks, fostering employee growth, and overall company culture. The organization's benefits were also audited to determine the overall score and ranking.


###
Established in 2006, Zogics manufactures products ranging from disinfecting wipes and cleaners to body care, indoor air quality, and hospitality amenities. In addition to their own line of products, they carry several best-in-class brands. Zogics prides itself on extensive product knowledge, industry-best customer service, and fast, courteous shipping from distribution centers across North America and beyond. Zogics has been named one of Financial Times Americas' fastest-growing companies (2022, 2021, 2020), and was included in Inc. 5000 Fastest-Growing Private Companies in America (2018 to date) as well as Inc. Best Workplaces. Together with zogics.com, the Zogics family of brands includes The Cleaning Station, Zogics Pet, and Ardent Fitness. For more information, visit zogics.com.

Want to join our award-winning, Inc. Best Workplaces team? We're hiring! Check out our job opportunities.


Explore Zogics Clean Guide Library
Empower your staff and reassure your community with our FREE downloadable cleaning and disinfecting guides for fitness centers, educational settings, hospitality facilities and more.
Topics from this blog: industry news
Back