January 24, 2022
It makes sense to buy shampoo in bulk for a variety of reasons. One, if you find a formulation that works for your facility needs, you can save plenty of money buying bulk shampoo as you won't need to purchase many smaller bottles, and you can easily refill a shampoo dispenser fixture with gallon shampoo. You'll also reduce plastic waste, helping to minimize your impact on the environment.
Let's take a look at more reasons why you should choose bulk shampoo.
Why Buy Bulk Shampoo Rather Than Individual Bottles?
Once you pinpoint your favorite shampoos and conditioners, buying them in bulk makes sense from both an economic, time savings, and environmental standpoint. Consider the cost and time required to ship an individual small bottle every couple of weeks or months. Those costs will add up quickly. Alternatively, you can order the best bulk shampoo and have large gallon sizes or larger delivered right to your door. You will pay less in the long run for shipping when you order bulk shampoo, plus the per-unit cost of gallon shampoo is much lower than that of individual small bottles.
You'll also realize additional time and energy savings as you won't need to head out to the store to buy small individual shampoo bottles over and over again. Another benefit? Choosing bulk gallon shampoo simplifies the refilling process. You will rest easy knowing you have one or several gallons on-hand, ready to refill dispensers and bottles as necessary.
Best Shampoo For Airbnbs
Bulk shampoo from Zogics is an excellent choice for Airbnbs looking for affordable and high-quality solutions to their shampoo needs. With our dedication to sourcing and creating sustainable and eco-friendly products, Zogics has become a trusted name in the hospitality industry.

One of the biggest advantages of bulk shampoo is the cost savings it offers. By buying in bulk, Airbnb hosts can save money on their shampoo costs, which can be significant over time. Bulk shampoo is more eco-friendly since it reduces packaging waste, making it a perfect solution for Airbnb hosts looking to minimize their environmental impact.

All Hospitality Facilities Benefit From Bulk Shampoos
It's not just Airbnb hosts who can benefit from bulk shampoo. Boutique hotels, spas, vacation rentals, and major chain hospitality facilities can also benefit from this cost-effective solution. Let's take a look at the best fit for each facility and how to choose the right shampoo.

Boutique hotels are known for their unique and personalized experiences, and the shampoo they provide should reflect that. When choosing bulk shampoo for a boutique hotel, consider selecting a high-end brand that matches the hotel's aesthetic and offers a luxurious experience for guests. The shampoo's fragrance should also complement the hotel's ambiance, creating a cohesive and memorable experience for guests.

Spas and salons: A spa experience is all about relaxation, rejuvenation, and indulgence, so it's important to choose a bulk shampoo that enhances these qualities. Look for a shampoo that offers a soothing and calming fragrance, such as lavender or eucalyptus. Additionally, consider a shampoo that includes natural ingredients such as essential oils or plant extracts, as these can enhance the sensory experience and promote a sense of well-being.

Like Airbnb rentals, vacation rentals come in all shapes and sizes, and the shampoo provided should reflect the property's style and target guests. For a beachside vacation rental, choose a shampoo that can help guests manage saltwater and chlorine damage, while for a ski chalet, consider a moisturizing shampoo that can help guests combat dryness caused by cold weather. Choosing a shampoo that caters to the specific needs of the property can help elevate the guest experience.

Zogics bulk shampoo is an excellent choice for all hospitality facilities, from Airbnb to large hotel chain facilities that are looking for a cost-effective and eco-friendly solution to their shampoo needs. By choosing the right shampoo for each facility, hosts can elevate the guest experience and create a memorable stay for their guests.

Examples of Best Bulk Shampoos
Beekman 1802
With a light, "green" scent, Beekman 1802 Fresh Air Shampoo is gentle enough for regular use on a daily basis. The Beekman body care line is made with all-natural ingredients so you and your guests won't have to worry about exposure to phthalates, parabens, paraffin, and beyond. These products can be used in the home or commercial sites like Airbnbs, hotels, health clubs, spas, and fitness centers.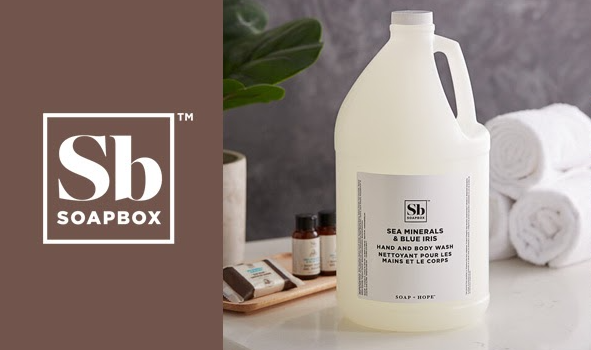 Soapbox
Naturally derived and beautifully designed, Soapbox bulk shampoo, conditioner, lotion, and hotel amenities are exclusively made from natural ingredients. Their formulas do not contain any parabens, phthalates, petroleum, mineral oil, and other such ingredients that could irritate the skin. Soapbox products are also gluten-free, vegan, and manufactured in the United States.
Zogics 3 in 1 Citrus & Aloe Shampoo, Hand Soap, and Body Wash
This citrus and aloe blend will clean you and your guests from head to toe in quite a refreshing manner. Zogics' plant-based shower gel serves as a shampoo, hand soap, and body wash. It is chock full of lovely botanical extracts and essential oils that hydrate the hair and skin to perfection. Zogics' shower gel is made without dyes, EDTA, parabens, and other unsavory ingredients to guarantee it is gentle enough for regular use day in, and day-out. Whether you own or manage a gym, recreation center, spa, or another facility, your guests will immediately fall in love with Zogics' shampoo, shower gel, and hand soap. Order this economical gallon size and you will have plenty on-hand for your clientele.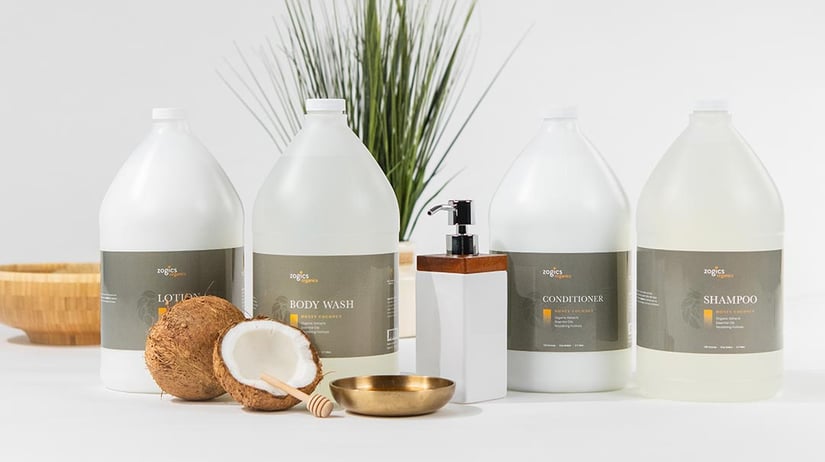 Zogics Organics Bath & Body Care Gallon Sampler Case, Honey Coconut
A luxurious self-care experience awaits you with this premium plant-based body care collection. Each product is crafted with a powerful combination of organic ingredients, including avocado and jojoba oils to hydrate, calendula oil to soothe even the most sensitive skin types, and shea butter to moisturize. The Zogics Organics Honey Coconut Body Care Sampler includes body wash, shampoo, conditioner, and lotion — providing a complete, natural cleansing and moisturizing experience from head to toe. With a light, honey-coconut scent, this collection leaves both body and hair feeling clean, hydrated and re-energized.

All the products in this collection are made with naturally derived, non-irritating ingredients.
Zogics Organics Bath & Body Care Gallon Sampler Case, Fresh Air
Premium, organically-derived body care doesn't have to come with a premium price tag. Formulated free of parabens, gluten, phthalates, EDTA, and GMOs, and always cruelty-free, the Zogics Fresh Air collection is crafted with ingredients like organic aloe vera and avocado, jojoba, and calendula oils that make caring for your hair and body a breeze. Our Fresh Air lotion is made with goat's milk to improve skin's moisture, along with aloe vera and shea butter—a treat for dry skin.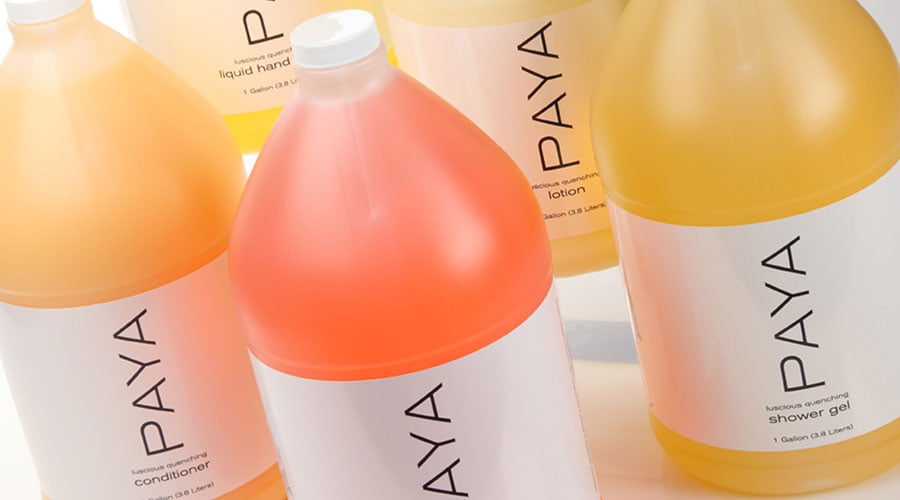 Paya Bath & Body Care Sampler
Paya Organics' personal care products provide the body with nourishment by way of nutrients and antioxidants. Each of these sampler shampoos, conditioners, shower gels, and hand soaps are made with certified organic ingredients. Extracts used in Paya Organics' products range from organic sweet orange to pink grapefruit, organic papaya, grape seed, and organic lavender. This sampler set is perfect for health clubs, fitness centers, recreational facilities, and just about anywhere else.
Paya Organics Shampoo
Paya Organics is a luxurious-feeling green shampoo that benefits users as well as the planet. Infused with nutrients and antioxidants, Paya Organics shampoo delivers a refreshing combination of extracts that make the hair-washing experience feel like a tropical vacation. Made in the United States and never tested on animals, Paya Organics' one-gallon shampoo bottles are ideal for fitness facilities and hospitality-oriented businesses of all types.
NEST New York
NEST Fragrances New York's hotel bath amenity collection is perfect for guests that are looking for an elegant, luxurious travel experience. NEST Sicilian Tangerine body is infused with tantalizing Sicilian tangerine and delicious bergamot, plus mango and passionfruit for a soothing, pleasant scent. These exquisitely fragranced body lotions, bulk shampoos, and conditioners are crafted with natural botanicals, antioxidants, and plant extracts that condition and protects the skin.

Pharmacopia
Pharmacopia is a modern apothecary collection of better-for-you bath + body care products for home and away. Its mission is to make healthier, affordable bulk body and hair care products available to everyone. Give your scalp the refresh it needs with Pharmacopia's Verbena Shampoo. This clarifying shampoo is made with plant-based ingredients including aloe vera, jojoba oil, and chamomile extract. Packed for bulk use, cases of 4 gallons include a pump for simple dispensing right from the gallon container or easily refill your shampoo dispenser fixtures.
Apotheke
Another boutique-hotel favorite brand, Apotheke believes scent can transform a house into a home, elevate our mood, and help keep memories alive, which is why they develop luxury fragrances inspired by life's simple moments. They also create bulk shampoo, bulk conditioner, body lotion, and more that brings their scents to the hospitality industry and beyond.
EO Products
EO sulfate-free bulk shampoo features a refreshing grapefruit and mint scent. Formulated with organic ingredients, EO bulk shampoo repairs hair with each wash, and is cruelty-free. What's more, gallon refills of EO bulk gallon shampoo aren't just good for your wallet; they're good for the planet, too. Buying just one gallon saves 16 eight-ounce bottles from the landfill.

Don't Forget a Bulk Shampoo Dispenser Fixture!
The benefits of dispensing shampoo are clear: It's more hygienic, it saves you money on shampoo, and you can customize its dispensing. Bulk shampoo dispensers are similar to other dispensing systems that have been used for years. They are typically made from plastic material and are designed to hold several pounds of liquid. These are usually white in color, with a clear base so that it is easy to see how much fluid is left inside the dispenser. Bulk shampoo dispensers come in a variety of sizes to fit any product. They are also very popular for cosmetics, soaps, and other personal care products.

The main advantages of having this type of system are that it can be used in many different ways. They can be placed on countertops or shelves in retail spaces, or they can be hung from the wall to save space.
---
Our Complete List of Bulk Shampoo and Body Care Products by Brand:
Want to Try Before You Buy?
Many of our bulk shampoo and body care brands offer amenity-sized samples so you can try out a new shampoo or body care before you commit to purchasing a case or a full gallon. This is a super-convenient way to see which brand and/or type of bulk shampoo is best for your facility.
---
Related Articles:
Shop Bath & Body Care
From organic shampoos and luxurious body lotions to hand soaps and sanitizer, Zogics is the number one source for bulk body care products. Shop today!
Topics from this blog: Product Resources bulk shampoo
Back