Keep Your Facility Safe with the Four Pillars of Facility Safety
March 16, 2021
In this post:
Discover the four pillars of facility disinfection and safety
Learn about disinfecting tools to keep your business open
Get a recommendation for your facility
---
As experts in facility disinfection and safety for more than 15 years, we're often asked by facility managers for recommendations to ensure their places of business operate safely. The team at Zogics has had the privilege of working with thousands of businesses, from schools and universities to fitness centers, hospitals and long-term care facilities, and more, throughout the United States, allowing us to gain unparalleled industry insights. From these insights, we've developed the four pillars of facility disinfection and safety.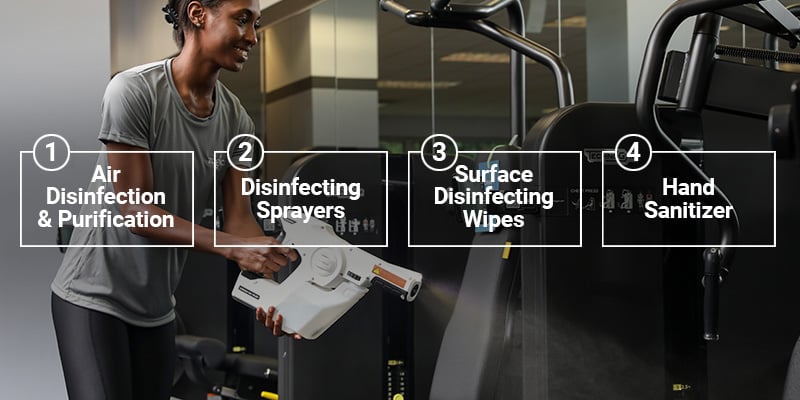 The objectives of the four pillars are to be highly effective at cleaning and disinfecting, reduce virus transmission risk and reinforce the perception that your facility is at the forefront of cleaning and disinfecting technologies and protocols. This strategy is geared towards combating Covid-19 in the short term but will be relevant for years to come as society adapts to new cleaning and disinfecting expectations and overall hygiene concerns.
1. Indoor Air Quality & Air Purification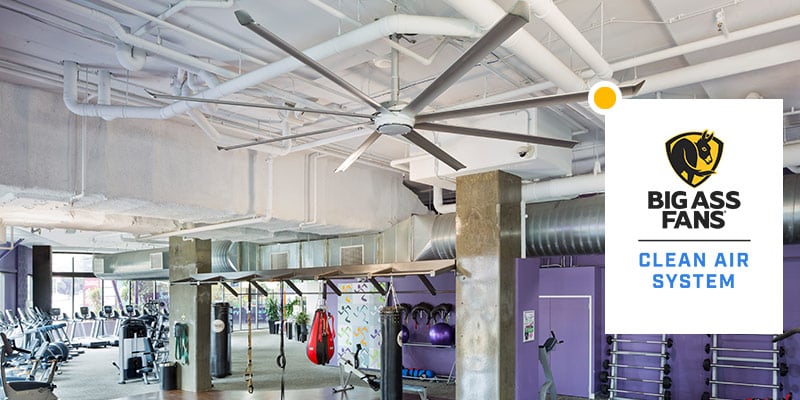 Air quality plays a critical role in helping businesses operate more safely and instill confidence in your staff and clientele. Clean air technologies that use UV-C and Ionization like Big Ass Fans Clean Air System destroy pathogens4 and provide comfort to your people. These fans can be mounted on ceilings and walls and are available in portable freestanding models.

Additionally, especially for spaces where disinfecting fans are not feasible,
H13 HEPA air filters
can be used to capture 99.97% of airborne particles. These are great for smaller office spaces, conference rooms, and lobbies.
2. Disinfecting Sprayers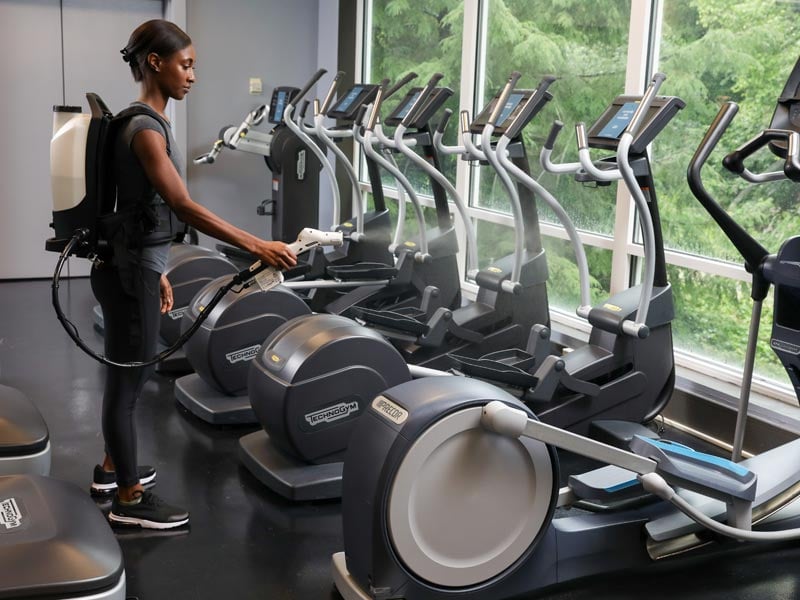 Every facility should have a disinfectant sprayer. They are the best way to deploy disinfectants over large areas, especially those not touched by disinfecting wipes. They're also highly efficient, covering more square footage in 80% less time than traditional methods. Plus, unlike invisible air disinfection, sprayers are an impressive show of force that will comfort staff and guests when in use. The days of cleaning staff members walking around with spray bottles and dirty rags are behind us.
3. Surface Disinfecting Wipes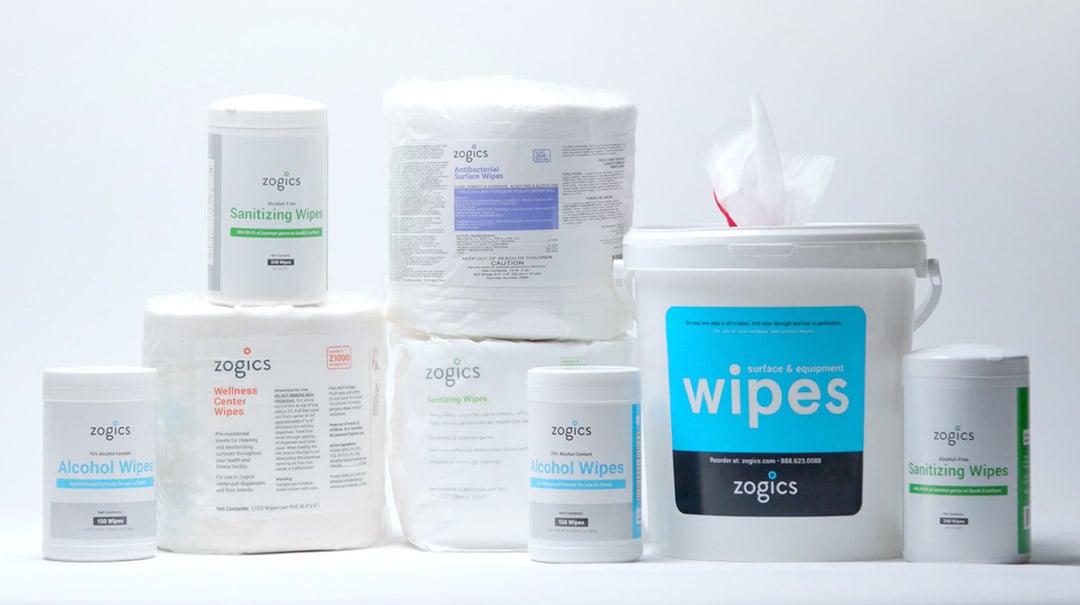 Disinfecting wipes are more popular than ever because they allow people to take cleaning matters into their own hands. People want the ability to ensure the surface they are about to touch or just touched is disinfected. Most businesses do not have enough wipe dispensers. We recommend one for every 500 sq. ft. and at least one in every fitness room.
4. Hand Sanitizers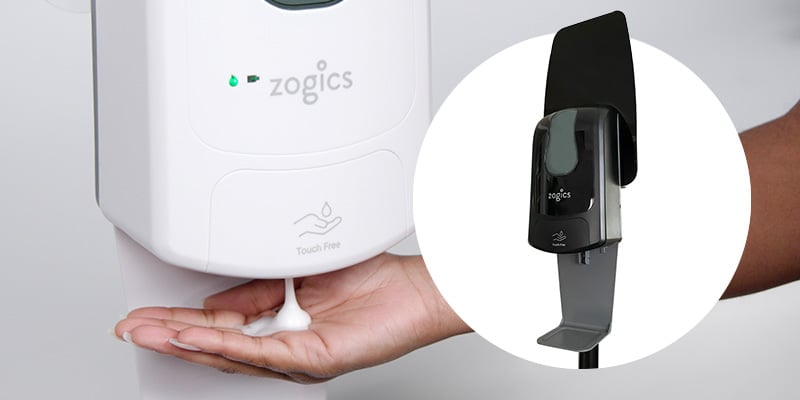 Bulk Hand sanitizer use is at an all-time high, and it's expected that touch-free dispensers are to be within close reach. A pump bottle at the front desk is no longer enough. We recommend one at every entryway, one in every bathroom/locker room, and at least one in every conference or main room (typically near the wipes dispensers).

Additional products play an important role too, such as PPE, athletic floor cleaners, and touch-free fixtures.
Facility Recommendations: We Can Help
If you want specific recommendations for your facility, we're happy to develop a custom plan with recommended solutions just for you (whether you plan to purchase from us or not). We can work off photos and floorplans to optimize your business for safe operations. Let us help you keep staff and clientele healthy, and build confidence in the safety of your buildings. Ultimately, this will help you keep your business open and commerce moving.

Get in touch via chat or email at hello@zogics.com or give us a call at 888.623.0088. We're here to help.
---
4The Big Ass Fans Clean Air System Ion Generator kills >96% of bacteria and fungi on surfaces in 60 minutes. Bacteria testing includes Escherichia coli, Methicillin Resistant Staphylococcus aureus (MRSA) and Streptococcus equi and Fungi testing for Aspergillus niger.
All Ion and UV-C testing was completed in enclosed indoor spaces. In outdoor spaces overhead and directional fans can increase dilution airflow in occupied spaces. Fan operating speed is proportional to the airflow delivered by the fan. Increased operating speed will increase the generation of ions for fans with ionization technologies. Increased operating speed will increase the rate of room air mixing for fans with ionization or UVC technologies.
---
Related Content:
Explore Zogics Clean Guide Library
Empower your staff and reassure your community with our FREE downloadable cleaning and disinfecting guides for fitness centers, educational settings, hospitality facilities and more.
Topics from this blog: #trending Product Resources
Back