Polar Heart Rate Monitors Buyer's Guide
February 20, 2018

Wearable fitness trackers and heart rate monitors have been popular for a few years now and it seems these gadgets are here to stay. With so many options, brands, and features to choose from, it's no wonder our hearts start racing at the thought of picking one!
That's why we're going to make choosing a heart rate monitor easier for you. One of the leading innovators in the fitness tracking market is Polar. Since 1977, they've been creating the most durable, accurate, and technologically advanced heart rate monitors for all fitness levels and activities. Here's an easy-to-follow guide on the different Polar devices, what they can do for you, and some key features to help your search.


---
Polar Lifestyle Devices
Polar A370 Fitness Tracker
The waterproof A370 wrist watch fitness tracker integrates continuous heart rate and activity tracking with sleep analysis and phone-assisted GPS. Throughout your day, the A370 offers personalized activity and exercise guidance to make it a versatile all-day companion for those seeking an active and healthy lifestyle.
Why we like it: Wearers can personalize their A370 with different color wristbands to match their style. This fitness tracker is also compatible with Polar's Flow app to help track activity, analyze progress, and connect with friends to share achievements.


Wrist-Based Heart Rate
Accurate heart rate without a chest strap via a 2 LED optical sensor

Mobile Connected GPS
Use a phone's GPS signal to track speed, distance, and route during outdoor sports

Sleep Plus™
Track sleep & get detailed feedback with precise sleep metrics for guidance on a better night's sleep

Activity Guide
Keep moving. Set the daily activity goal and the A370 will motivate you towards your target. Activity Guide shows you how active you've been and gives practical tips on how to reach 100%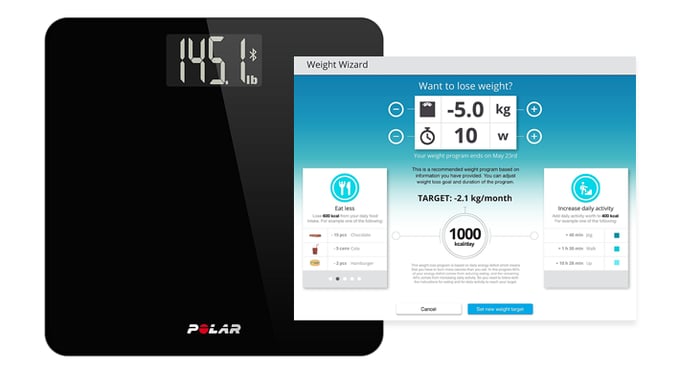 Polar Balance Scale – Weight Management Service
Those interested in losing weight or maintaining an ideal weight will love Polar's Balance Scale. This is more than any typical smart scale and makes it simple to manage what you eat and how you exercise. Coupled with a Polar fitness tracker, the Balance Scale helps close the circle on your fitness and health tracking goals.
Why we like it: It's simple. First, weigh yourself and set a goal. Next, use the Flow app to receive personalized guidance on reaching your daily goal. All that's left to do is to get out there and get active. The best way to get the most out of the Balance Scale is to use it with a Polar device, such as the A370 or one of their more advanced models. Follow your progress, lose weight, and stay motivated to manage and keep it off.
---



Polar Sport Devices
Polar FT7 Heart Rate Monitor
The FT7 is a great basic tool for those looking to lose weight and improve their overall health and fitness. Its unique EnergyPointer feature lets you know whether you are burning fat or improving your output during your workout.
Why we like it: The FT7 also has one of the most accurate calorie counting features on the market and can store 99 training files for weekly summaries and history.

Polar M430 Advanced Running Watch with Heart Rate and GPS
Say hello to the ultimate training partner for runners. The M430 has state-of-the-art running metrics, advanced GPS, and optical heart rate technology to make any runner jump for joy. Wearing the M430 doesn't require a chest strap which will appeal to some athletes looking for more comfort and strap-free running without compromising data accuracy.
Why we like it: GPS and accelerometer technology tracks speed, distance, and pace to get serious metrics on your performance. Like most Polar devices, the M430 provides Smart Coaching and a ton of tools to keep you on track and provide guidance when you need it.


Wrist-Based Heart Rate
Accurate heart rate without a chest strap via a 2 LED optical sensor

Wrist-Based Running Metrics
With a built-in accelerometer, the M430 can capture speed & distance when indoors and running cadence, an important tool in developing running efficiency


Fitness Test
An easy 5 minute test that measures fitness level allowing to track progress over time


Rechargable Battery
Three different GPS recording options to choose from allow for 8 hours to nearly 30 hours of training time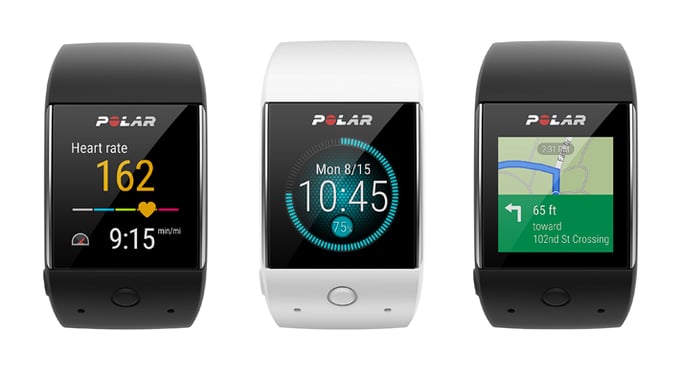 Polar M600 GPS Smartwatch
Harnessing the power of Android Wear™ 2.0, Polar's M600 device is a waterproof smartwatch for all-day wearing and fitness tracking. The M600 gives the wearer the most out of Android Wear with apps for music, health, lifestyle, and community—this doesn't mean you can only use it with an Android phone though. iOS users can enjoy the M600 equally as Android users.
Why we like it: This device is the perfect companion for your entire day with notification alerts, fitness tracking for steps, distance, calories, and sleep, heart rate monitoring, music control, and more. The M600 is a Zogics' staff favorite!


Wrist-Based Heart Rate
Accurate heart rate without a chest strap via a 2 LED optical sensor

Android Wear™
Download your favorite Android Wear appls, utilize voice commands to send a message, or initiate a phone call and save up to 4GB of music directly on the watch


Touch Screen Display
Track all the essential data on a big, bright color screen


Rechargeable Battery
Up to 8 hours training time and up to 36 hours in GPS mode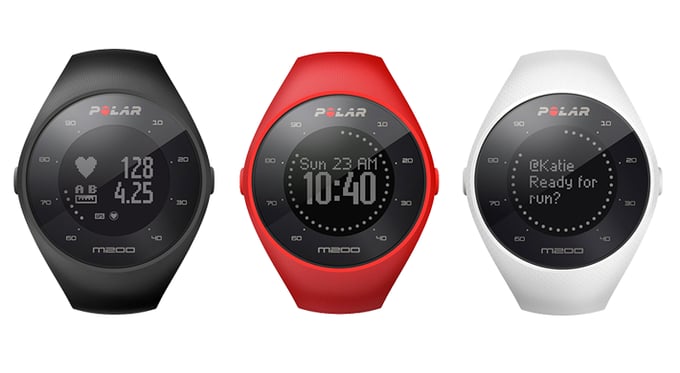 Polar M200 GPS Running Watch with Heart Rate Monitoring
The user friendly M200 GPS Running Watch motivates and guides runners through their best workouts. This watch measures heart rate from the wrist and also tracks speed, distance, and route with built-in GPS functionality.
Why we like it: There's no need to take this watch off during the day—the M200 is waterproof and tracks 24/7 activity, steps, calories burned, sleep time, and sleep quality.


Wrist-Based Heart Rate
Accurate heart rate without a chest strap via a 2 LED optical sensor


Integrated GPS
Speed, distance, and route tracking


Rechargeable Battery
7 hours GPS, 6 hours GPS + OHR, up to 20 days in time mode with daily activity

Running Program
Train for a running event with a personal and adaptive training plan in Polar Flow. Choose from four different targets: 5K, 10K, half marathon, and marathon and get a training plan that fits your goal
---



Polar Compatibility Sensors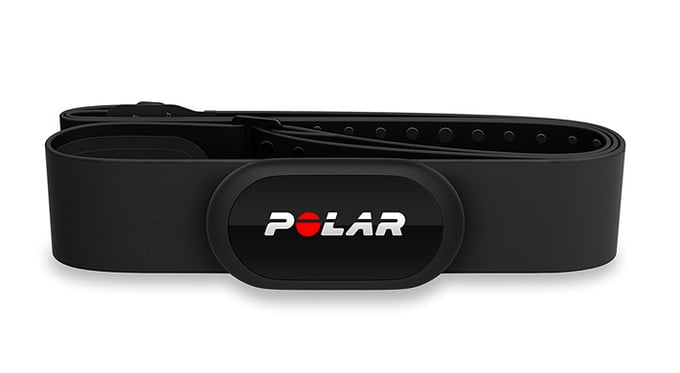 Polar H10 Heart Rate Sensor
The H10 chest heart rate sensor is a must-have wearable for those looking for the best in accuracy and connectivity. This sensor works with all Polar watches and trackers using Bluetooth technology, including many leading fitness apps and gym equipment. The H10 doesn't annoy the wearer and has a soft textile strap with improved electrodes for accuracy and comfort.
Feel free to dive in and take the H10 on your swim thanks to its fully waterproof design. Check out Polar's free fitness training app, Polar Beat to make the most out of your H10 powered workouts.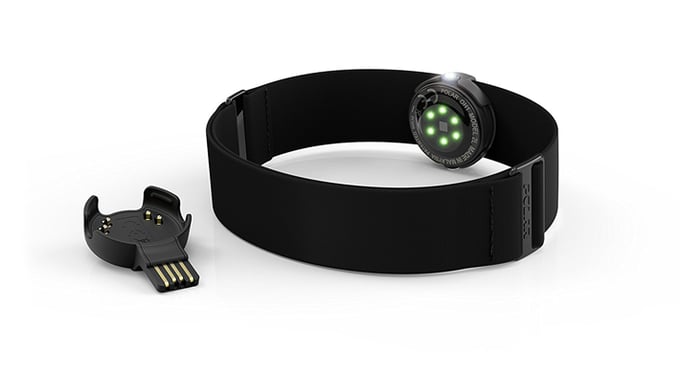 Polar OH1 Optical Heart Rate Sensor
Not a fan of chest heart rate sensors? Check out the OH1 optical heart rate sensor. This device is worn on the arm and provides the same accuracy and heart rate data you crave. Pair the OH1 with your favorite Polar device and turn your mobile phone into a training partner with the Polar Beat app. Don't feel like bringing your phone along for your workout? No sweat. The OH1 has internal memory and can store up to 200 hours of training data without having a watch or phone on hand.
---
Polar Pro Devices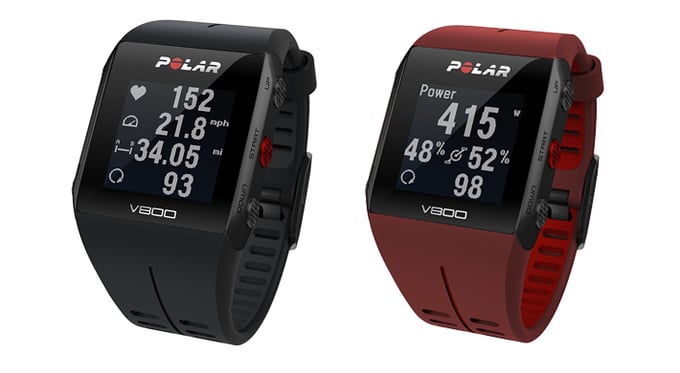 Polar V800 GPS Sports Watch
The advanced multisport V800 GPS watch is designed for the most serious athletes looking to push their limits and reach peak performance. The V800 is an all-day wear, providing notification alerts, 24/7 tracking, social apps, and more. The power of this watch comes in its advanced fitness technology and provides more in-depth analysis and compatibility with additional devices.
The V800 also comes with a free 60-day Strava Premium Membership—an added bonus to make tracking workouts and activity within Strava even better.



Multisport Functionality
Easily switch between sports and record transition time. Customizable sport profiles, training targets, and plans which are easily uploaded to your wrist. Capture swim metrics like stroke, distance, and pace


Sensor Compatibility
Connects with a variety of leading cycling and running sensor manufacturers, including Powertap, Wahoo, Stryd, and Rotor via Bluetooth

Training Load & Recovery
With Polar's unique Training Load calculation, you'll know how hard you trained and how much recovery time is needed to be ready for your next session


Rechargeable Battery
Up to 13 hours training time and up to 50 hours in GPS low power mode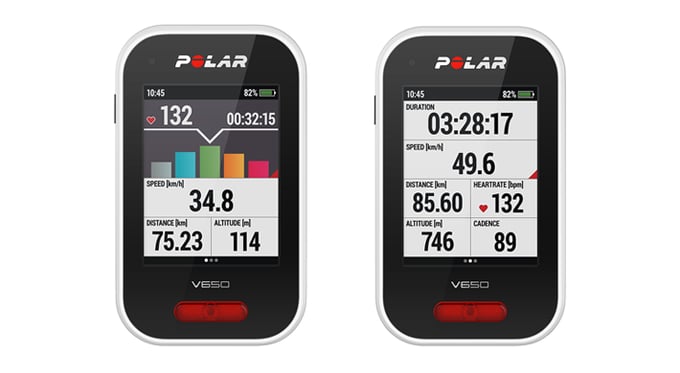 Polar V650 GPS Bike Computer
Hardcore cyclists know the power of a quality GPS computer. The V650 delivers detailed data and guidance to help cyclists perform better each ride. Easily download maps to see your exact location in real time, sync your favorite rides with Polar Flow, and connect with over 2 million registered users worldwide to discover what could be your next favorite route.



Route Guidance
Explore new areas to ride by creating and importing a route. Press the start button and follow along in real time the turns needed to make the most out of the ride


Touch Screen Display
Track all essential data from the ride on a big, bright color screen


Rechargeable Battery
Up to 10 hours of training time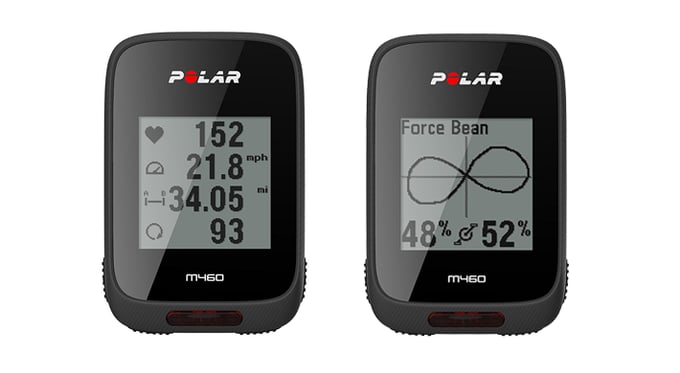 Polar M460 GPS Bike Computer with Advanced Cycling Metrics
The Polar M460 provides GPS, Strava Live Segments, and compatibility with many leading power meters to cyclists looking to up their workouts. Ride further and longer with the M460 thanks to its 16 hours of training time, heart rate monitoring, and GPS tracking. This device also sends your notifications from your mobile phone right on screen. With so many features packed into this mighty device, it's easy to see why diehard cyclists use it every ride.



Strava Live Segments
Able to see in real time how one compares against their personal best or those who have set best times


Bluetooth Smart Sensor Compatibility
7 hours GPS, 6 hours GPS + OHR, up to 20 days in time mode with daily activity


Rechargeable Battery
Up to 16 hours of training time with heart rate and GPS active
---
Related Content:
Explore Zogics Clean Guide Library
Empower your staff and reassure your community with our FREE downloadable cleaning and disinfecting guides for fitness centers, educational settings, hospitality facilities and more.
Topics from this blog: Product Resources
Back