When it comes to disinfecting your facility, one of the most time-saving tools to have in your cleaning arsenal is a sprayer (or multiple sprayers, depending on the size of your facility). In light of the emerging disinfecting needs across the world, we worked with our vendors this spring to quickly bring to market our Zogics Disinfectant Atomizing Sprayer.
What's an atomizing sprayer (and why do I need one)?
Perfect for larger commercial settings, such as fitness centers, educational facilities, healthcare spaces, and business facilities, an atomizing sprayer (also known as electro-hygiene atomizers) utilizes ULV (Ultra Low Volume) cold atomizing. ULV attains the same end result as electrostatic systems, but with a more high production and high capacity unit, killing 99.99% of any pathogen, including SARS-CoV-2, the virus that causes COVID-19. Our atomizing sprayer has the ability to thoroughly disinfect 8,000-16,000 square feet an hour!
​In addition, ULV atomizing can be adjusted to allow for an optimal droplet size based on the surface that is being disinfected. For example, if disinfecting various surfaces in a commercial space, a trained technician will adjust the droplet size for maximum dwell time and efficacy. Restroom surfaces may require a larger Micron size of 50uM, whereas spraying on glass or a copier machine may be a small Micron size that averages 30uM.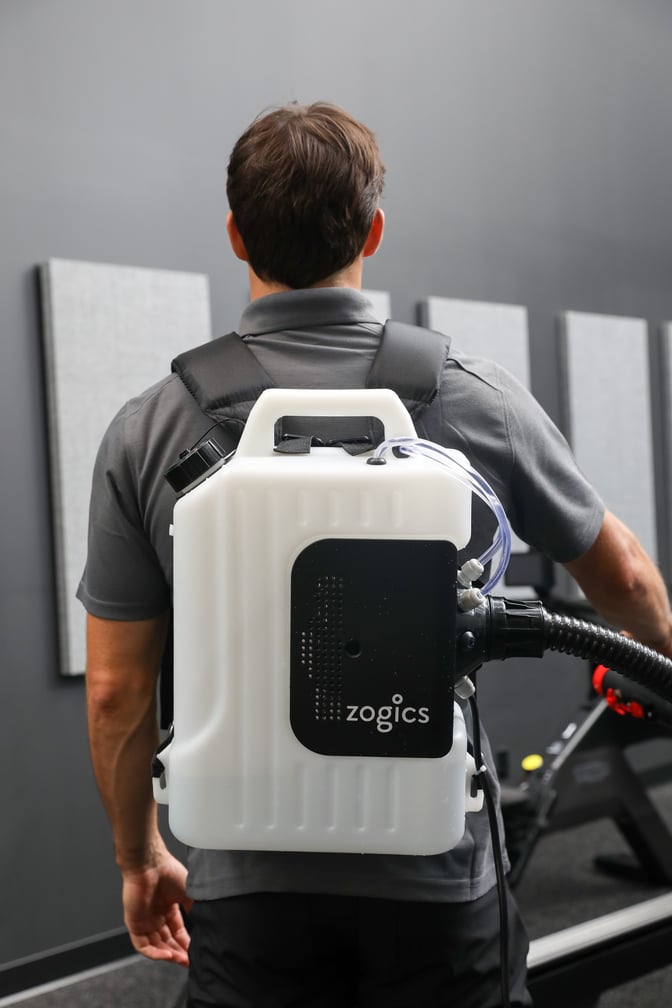 ​This process is highly specialized and was originally developed for GMP (good manufacturing process) environments—healthcare, food processing and biotech clean rooms. The technicians and the technology used to execute this process are highly technical and require extensive training, PPE protocols and mobility.
One other area of distinction: electro-hygiene units are agnostic when it comes to the disinfecting solution that an applicator chooses to use. Unlike other types of disinfecting sprayers, they allow the user to apply their choice of EPA registered disinfectant, offering maximum versatility.
What's the difference between an atomizing sprayer and an electrostatic sprayer?
The key difference: any EPA registered disinfectant can be used with an atomizing sprayer. We pulled together a brief summary: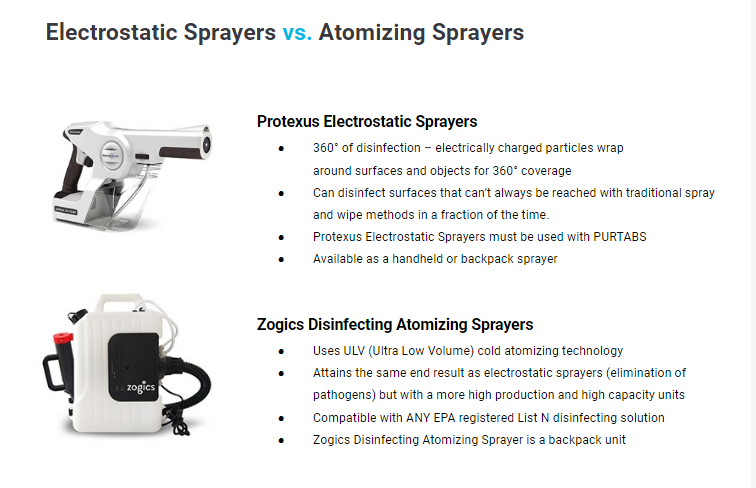 ---
For more disinfecting tips and ideas, check out the following posts: