The Best Disinfectants for Electrostatic and Atomizing Sprayers
July 6, 2021
In this post:
A review of the types of disinfectants used in Electrostatic Sprayers
Pros and cons of each disinfectant
Which disinfectant is right for your facility
---
Check the Label

Making an investment in an electrostatic or atomizing sprayer, whether a handheld sprayer or a backpack sprayer, is a wise investment for your business. A common question we receive is "what type of disinfectant do I use in my sprayer?"
Be sure to check the disinfectant label before using it in your sprayer. If your disinfectant does not include electrostatic or atomizing spraying on the disinfectant master label, the EPA has not approved that product for use with sprayers to kill pathogens.
---
Tablet-style Disinfectants
One of the advantages of a tablet disinfectant, such as PURTABS or EZ-Bleach, is that there's no guessing when it comes to making your disinfectant solution. You simply add the appropriate number of tablets to water in your sprayer reservoir, and your solution is made!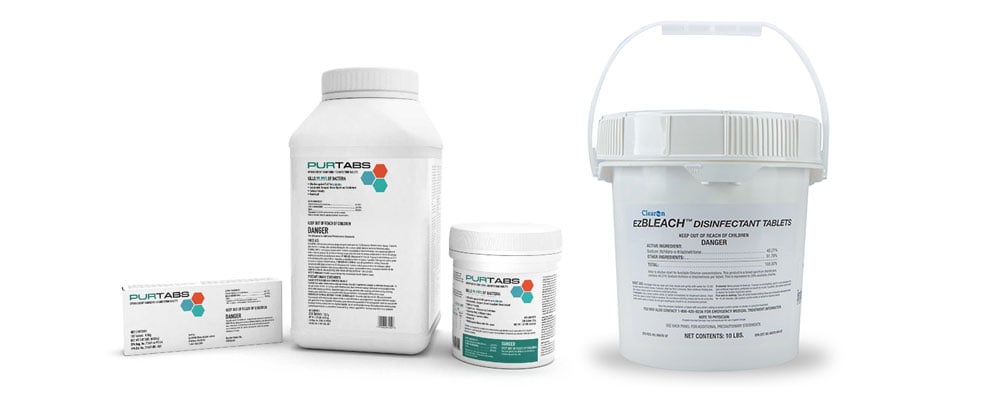 Tablet-style disinfectants also save you money when shipping, as you're not paying to ship a liquid disinfectant, which weighs more and can increase shipping costs.
---
RTU (Ready-to-Use) Disinfectants
Zogics Hypochlorous Acid Ready-to-Use Surface Disinfectant
Simple to use, with just-right levels of disinfectant every time, ready-to-use disinfectants are a wise choice for electrostatic and atomizing sprayers. Zogics Hypochlorous Acid Ready-to-Use Surface Disinfectant is effective on hard, non-porous surfaces, and on the EPA's List N of disinfectants effective against SARS-CoV-2, the virus that causes COVID-19.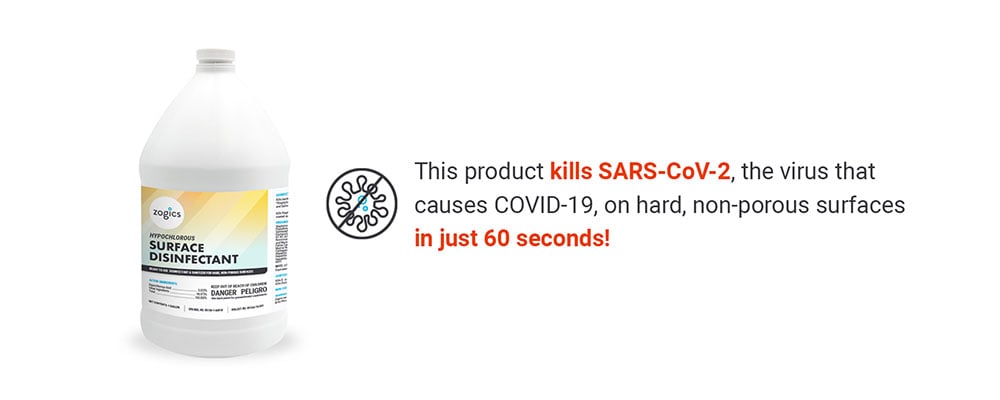 Bioesque Botanical Disinfectant Solution
Another ready-to-use disinfectant is Bioesque Botanical Disinfectant Solution. Naturally derived, pair Bioesque with your sprayer and you'll find that your spaces are quickly and sufficiently disinfected, protecting your staff and guests from unwanted viruses and pathogens. With a formula that is free of bleach and other harsh chemicals, Bioesque's Botanical Disinfectant Solution is a great choice for hazard-conscious or environmentally sensitive settings.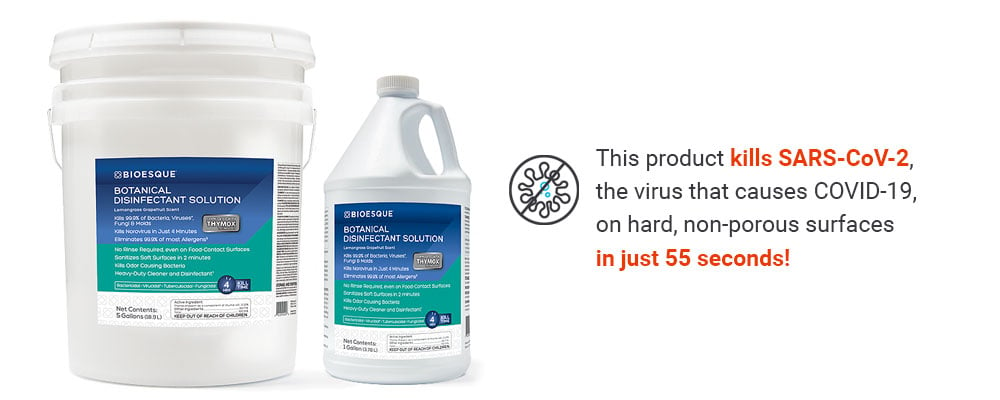 Powered by Thymox technology, it utilizes Thymol, a cutting-edge antimicrobial agent present as a component of Thyme Oil, to quickly power through grime and destroy the germs that it encounters.
Vital Oxide Commercial Surface Disinfectant
We also recommend Vital Oxide Commercial Surface Disinfectant. This broad-spectrum cleaner, sanitizer, and disinfectant is designed to be used on both hard & soft surfaces.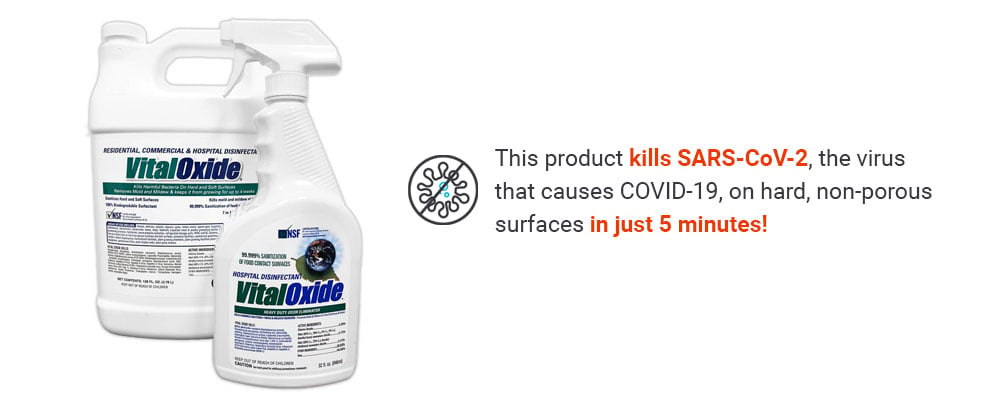 Made with a hospital-grade quaternary ammonium chloride base formulation, Vital Oxide is effective at disinfecting and sanitizing porous surfaces such as upholstery, linens, carpets, and athletic turf, as well as nonporous surfaces such as counters, walls, and floors. This is a great advantage for Vital Oxide, as many disinfectants are recommended for hard, non-porous surfaces only.
Perfect for use in commercial or residential settings alike, this product kills 99.9% of bacteria and viruses, fungus, mold, and mildew at the source, and is an NSF-registered "no-rinse on food-contact surfaces" sanitizer.
---
Which Disinfectant is Right for My Facility?
Depending on your industry and facility type – healthcare, education, long-term care, hospitality, fitness, corporate facility, or transportation – that there are varying needs and requirements when it comes to choosing a disinfectant.
First, determine the surfaces that need disinfecting. Most disinfectants are appropriate for hard, non-porous surfaces like doorknobs, handles, desks, doors, and the like, and some categories of disinfectants are toxic, some may stain fabrics and porous surfaces, others are corrosive, yet others have an undesirable odor. Next, check toxicity and flammability ratings on any disinfectant products, as well as any personal protective equipment (PPE) recommendations for disinfectants you apply. Be sure a disinfectant will not damage any surface it is intended for.
Choosing the right disinfecting sprayer and disinfectant can simplify the process of creating an environment free of harmful viruses and bacteria. With personal health and hygiene a constant consideration, the use of the best tools available along with the appropriate disinfectant is just one way to give everyone a little peace of mind. The quick, efficient, and thorough cleanliness that an electrostatic sprayer or atomizing sprayer offers make them an indispensable tool in facility safety and cleanliness.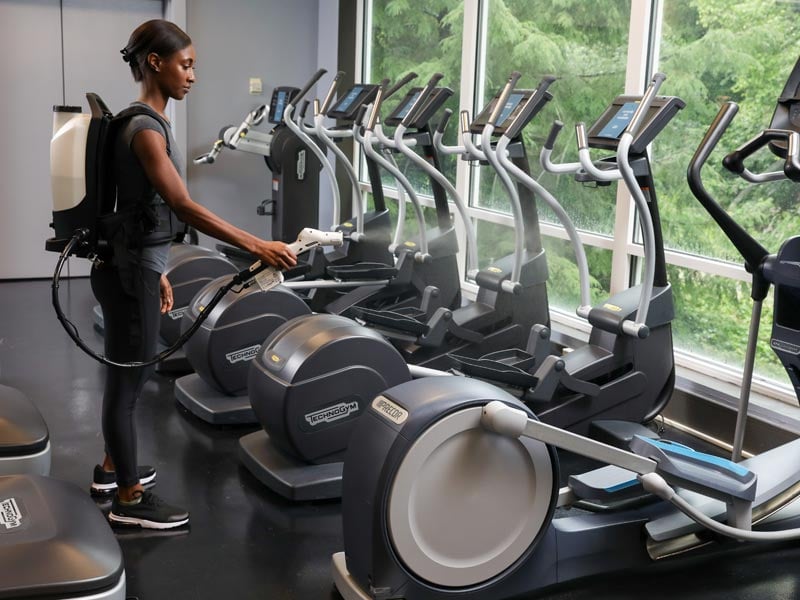 We're here to help you find the right disinfectant for the electrostatic or atomizing sprayer for your facility. Chat with us or drop a note at hello@zogics.com and we'll make sure you get the help you need.
---
For more disinfection resources, check out the following posts:
Shop Our EPA-Approved Disinfectants
Find the best sprayer-ready disinfectants and all of our EPA-approved disinfectant products today.
Topics from this blog: #trending Product Resources
Back