Boost Member Experience with Locker Room Amenities
July 28, 2017

When it comes to retaining gym members, it is the small stuff that often matters the most. If your locker room is in poor shape, lacking in amenities or uncomfortable, your members won't be inclined to renew their membership. Furthermore, they will spread the word to others in the community that your facility is sub-par. Locker room amenities really do make a massive impact on members' experience at the gym. Abide by these tips to keep your fitness facility's locker rooms in tip-top shape.

Plan Ahead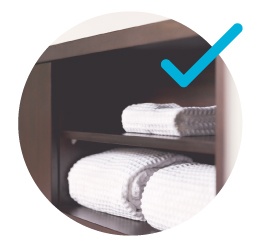 A thorough inspection of your gym locker rooms should be conducted at regular intervals. This inspection should include a review of amenities like paper towels, soap, shampoo dispensers and other amenities provided in the locker room. Build a checklist of items for staff to check when conducting the inspection. This way, they won't forget to check every last amenity. The last thing you need is for a member to walk into the locker room after a grueling workout and find that there is no soap or shampoo.

Have the Locker Room Inspected at Periodic Intervals
In general, such locker room supplies should be checked a minimum of three times per day to ensure guests have enough amenities at their disposal. Do not hesitate to have your staff refill each item at least once per day even if only a small amount can be replenished. It is always better to err on the side of having an abundance of locker room necessities and amenities than a shortage.



Mind Those Dispensers
Every dispenser should be clearly labeled. Prepare for the worst by having back-up dispensers available just in case one or several are broken or compromised in some manner. Invest the time and effort necessary to clean the inside and outside of dispensers each month. This cleaning will prevent the buildup of gunk, grime and other bacteria in the dispensers. Take the extra step of applying a disinfectant through each dispenser before once again rinsing them out with hot water. Such a thorough cleaning will reduce the odds of pathogens spreading to gym members.



Delegate Specific Locker Room Duties to Individual Employees
The gym's cleaning and maintenance staff members are usually responsible for keeping the locker rooms in quality condition. Make sure each employee is perfectly clear as to what he is supposed to do to keep the locker rooms tidy and presentable.
Have your gym's management crew check up on the cleaning and maintenance staff to ensure they are adequately cleaning and maintaining the locker rooms. It is not enough for management to simply assume the cleaning staff is properly taking care of all the subtleties in the locker rooms. Managers should be actively involved in these vitally important aspects of the gym by performing inspections and providing the cleaning staff with detailed instructions as to how the locker rooms should be tended to.

Stay on the Ball When It Comes to Ordering Supplies
The typical fitness center's locker rooms require regular refills of soap, shampoo, paper towels and other items. If you run out of these necessities, your members will be livid. Don't let this nightmare become a reality for your gym. You need ample stock on-hand so your staff can replenish the dispensers throughout the locker rooms on a daily basis. Plan ahead by developing a system for ordering and storing each item that needs to be consistently restocked in your gym's locker rooms.



Who Does the Ordering?
Some gyms have the manager perform the ordering of locker room and cleaning supplies. This is an important responsibility that should not be delegated to a cleaner or maintenance person. Be sure to load up on supplies at least a week before you run out of any particular item. Once you do business with a particular supplier for several months, your gym's ordering history can be evaluated compared to your facility's true needs and the nuances of your budget. Perform this evaluation and it will facilitate subsequent orders as time progresses. When in doubt, always order more locker room amenities than you anticipate your locker rooms will need.


The Storage of Locker Room Amenities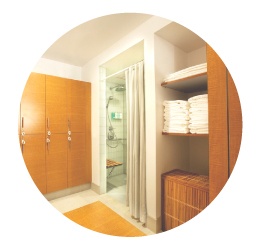 Don't forget to lock up your gym's extra supplies. Though most employees are trustworthy, it seems like there is always one bad apple in the bunch that will steal items that the gym has an abundance of. Only provide the storage space key to the most respected and honest employees.
Several key copies should be made just in case the head manager is out sick or away from the facility for another reason. This way, if a locker room dispenser breaks or runs out of product, a staff member will be able to unlock the storage closet and access the item in question.

A Clean and Well-stocked Locker Room Shows You Genuinely Care
Stay on top of your fitness facility's locker room cleanliness and amenities to show your members you really do value their business. This part of the gym is often neglected as it is somewhat secondary to the workout experience. However, the locker room is the first and last area members go when visiting the gym. Make sure this space is in pristine condition and fully loaded with amenities and it will make a major difference in your members' gym experience.


---
Related Content:
Explore Zogics Clean Guide Library
Empower your staff and reassure your community with our FREE downloadable cleaning and disinfecting guides for fitness centers, educational settings, hospitality facilities and more.
Topics from this blog: industry news
Back