Product Spotlight: Surfacide's Helios® UV-C Disinfection System
July 21, 2021
In this post:
An introduction to Surfacide's Helios UV-C Disinfection System
Learn more about UV-C Technology
Where to use Helios UV-C Disinfection System
Leading Innovation in UV-C Technology
Surfacide's Helios System uses three UV-C light towers simultaneously to rapidly eliminate and prevent the spread of deadly pathogens from the environments where you live, work, and play. With their Laser Mapping feature, Surfacide Helios systems are smart and able to identify exposed surfaces, providing confidence that disinfecting energy has been delivered efficiently and effectively. Surfacide UV-C is scientifically proven to rapidly decontaminate Coronavirus colonized surfaces, reducing virus and bacteria in a single cycle in as little as 5 minutes.
The Surfacide Helios System consists of a trio of automated UV-C disinfection 'robots' that work together to significantly reduce bacteria, spores, and viruses on hard surfaces and are effective against a variety of multi-drug resistant organisms that could cause viral infectious diseases. Using multiple 'robots' simultaneously emits more energy throughout a room in a single cycle, which helps shorten disinfection cycle time to just minutes and ultimately improves workflow. For added flexibility, emitters can be decoupled and utilized individually for small spaces such as bathrooms.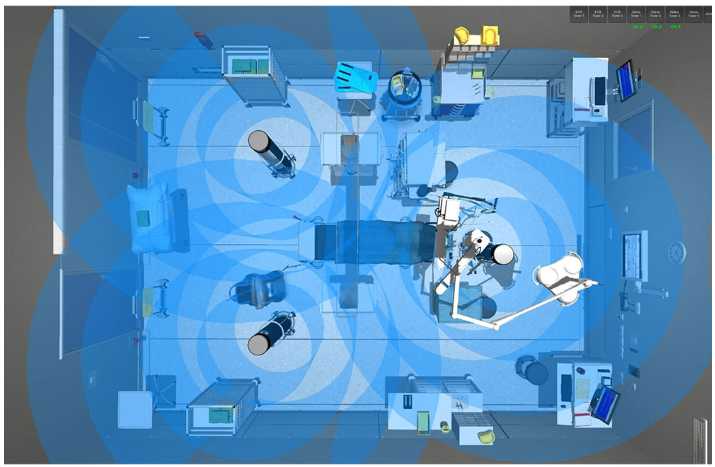 Surfacide's Helios also has the ability to detect anyone entering the room and will shut off the three emitters instantly, ensuring patient, visitor, and employee safety. The Helios three emitter system has been internationally certified and credentialed.
Founded in 2010, Surfacide is designed, engineered, and manufactured in the US. They are leading the UV-C market with comprehensive advancements providing you the power to do more. Their easy-to-use technology was purposefully engineered from top to bottom for unmatched performance and mobility.
What Makes Helios Unique?
Targeted Scrub Feature. This proprietary function allows UV-C energy to be directed into a user-defined area for rapid and precise disinfection. Targeted areas may include multi-bedded bays, portable workstations, surgical tables, etc.
Cloud Database + Connectivity. Helios emitters are connected to the tablet via a wireless internet connection and the tablet is connected to the web portal for report viewing via Wi-Fi. Access real-time data and actionable reports to drive outcomes and utilization.
Continuous Software Updates. Surfacide is dedicated to improving their technology and with that comes key software updates that automatically install and update to ensure ease of use.
Helios is Multilingual. Need the Tablet, Surfacide App and Manuals in Spanish or French? No problem. Habla español? No hay problema. Nosotros también. Parle français? pas de problème. Nous aussi.
Helios is Easy to Set Up. Implementation specialists with EVS experience will spend multiple days on-site to ensure your environmental services team is trained and ready to take charge of your UV-C program.
Technical Support. Surfacide is dedicated to solving issues quickly and effectively and when necessary will provide a specialist onsite to ensure the Helios systems are fully operational.
Total Care Service Plans. Surfacide provides peace of mind by providing you with flexible service and software programs that work best for your institution. Partner with Zogics and Surfacide to take care of your maintenance and software updates for worry-free customer service.
How It Works
According to the FDA: "UVC radiation is a known disinfectant for air, water, and nonporous surfaces. UVC radiation has effectively been used for decades to reduce the spread of bacteria, such as tuberculosis."
UV technology destroys the genetic bonds in pathogens rendering them unable to replicate and cause infection. UV light only works on directly exposed surfaces nearby.
Why It Works
UV-C energy is completely absorbed by the ozone layer. Because of this, all bacteria and viruses haven't been exposed to it. These organisms are left inhibited after exposure to UV light. It's important to note that the Helios system doesn't eliminate the need for surface cleaning, so those protocols and policies are key to keeping your space clean and protected. It does however provide an extra layer of disinfection protection for areas that see lots of people and traffic, like hospitals, hotels and spas, offices, sports stadiums, and other spaces where many people gather.
Where to Use the Helios UV-C Disinfection System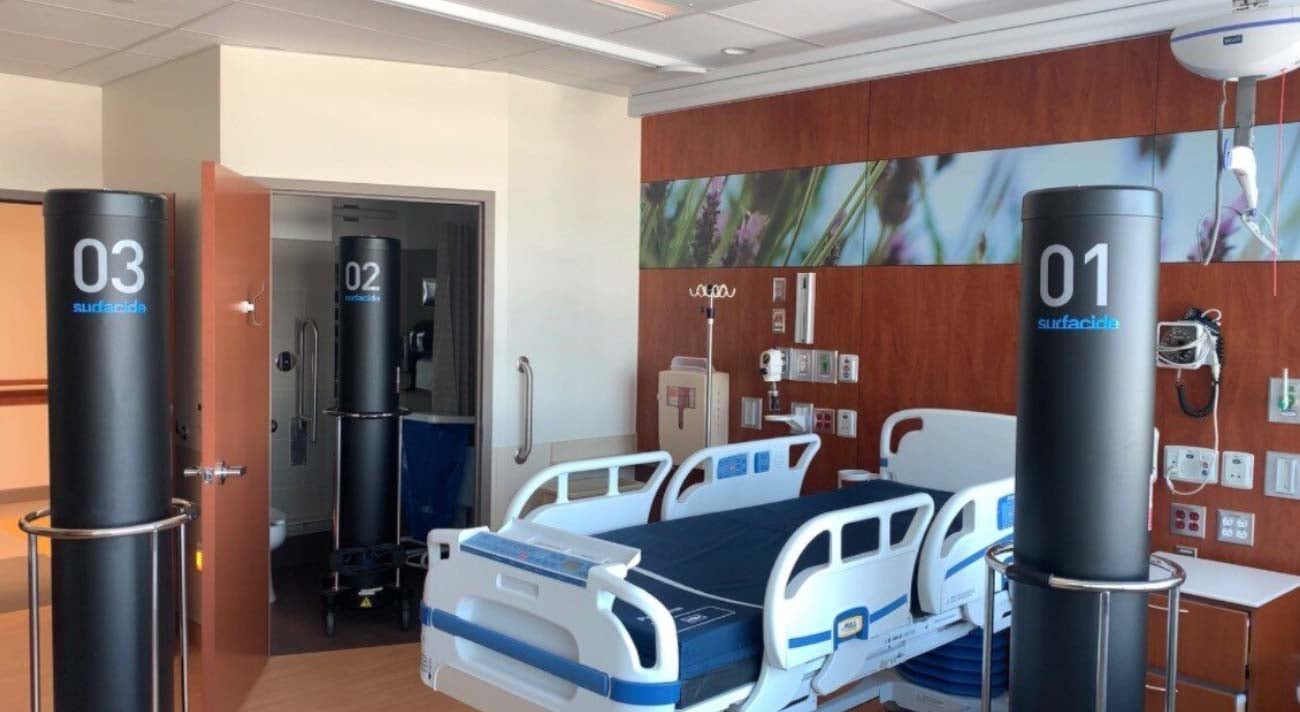 While the Helios system is used most predominately in the healthcare sector, including hospitals, patient rooms, and nursing homes, you'll find Helios in action in places like hotels, spas and salons, and notable places like the Seattle Space Needle and Fenway Park.
Interested in learning more about Surfacide's Helios System's hospital-grade UV robots and how leading hospitals, schools, corporations, hotels, fitness clubs, and sports facilities address high touch surface disinfection? Drop us a line at hello@zogics.com or chat us up!
---
Related Content:



Get a Quote on the Surfacide Helios® System
New times call for new solutions. Get a fast quote on the Helios System today and learn how Surfacide's UV-C technology can help you keep your workspace safe from deadly pathogens.
Topics from this blog: Product Resources
Back