SKLZ Performance Training Equipment Guide
February 16, 2017

SKLZ Performance training equipment and training systems help hardcore athletes as well as everyday people improve their flexibility, strength, coordination and athletic ability. The company's elite training equipment and gear really does propel athletes to the next level. SKLZ performance athletic training gear is ideal for those who do not belong to a gym, those who prefer to train at home and those who are particularly interested in sports rather than traditional workout machines.

SKLZ Home Training
The beauty of using SKLZ performance athletic training gear at home is that it is always available for use. There are no waiting lines and you don't have to worry about touching germ-laden machines. Your home doesn't have nasty odors, obtrusive maintenance men or judgmental meatheads. Make use of SKLZ home training equipment and you will enjoy a workout with an extremely short learning curve. SKLZ equipment is the exact opposite of those somewhat intimidating fitness machines at the local gym.

About the SKLZ Functional Training System
This unique training system can be moved with ease according to logistics, spacing issues and other factors. It is a fully portable system that heightens one's strength, flexibility, power and stability. The system's equipment includes a chop bar, universal anchor, universal cuff and dual handles. The set also provides three training cables ranging from extra light to light and medium. All one needs is a door or a fence to anchor the system in place.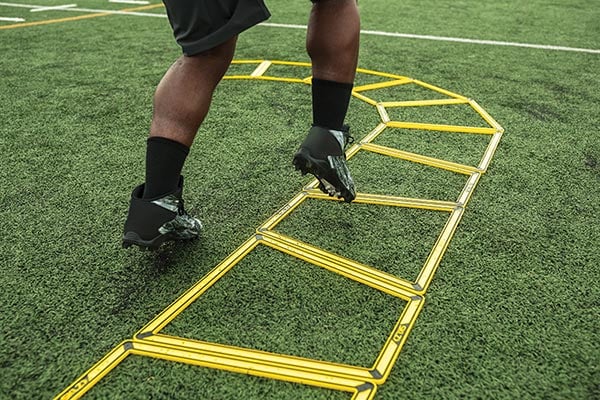 The Different Varieties of SKLZ Equipment
SKLZ equipment is ideal for those who engage in sports, competitions involving physical activity and anyone who desires a stronger and more flexible body. The SKLZ Agility Trainer Pro is designed with a trapezoid shape to improve footwork, dexterity and agility. This design allows participants to practice the same patterns of movement used in football games and other sports. Its broken and curvilinear training patters replicate the movements necessary to change direction in the midst of a heated athletic competition

The D-Man Pro
Perhaps you would like to practice your movements against a lifelike defender. The D-Man Pro makes it possible. This piece of equipment is built with adjustable legs, arms and heights so you can adjust it to your unique desires. You can even replace the cones with a mannequin to practice drills like passing, dribbling, shooting etc.

Court Slidez
Court Slidez provide a low-friction surface that can't be marked so users can move freely without concern. These discs can be used on courts, tile, hardwood or any other smooth surface. They are designed to allow for intense movements that enhance one's core power and flexibility.

Examples of Drills With Court Slidez
SKLZ athletic equipment can be used in countless ways. For example, place the company's Court Slidez beneath your feet for knee tucks and plank jacks. Put your legs in the plank position, tighten up your core and move your knees inward to your chest. Return them to the plank position, slide your legs apart and repeat the movement for a dozen reps.
Put a Slidez disc beneath one foot and slide it back to achieve the reverse lunge position. Don't let your front knee extend beyond your front toe. Resume the initial position and slide the foot to a lateral lunge. Repeat for a dozen reps.

Putt Gate
The masterminds at SKLZ have even created a helpful piece of equipment for golfers. Putt Gate is built with a helpful two-gate design that allows for the perfect roll, a square impact and a flawless takeaway. Give this device a chance and your golf game will almost surely improve.
SKLZ's Dual Net features an uber-thick double net along with quite the helpful ball return system. These two components endure powerful shots from drivers as well as irons. Give the Dual Net a try and you will find it can be erected, folded down and positioned in a storage space without encumbrance.

SKLZ Soccer Equipment
Stark-Kick Elite is built to bounce and roll, providing soccer players with the opportunity to establish muscle memory. This is the solo soccer trainer of your dreams. Whether you or your team needs a way to improve passing, shooting or receiving skills, Stark-Kick Elite will make it happen.
SKLZ also makes another soccer trainer known as Kickback. This nifty little creation is made with an elastic cord that can take a pounding and keep on functioning without flaw. It lets soccer players wail away at the ball all day, providing them with those critically important reps necessary for success. The beauty of Kickback is that there is no need to chase the ball after it is blasted. The elastic cord limits the extent of the ball's travel distance for easy recovery.
---

Related Products:
Explore Zogics Clean Guide Library
Empower your staff and reassure your community with our FREE downloadable cleaning and disinfecting guides for fitness centers, educational settings, hospitality facilities and more.
Topics from this blog: Training Tips Training
Back