The Best Surface Wipes for Your Business
May 26, 2021
In this post:

Zogics carries a full lineup of surface and hand wipes
Wipes are a convenient alternative to traditional cleaning and disinfecting methods
Antibacterial Disinfecting Wipes are EPA-registered to kill SARS-CoV-2 in just 30 seconds
We're proud to be the top producer and supplier of wipes for facilities worldwide. We understand that choosing the best wipes can be a challenge, so we've put together a brief guide to wipes by application, including disinfecting wipes, sanitizing wipes, and cleaning wipes.
Why should you choose wipes over other cleaning methods?
Wipes help maintain a spotless facility. When you use a surface wipe, it's easy to make sure that every machine, every surface, and every person is minty clean at all times. Our wipes offer a powerful alternative to paper towels, and they're proven to perform better. Whether you're wiping down the front counter or an elevator button panel, our wipes will get the job done right.
Wipes are convenient. Unlike spray bottles and towels, there's no preparation required when you use surface wipes to clean. Simply open your wipes, put them in a wipe dispenser, and you're ready to go! They're also completely disposable, leaving no mess after use.

Wipes are effective. While we clean for appearances, we also clean and disinfect high-touch surfaces to protect staff and guests from germs and viruses. Our wipes contain the most effective ingredients to both clean and disinfect hard, non-porous surfaces.
What wipes are best?
We proudly offer a variety of wipes to fit your specific needs and budget. Here's a quick look at your options:
Remember dwell times for effective disinfecting.
You want to keep whatever surface you're disinfecting—like a countertop, for instance—wet for the recommended amount of time to kill germs (also known as dwell time). It's a good idea to set a timer so you can monitor surfaces and ensure they're still wet. You also want to make sure that you're sanitizing frequently used objects and surfaces daily, or more than daily if needed, especially high-touch objects like doorknobs, keyboards, faucet handles, and more.
Helpful tip: make sure you're only wiping in one direction, as studies have suggested that doing so can reduce the risk of recontamination.
What types of surfaces can disinfectant wipes/cleaning wipes be used on?
Disinfectant wipes and cleaning wipes can and should be used on hard, non-porous surfaces. They're especially handy for high-touch surfaces. Examples of high-touch surfaces include pens, counters, shopping carts, tables, doorknobs, light switches, handles, stair rails, elevator buttons, desks, keyboards, phones, toilets, faucets, fitness center equipment, and sinks.
Don't forget your Wipe Dispensers!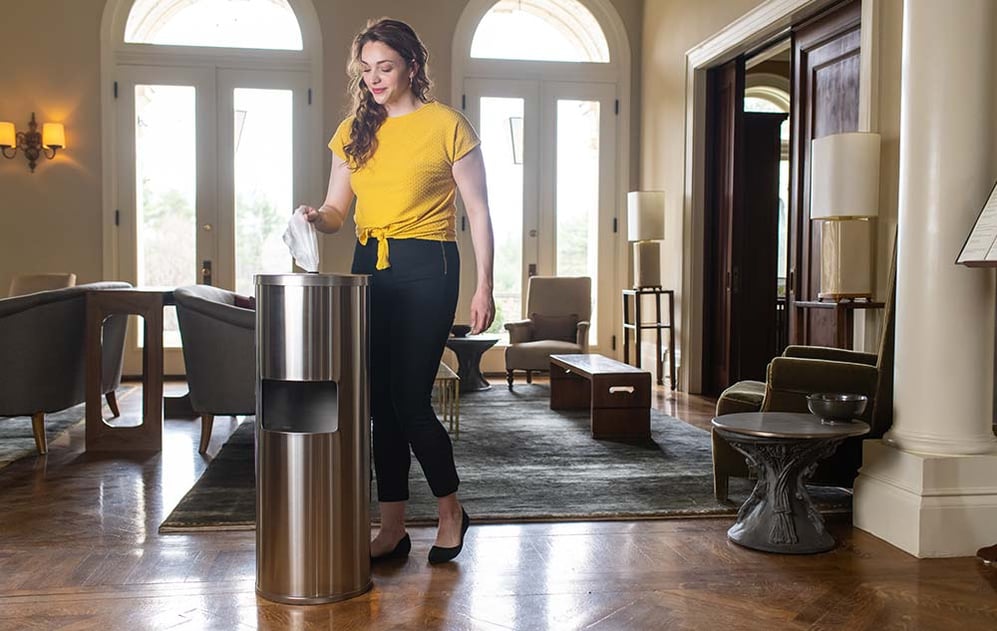 Installing wipe dispensers around your facility is a great way to kill germs throughout the day and create a cleaner environment. Ideally, dispensers should be located in high-traffic areas and at every entrance and exit point in your facility.

We have a wide variety of dispensers, from stainless steel floor models (complete with trash can inset) to smaller, wall-mounted dispensers, and easy to transport wipe buckets. We even have all-in-one bundles, combining a sleek wipe dispenser with a hand sanitizing machine for ultimate cleanliness. All of our dispensers are made to be used with our Zogics brand wipes - and if you are a new customer, we'll send you some wipes for free!
Save time with autoshipments.
We offer an autoship program to make it even easier for you to order the wipes you need for your facility. Our autoship program is the most convenient way to get your wipes automatically delivered to your facility at a schedule that suits you. You can change or cancel your delivery at any time (no contracts!), so you'll never have to worry about running out of wipes or ordering more again. Learn more about wipe autoshipments here!
If you're looking for even more information on wipes, download our free guide, or reach out to one of our experts at hello@zogics.com.
---
Related Content:
Explore Zogics Clean Guide Library
Empower your staff and reassure your community with our FREE downloadable cleaning and disinfecting guides for fitness centers, educational settings, hospitality facilities and more.
Topics from this blog: Featured Product Resources
Back