The Insider's Guide To Hiring vs. Not Hiring A Personal Trainer
November 10, 2017

Hi, my name is Tyler Read and I'm a Personal Trainer.
Alright, so you're determined to start getting more active, you want to lose some weight, get in shape, maybe even get a six pack, but you don't really know where to start.
Can you do it from the comfort of your own home? Do you have to get a gym membership? Do you need to hire a Personal Trainer? Or maybe you can just make your own training routine?
In this post I am going to give an unbiased answer to your questions and touch on the pros and cons of each option. So you basically have 3 options here:
1. Work out at home by yourself
2. Work out at a gym by yourself
3. Hire a personal trainer

Working out at home by yourself
I know, there comes a time when life just gets too busy and you don't have that much time on hand. So, this option works best for people who don't want to spend time commuting to the gym 3 or 4 times a week.
Or maybe you travel a lot and you need to be able to work out anywhere at any time.
If this is you, your best course of action would be to invest in a good home workout plan. This will be a relatively small one-time investment that will probably give you the best bang for your buck.
Programs such as the P90x or Insanity are great to get you started. If you follow these religiously you are very likely to see results which will keep you motivated and keen on progressing even more.
The downside of all major home workout programs is that they can't really provide a personalized diet plan, and nutrition is hands down the first thing you want to get right.
Another option you have is to build yourself a small home gym. This means you need to buy at least some dumbbells, a bench, a barbell, some plates and the list could go on.
It will be a bigger one-time investment, but you can dive into a variety of different exercises. This makes sense if you plan on sticking to the fitness lifestyle long-term. Otherwise, it will just be a waste of money and you would be better off getting a gym membership.
The major downside of working out at home by yourself is that it can get boring at times and you don't have anyone to keep you accountable. So you need to be a driven person and motivate yourself.

Working out at a gym by yourself
This is what the vast majority of people will do. A membership to a decent gym will not run you a fortune and you get access to more equipment and machines than you will ever need.
This would be your best course of action if you already have a buddy who's been working out for a while and he can introduce you to weight training. Otherwise, figuring out on your own how everything works, which machines to use and what to do in the gym might be overwhelming at first, and it will just take you too much time to learn how everything works.
The major downside of working out alone when you start from scratch is that your risk of injury is sky high. Ego lifting and using bad form is a combination I've seen many times in newbies.
Leaving that aside, as a beginner you are in a position you will never be again:
You can build muscle at a very high rate because you're untrained and your muscle will respond very quickly to weight training.
You can burn fat and build muscle at the same time, which will be impossible to achieve naturally later on.
On the downside, if you don't have someone to guide you in the first 6 months to 1 year, you will not be able to train optimally. So you are less likely to make the most out of it.
Hire a Personal Trainer
Lastly but not least you have the option of hiring a personal trainer. Obviously, this will be the most expensive option. Personal Trainer's rates vary quite a lot, but if you're going with a PT at a corporate gym it will probably cost $50-$60 per hour/workout.
The main advantage of hiring a Personal Trainer is that you have access to years and years of knowledge right from the start. Your PT knows how to build the right workout specifically for you and for your goals. That alone is going to jump-start your transformation.
Ideally, you want your PT to provide you with a meal plan as well. Around 70% of your results will depend on your diet after all.
Another major advantage of hiring a personal trainer is that you will be held accountable. You will be more motivated to put in the work and less likely to drop off the wagon.
You should be able to connect with your PT and look at him or her more like a friend rather than a person you do business with.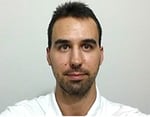 Tyler is an NASM certified personal trainer with over 10 years of experience. In addition to training a wide variety of clients, Tyler is also the founder and senior editor of PTPioneer.com; a website designed to help people become industry leading personal trainers. You can also check out PTPinoeer's YouTube channel as well.


---



Related Content:
Explore Zogics Clean Guide Library
Empower your staff and reassure your community with our FREE downloadable cleaning and disinfecting guides for fitness centers, educational settings, hospitality facilities and more.
Topics from this blog: Training Tips
Back