Customer Spotlight: Berkshire Community College Partners with Zogics
June 15, 2023
Berkshire Community College (BCC) prioritizes maintaining a clean and professional environment for students, faculty, and staff. As part of their commitment, BCC recently undertook facility updates to the Paterson Field House with the assistance of Zogics. In this customer spotlight, we delve into the details of BCC's facility transformation.
Paterson Field House Renovations Expose Cleaning Needs
In early 2021, the College announced plans to make major renovations to Paterson Field House. The house is a key component of the full Paterson Recreation area that includes a fitness center, basketball court, turf field, two grass soccer fields, three adult outdoor tennis courts, two youth tennis courts, and a seasonal outdoor pool. The improvements to the Field House included installing an HVAC system, coating and sealing the floors of the Fitness Center, and sanding and coating wood court floors.

As part of renovating the space, the college realized they faced challenges with their cleaning solutions. Prior to the renovations, they relied on traditional spray bottles and paper towels for staff and guests to use for cleaning equipment, which resulted in accessibility issues, the potential misuse of supplies, and an overall unappealing aesthetic (read: paper towels on the floor and spray bottles strewn about).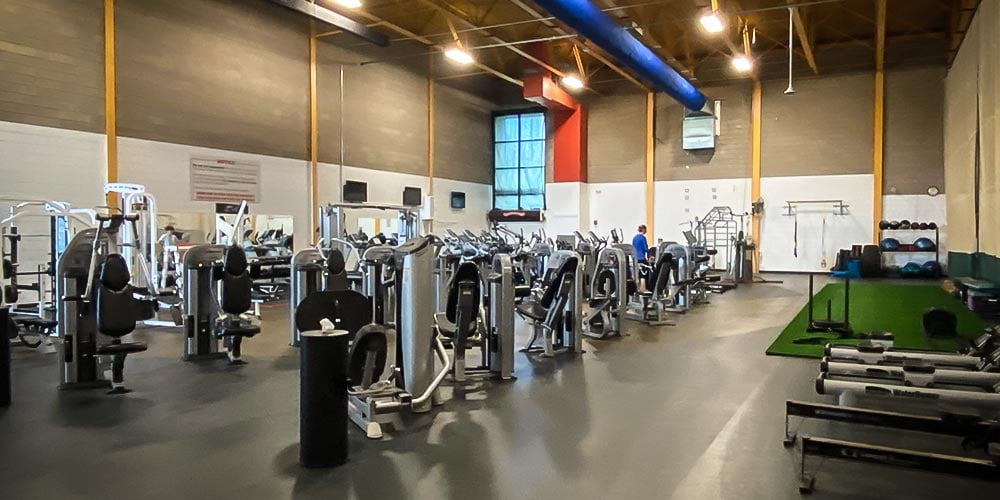 The paper towel dispensers were also mounted on walls, making them less accessible to all, as well as prone to dispensing excessive amounts of paper towels. Additionally, the spray bottles could be misused or mishandled, leading to inconsistent cleaning results. As a result, the overall perception of BCC's facility was of a less than professional atmosphere.

Realizing the need for a reliable, efficient cleaning solution, BCC turned to Zogics. Being a local company based in the same area, the decision to work with Zogics was an easy one for BCC. Zogics' strong reputation for providing high-quality products made them the ideal partner to address BCC's cleaning challenges. We worked with BCC to identify the right solutions, including floor stand wipes dispensers with integrated trash receptacles, plus Wellness Center Wipes that clean fitness equipment without harming the electronics of the treadmills, rowers, and connected bikes. From there, we ensured they had the proper amount of Wellness Wipes on hand to meet the increased demand of gym goers. The newly renovated Field House opened its doors in late April of 2023.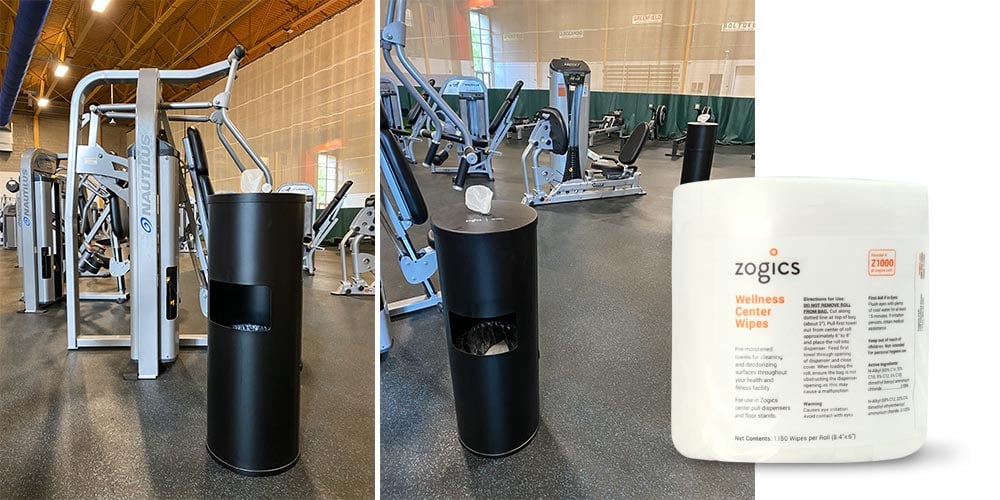 We caught up with BCC's Director of Recreational Services, Daryl Shreve, to talk about the experience.

What issues were you experiencing before you started working with Zogics?
Daryl: Prior to Zogics our facility used spray bottles and paper towels. Paper towel dispensers were on the wall and not super accessible, it is easy to grab too many paper towels, the spray bottles could be misused, and the brown towels just aren't that aesthetically pleasing.

How did that impact your business?
Daryl: I would say the spray bottle and paper towel cleaning option contributed to a feeling of our facility not being a professional space.

Why did you choose Zogics to help you?
Daryl: Zogics is local and right in our home city and we knew it was a very well-regarded product, so it was really a no-brainer.


"Zogics has been super easy to work with, responsive, and adaptable. We are very happy with the customer service and also happy how the product has contributed to a better-looking and running facility."

- Daryl Shreve, Director of Recreational Services, Berkshire Community College
Berkshire Community College's collaboration with Zogics has revolutionized its cleaning practices and improved the facility's overall appeal. By replacing traditional spray bottles and paper towels with Zogics' modern dispensers and cleaning products, BCC has successfully created a cleaner and more professional environment for their students, faculty, and staff.
We're happy to serve you, Daryl, and we love hearing about your successful cleaning protocols on campus, and of course, we love having you as a member of the Zogics community.
Products Supplied to BCC:
---
Related Content:
Explore Zogics Clean Guide Library
Empower your staff and reassure your community with our FREE downloadable cleaning and disinfecting guides for fitness centers, educational settings, hospitality facilities and more.
Topics from this blog: Featured Customer Spotlight
Back