June 15, 2017

The XLERATOReco Hand Dryer sets the standard for hand drying efficiency. If you own or manage a fitness facility, this is the hand dryer of your dreams. It is energy-efficient, sustainable and aesthetically pleasing. Each is made with a striking combination of white metal graphite, stainless steel and chrome.
The
XLERATOReco Hand Dryer
uses a mere 500 watts of energy for thorough hand drying. It reduces your gym's carbon footprint and also decreases the number of paper towels necessary for guests to dry their hands. Add an XLERATOReco Hand Dryer to your facility and it will pay for itself in a year's time. Each XLERATOReco Hand Dryer is made in America with commercial grade components so you can feel patriotic about adding it to your facility.

XLERATOReco Hand Dryer Details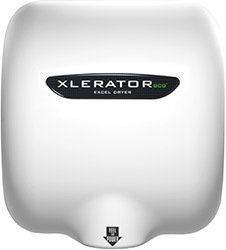 The XLERATOReco Hand Dryer provides a 95% cost savings compared to paper towels. You can install multiple XLERATOReco Hand Dryer units on a single circuit. It makes use of no-heat technology. You can even select the unique voltage and audible output that your business desires. The standard voltage is 110 to 120 volts (50/60 Hz). High voltage is 208 to 277 volts.
XLERATOReco Hand Dryers require minimal maintenance. Each is backed by a five year limited warranty. They are even designed with adjustable speeds and an easily visible service LED. This service LED will illuminate in instances when problems occur. The service indicator even displays information in regard to exactly where the problem exists so diagnosis can occur as quickly as possible.

The Green Hand Dryer Your Business Needs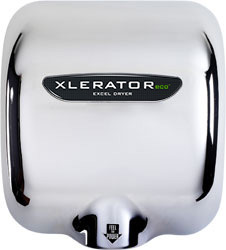 XLERATOReco Hand Dryers are as green as it gets. The amount of energy used for each hand dry is 1.7 Wh. This equates to a mere 25 cents for every 1,000 uses. It doesn't get any cheaper or environmentally friendly than that. These hand dryers are BuildingGreen approved. XLERATOReco Hand Dryers even help your facility qualify for numerous LEED credits. In fact, the XLERATOReco Hand Dryer is the first of its type to be GREENSPEC listed.
All in all, these dryers provide an average savings of around 95%. They use 80% less energy than other leading hand dryer brands. Add in the fact that XLERATOReco Hand Dryers are upwards of three times faster than those of competing companies and it is easy to see why the XLERATOR name has become so popular across the United States.



The High-Performance Dryer Every Fitness Facility Needs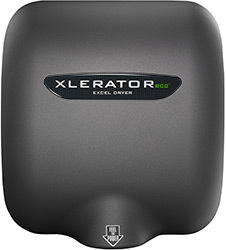 Fitness center members are looking for an efficient workout experience that allows them to enjoy exercise without wasting time. The subtleties of your gym matter a great deal. Install new XLERATOReco Hand Dryers and your guests will enjoy a dry time of a mere 10 seconds per use. This dry time is drastically superior to most other hand dryers. It certainly beats drying off wet hands with several paper towels. Furthermore, the unit won't take up an abundance of space on your locker room walls or other areas of your gym. Each XLERATOReco Hand Dryer weighs a mere 16 pounds, making it quite easy to lift and transport from one part of your facility to another. In terms of dimensions, these dryers are 12.75" in height, 11.75" in length and have a depth of 6.75".


XLERATOR is Number One for a Reason
XLERATOR is the top selling commercial hand dryer in the country. All sorts of businesses including countless fitness clubs have selected this dryer for their facilities. It is completely fuss-free, affordable and undeniably perfect for all high traffic settings.
This hand dryer is also more sanitary than other options. Consider all the mold, bacteria and residue involved with the use of paper towels. Towels become wet after members wash and dry their hands. The result is considerable buildup of mold, bacteria and other unsavory particles. There is no such threat with XLERATOR hand dryers that rely on a fan speed of 19,000 linear feet per minute (LFM) to thoroughly dry hands.


---
Related Content:
Explore Zogics Clean Guide Library
Empower your staff and reassure your community with our FREE downloadable cleaning and disinfecting guides for fitness centers, educational settings, hospitality facilities and more.
Topics from this blog: Product Resources
Back