If you were a guest at Starwood's Aloft hotel in Cupertino, California, last week, you may have been greeted Jetson style by a A.L.O., the first robotic bellboy to hit corridors, delivering white fluffy towels. A.L.O. (a.k.a) Botlr was created by Silicon Valley-based start-up Savioke, a Bay Area robotics company.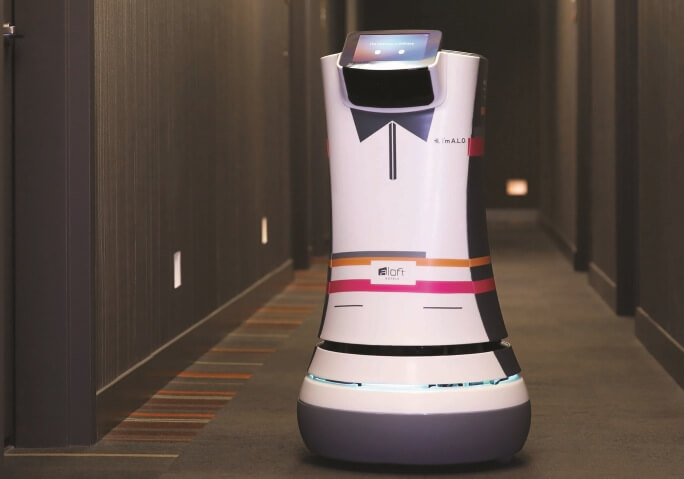 Here's how it works: guests make their front desk request (you may ask for him personally) and the staff (um, the human ones) tell Botlr the room number, and he's off - all by his lonesome - to fetch toiletries, snacks, bathrobes, etc. It's formal business attire for A.L.O., the 3-foot-tall, 100-pound machine rolls around the hallways with a bow-tie and a nametag that reads, "Hi, I'm A.L.O." Using a combination of sensors and WiFi connectivity, Botlr is programmed to navigate hallways and elevators – and avoid guests on the move.
Moving along at human speed, A.L.O arrives at a guest room and his sensors trigger an in-room call to let visitors know that there's a Jetson-like robot skulking on the other side of the door. Guests can then pick up their razors and toothbrushes and share information with Botlr using his touchscreen face. Instead of cash tips, socially savvy #Botlr requests that you tweet your gratitude.
Aloft is known as a tech-forward hotel chain (they created a smartphone app that unlocks your hotel door, and you can stream digital content from your smartphone to your hotel room's television – among other innovations), and for their proximity to the Apple campus (think: an influx of tech guests) so it's not surprising that Botlr debuted on August 20th in Cupertino. If Botlr is a successful pilot, the robotic bellhop butler could go enterprise-wide and roll out to 100 Starwood properties.
Worried that Botlr may steal entry level jobs? According to Starwood, they aren't replacing employees at the chain, but just free them up to work in more meaningful ways with customers face to face. Brian McGuinness, Starwood's senior vice-president for its Specialty Select brands, told the New York Times recently, "I see this as an enhancement to our customer service."
Whether Botlr is a Rosey the Robot style novelty, or the next generation of traveling, the future is here.